Prime Minister Narendra Modi targeted the Left Democratic Front (LDF) and the United Democratic Front (UDF) while addressing an election rally in Palakkad in view of the Kerala Assembly elections. He said that it is clear that UDF and LDF have two objectives, to carry forward the politics of vote bank and fill the pocket. He said that the worst secret kept in Kerala politics for years was the friendly agreement between UDF and LDF. Youth voting for the first time is asking what is this match-fixing? One loots 5 years and robs another 5 years. People are watching how UDF and LDF mislead people.
Targeting LDF and UDF, PM Modi said that in West Bengal, Congress and the Left are together. He was a partner in UPA 1 in Delhi. The Leftists continue to give Congress issue-based support to UPA 2, but both accuse each other in Kerala during the election. He also states that Judas betrayed Isha Christ for a few pieces of silver. The LDF has cheated Kerala for a few pieces of gold.
Our government is working for the development of agriculture and welfare of farmers
Prime Minister Modi said that our government is working for the development of agriculture and welfare of farmers. For many years governments promised to increase MSP, but our government had the honor of increasing MSP for farmers. There is a deep connection between Kerala and tourism. Sadly, the LDF and UDF have not done much to improve the tourism infrastructure here. We want technology to serve as the basis for development. The NDA government is working to make medical and technical education available in the local language as well. NDA will continue to work towards advancing social justice, our aim is inclusive development.
Target on LDF and UDF
PM Modi also said that the Left parties have been in power here many times. But their leaders still behave like goons. Under his rule, political rivals are killed, cut and beaten. The BJP government in Kerala will stop this violence. The UDF and LDF are ashamed of our culture. Their leaders do not respect our traditions and ethos. The LDF government should be ashamed for lathing on innocent devotees. When this was happening, the UDF should be ashamed to be silent.
'Metro Man' E Sreedharan is also present with Prime Minister Modi
In the beginning of his address, Prime Minister Modi said that today I have come to take your blessings for the BJP in the upcoming state elections. I have come here with a vision that is different from the current situation in Kerala. Let us know that along with Prime Minister Modi, 'Metro Man' E Sreedharan is also present on the stage. A heavy deployment of the police force has been made at the venue. The Prime Minister is on his campaigning for the upcoming assembly elections. He is also scheduled to address election rallies in Tamil Nadu and Puducherry today. Elections to the 140-seat Kerala Assembly will be held in a single phase on 6 April. Votes will be counted on 2 May.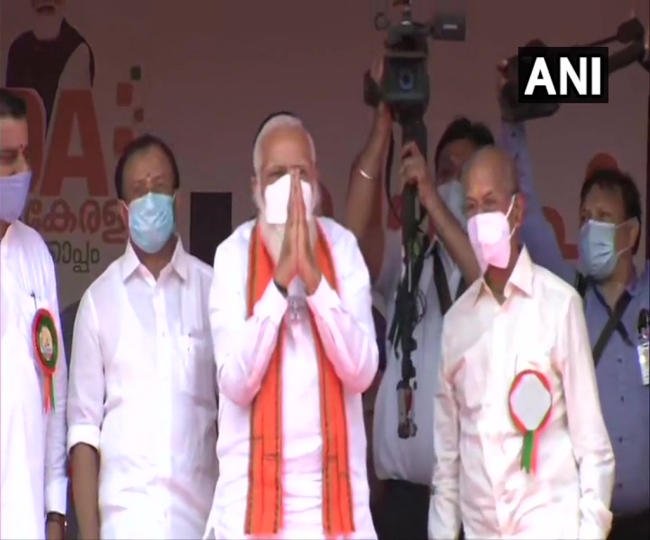 Prepared a master plan for Palakkad - Sreedharan
Sreedharan is the BJP candidate from Palakkad. He said that he has prepared a master plan for this constituency, which includes 24-hour water supply, solid waste management system scheme. He also spoke of planting 25 lakh trees here in the next 5 years.
Piyush Goyal targets LDF over gold scam
Union Minister Piyush Goyal on Monday targeted the Left Democratic Front (LDF) government in Kerala over the state's gold scam and said that the people of Kerala will vote for change, development and electing an honest government in this assembly election. While doing a roadshow for the BJP candidate here, he said that the Left-Front and UDF governments have completely ignored the development of Kerala. The Communists and the Congress are busy scandals after succession.