Prime Minister Narendra Modi (Narendra Modi) has now turned to South India after campaigning in West Bengal (West Bengal) and Assam (Assam). Today, Prime Minister Modi is addressing 4 election rallies here. Prime Minister Narendra Modi is addressing a public meeting in Pathanamthitta. Earlier, PM Modi addressed a public meeting in Madurai, Tamil Nadu. In Madurai, PM Modi took on opposition parties from the promise of development of Tamil Nadu.
PM Modi Speech in Kerala LIVE Updates:
Opposition parties fiercely attacked
During this, PM Modi attacked the opposition parties and said that UDF and LDF have committed many sins in Kerala. He told that UDF and LDF felt pride and arrogance. They feel that they can never be defeated and this has cut them off from the roots. Also promoting the politics of dynasty. In both alliances, the further dynasty is the craze of governance. Everything else is an issue. We have also seen how the children of elder leaders are behaving. The case of the son of a top LDF leader is well known and there is general knowledge of his antics. Also, laziness to work with. While making money, promoting dynasty, and doing vote bank politics is a priority, governance naturally takes a backseat. The UDF and LDF have paralyzed the government in Kerala. The time has come to free Kerala from those political scenarios.
Remember the JP movement
Prime Minister Narendra Modi is addressing a public meeting in Pathanamthitta. During this, PM Modi said that under the leadership of Lok Nayak JP Narayan, we saw a glimpse of this during the anti-corruption and anti-Emergency movement in the 1970s. People of different ideologies united to remove dictatorship and corruption and to protect our Constitution. I see a similar feeling in Kerala today. The people of Kerala are looking at the development agenda of BJP and NDA. They are related to our programs and policies.
During this, he said that there are times in the history of society when people speak in a voice against tyranny, wrong governance, and oppression. In these moments, people give a very clear message to the people in power.
During this, PM Modi said that the people of Kerala are seeing that BJP stands to bring progressive and educated people into politics. The active presence of respected professionals such as Metroman E Sreedharan has been a gamechanger.
PM Modi Speech in Madurai Highlights:
DMK and Congress targeted
In Madurai, PM Modi said that DMK and Congress will neither guarantee security nor dignity. Due to complications in DMK's first family, DMK tried to make peace-loving Madurai a mafia. They have not understood the ethos of Madurai, no wonder the leaders keep insulting the women again and again.
PM Modi said that DMK and Congress have no real agenda to talk but they should control their lies as people are not fools. The Congress-DMK continues to show itself as the sole defender of Tamil culture, but the facts reveal something else.
UPA government under siege on Jallikattu
During this, he said that in 2011 the UPA was in power in Delhi and the DMK had large ministries in the central government. The same UPA government banned Jallikattu. A UPA leader called Jallikattu a barbaric practice!
He said is this the word you use for something that has been a part of Tamil culture for centuries? In 2016, the Tamil Nadu Congress manifesto called for a ban on Jallikattu. Congress-DMK should be ashamed of themselves! In 2016–17, the common people of TN wanted a solution and wanted Jallikattu to continue. I could understand that pain. Our government then approved the ordinance brought to TN by the AIADMK government, which allowed Jallikattu to continue.
PM Modi said on the honor of women
Madurai teaches us important lessons on empowering women's power. We look at it in the way women are considered to be worshiped and revered. He said that sadly, the DMK and the Congress did not understand the ethos of Madurai. No wonder their leaders keep insulting women again and again.
During this time the PM said that Madurai is a city that never sleeps and is always awake! I am sure that Madurai has woken up to political realities and will vote for the development and progress that the NDA assures.
Sabka Saath, everyone's development in Tamil Nadu - PM Modi
PM Modi said that inspired by the mantra of sabka saath, sabka vikas, the NDA government is working to bring positive changes in the lives of 130 crore Indians. For Tamil Nadu and especially southern Tamil Nadu, we want to focus on infrastructure, irrigation, investment.
The achievements of the government
Meanwhile, PM Modi said that a series of economic corridors have been announced in this year's Union Budget and one of them is the Madurai-Kollam corridor. The fund allocated for railway infra projects in Tamil Nadu has increased by a record 238% compared to 2009.
During this, PM Modi said that by 2024, we started the Jal Jeevan Mission to ensure tap water connections in every household in India. In Tamil Nadu, more than 16 lakh tap water connections have been provided since the mission began.
PM Modi said that one vote for NDA is one vote for better investment in this sector. We are creating the right environment for more industries to come here, especially agricultural industries with the help of our farmers in value addition.
PM Modi said that our government is ensuring more credit and modern machinery for the textile sector. A mega-investment textile park scheme 'MITRA' has been announced in this year's budget. 7 textile parks to be built in 3 years.
This land has a great impact on Mahatma Gandhi- PM Modi
PM Modi while addressing a public meeting in Madurai said that Madurai is the oldest language in the world. Closely associated with Tamil. Here, one thinks of the Tamil Sangam. I want to commend all those working to make Tamil culture and literature more popular. This land had a great influence on Mahatma Gandhi.
PM Modi remembers MGR
During this time PM Modi said that South Tamil Nadu and Madurai in particular have a special relationship with MGR. We all know that TM Soundarajan lent his voice to MGR. PM Modi said that in the 1980s, Congress rejected the democratically elected government of MGR. Elections were called, and he won again from Madurai. In 1977, 1980, and 1984, MGR won from places around the region. His vision for an inclusive and prosperous society inspires us.
Worship in Meenakshi Temple
Earlier, PM Modi reached Tamil Nadu on Thursday late evening. After reaching Tamil Nadu late in the evening, Prime Minister Narendra Modi first offered prayers at the famous Meenakshi Temple in Madurai. On this special occasion, Prime Minister Narendra Modi appeared in traditional clothes. On reaching the temple, he was strongly welcomed at the Meenakshi Sundareswarar temple.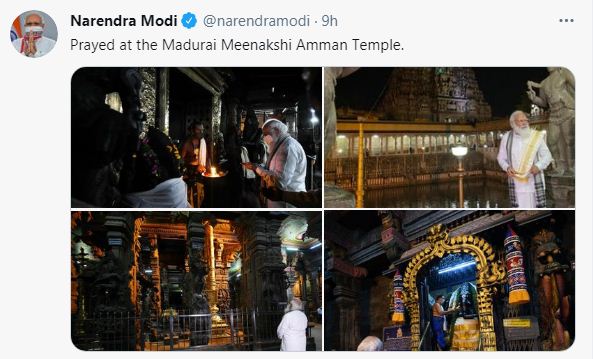 Today's full schedule
The Prime Minister will address a public meeting at Kanyakumari at 4.15 pm. After the public meeting in Kanyakumari, PM Modi will again go to Kerala and there he will address a public meeting in Thiruvananthapuram at 6.15 pm.
5000 km journey, 7 rallies in four states
Assembly elections are going to be held in Tamil Nadu and Kerala on April 6. Today, PM will fly twice between Tamil Nadu and Kerala twice. PM Modi started his journey from Delhi at 8.30 am on Thursday. PM Modi has a program to conduct seven rallies in four states in his journey in 36 hours. Have done three rallies on Thursday. Seven rallies will be held today on Friday. BJP Media Cell convenor Anil Baluni shared this information by tweeting. Baluni tweeted and wrote- Delhi to Assam, Assam to West Bengal, West Bengal to Tamil Nadu, Tamil Nadu to Kerala - PM Modi will travel more than 5000 km in 36 hours and campaign in four states.