The Election Commission has taken major disciplinary action in the EVM case in Assam. News agency ANI quoting sources from the Election Commission has informed that four officials of the Election Commission of India (ECI) have been suspended in the Assam EVM case. The Election Commission said that a show-cause notice has been issued to the Presiding Officer for violating the transport protocol. Also, the PO and three other officials have been suspended. Although the EVM seal was sealed, it has been decided to re-vote at Indira MV School, No. 149 of LAC 1 Ratbari (SC).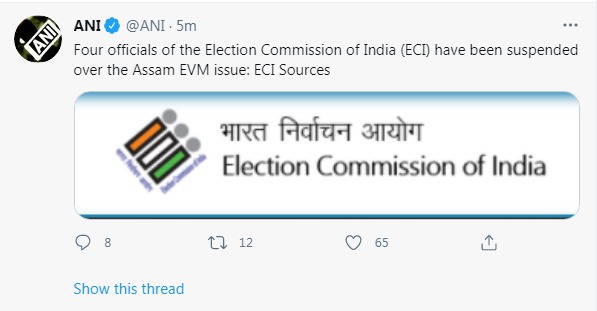 The Election Commission has released a factual report on the EVM-related incident in Assam. The Election Commission report states that the Polling Party 149-Indira MV School of LAC 1 Ratabari (SC) had an accident on the way. The polling party consisted of a presiding officer and 3 polling personnel. He was accompanied by police personnel comprising a constable and a home guard.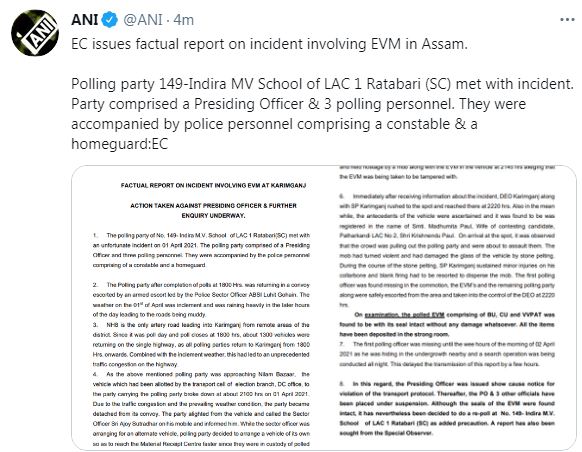 Truth revealed during investigation
Earlier, the Election Commission started an investigation in the case of EVMs found in the car of a BJP candidate in Assam. According to the report of the Election Commission that the EVM was found in the BJP MLA's car so far, according to the polling party's car in Assam was damaged, after which the presiding officer asked to take a lift in the BJP MLA's car. is. According to Election Commission sources, when the BJP was returning from the MLA's car by taking the lift, the local people saw it and stopped the car. The members of the polling party were kicked out by the local people and the mob became violent.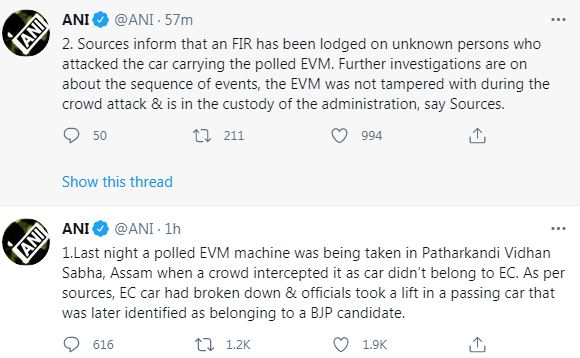 EVM seal not broken
According to the information received by the Election Commission, the EVM which was found from the BJP MLA's car is after voting. However, according to the report, the seal of the EVM has not been broken. Meanwhile, the Election Commission is also awaiting another report from the District Election Officer.
How did the matter come to light?
Voting was held on April 1 in the second phase of the Patharkandi seat of Assam Assembly Election 2021. After this voting, the EVM case came up in Assam. After voting, BJP candidate Krishnendu Paul from Pathrakhandi got into trouble. The Congress accused them of getting EVMs from their car and sought an answer from the Election Commission on the matter. It was told that this EVM was found in the BJP candidate's car after voting. Congress leader Saral Patel gave information about this in a tweet and said that EVM was found in Krishnendu Paul's car. He said that the Election Commission should explain why and how the EVMs are in their car. This matter should be investigated. The second phase of the Assam Assembly elections saw a turnout of 77.21 percent on Thursday. In the second phase, voters exercised their franchise at 10,592 polling stations in 13 districts.