Voting continues for the third and final phase in the Assam Assembly Polls today. Voters are exercising their franchise in 40 seats in the 126-seat assembly. This time the main contest in the election is between the BJP and the Congress-led alliance. The BJP has an alliance with the Asom Gana Parishad (AGP) and the United People's Party Liberals (UPPL), while the Congress alliance includes the All India United Democratic Front (AIUDF), Communist Party of India, Communist Party of India (Marxist), Communist Party of India ( Marxist-Leninist) Liberation, Zonal Gan Marcha (AGM) and Bodoland People's Front (BPF). This phase will decide the fate of 337 candidates from 12 districts of the state, including Bharatiya Janata Party (BJP) leader Himanta Biswa Sarma.
Apart from Sarma in the third phase, Minister Chandra Mohan Patauri from Dharampur, Siddharth Bhattacharya, Education Minister from Gauhati East, and BJP state chief Ranjit Kumar Das from Patrachowki are also in the fray. Asom Gana Parishad (AGP) candidate Phanibhushan Chaudhary from Bongaigaon, Pramila Rani Brahma of Bodoland Peoples Front (BPF) from Kokrajhar East, Chandan Brahma from Sidli, and Independent candidate and Lok Sabha MP Naba Heera Kumar from Barama are in the fray.
Assam Election 2021 Voting LIVE Updates
- Prime Minister Narendra Modi has appealed to voters and especially young voters to vote in a record number of votes in the upcoming assembly elections in Assam today.

Voting is going on today for the third and final phase of the Assam assembly elections. Voters outside the polling stations 211, 212A, 212, 213A, 215, and 215A in Guwahati are waiting for their turn. Senior citizens cast votes at a polling station in Kokrajhar.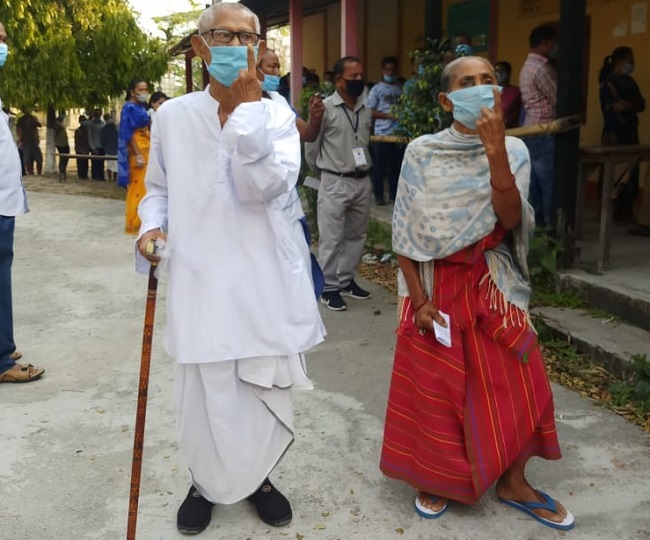 Earlier, the Election Commission on Sunday rejected the petition to adjourn the elections to the Tamulpur Assembly seat of the Bodo People's Front (BPF). The BPF filed this petition because its candidate Rongja Khungur Basumatari joined the BJP from this seat. This seat is to be voted on Tuesday. The Commission said that the election can be postponed at this time only when the candidate of a recognized political party dies. Have joined or been expelled from the BPF.
In the second phase of the Assam assembly elections, the final voting percentage was 80.96 percent which is 1.03 percent more than the first phase of 79.93 percent. After the voting ended on Thursday, the vote percentage was stated to be 77.21 percent, but after updating the figures it has been increased to 80.96 percent. In the second phase on Thursday, voting was held for 39 assembly seats in the state.