The weekend lockdown has been put in place to prevent the rapid spread of coronavirus in Maharashtra. Weekly lockdown will be applicable across the state from Friday 8 am to 7 am Monday. The entire lockdown from Bandra in Mumbai has revealed fresh pictures of deserted roads. These pictures are once again bringing back memories of the entire lockdown in the country which took place last year.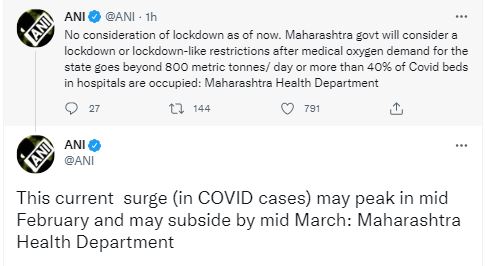 Full lockdown may take place soon
In view of the corona epidemic, the entire lockdown may apply for two to three weeks in Maharashtra. In view of the present situation, the government has implemented Weekend Lockdown and Night Curfew in the state. Chief Minister Uddhav Thackeray (Uddhav Thackeray) has convened an all-party meeting on Saturday in view of the cases of corona infection. The state Health Minister Rajesh Tope says in this case that if the situation continues to deteriorate, then the state may soon be imposed a complete lockdown for two to three weeks. However, the government is not in favor of complete lockdown if the shortage of Corona Vaccine remains the same and this step will be taken only when the government has failed to reduce the growing cases.
Health Minister Tope has expressed hope that the weekend lockdown and night curfew will definitely improve the situation. Tope also said that people have become careless after the reduction in cases of infection and opening of economic activities in the past. People believed that the second wave of the epidemic will not come now but this wave is proving more dangerous. The Health Minister has also rejected the Union Health Ministry's claim that more than five lakh doses of corona vaccine have been wasted.