Votes are being cast for the fifth phase in Bengal today. Long queues of people have been outside the polling stations since morning. Voters are exercising their franchise in 45 seats of the 295-seat assembly. The fate of Trinamool Congress's Gautam Dev and Bratya Basu, BJP's Shamik Bhattacharya and CPI-M's Ashok Bhattacharya will be decided at this stage. In the fifth phase, the Election Commission is conducting the fifth phase voting with very tight security arrangements. In this phase, voting is going on in seven seats in Jalpaiguri, one seat in Kalimpong, five seats in Darjeeling, eight seats in Nadia, 16 seats in North 24 Parganas, eight seats in East Badardhaman.
West Bengal Election 2021 Voting Live Update:
BJP candidate from Bidhannagar assembly constituency Sabyasachi Dutta alleged, 'TMC goons stopped me in Nayapatti here. Voters are also being prevented from going to polling booths.
Voting is going on in 45 seats for the fifth phase of the West Bengal assembly elections. 54.67 percent voting has been registered till 1.30 pm. Jalpaiguri recorded the highest turnout of 59.47 percent during this period. Polling was held in East Bardhaman with 58.13 percent, Nadia 57.68 percent, Darjeeling 51.42 percent, North 24 Parganas 50.75 percent, and Kalimpong 43.28 percent.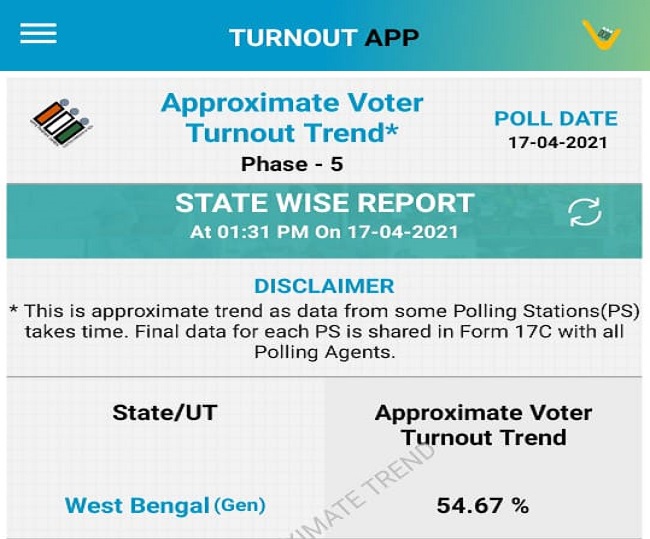 - The main point in the audiotape is that we will rally with the body, these people are their own (TMC) people. CM is saying that the police will not write the report yet. The most dangerous point in the tape - SP, ISI will have to be trapped. Yesterday Derek O'Brien confirmed this tape: Shishir Bajoria, BJP after meeting Election Commission
- BJP does not have the support of the people in Bengal. They do not have much influence on ground zero. How can they form a government? Politics is not possible through violence, vandalism, firing. Politics should be simple: GJM (Gorkhaland Janmukti Morcha) leader Bimal Gurung.
- The Election Commission has today sought a report on the sudden death of a BJP polling agent at booth number 107 in Kamarhatti. The brother of the deceased BJP polling agent says, 'His name is Abhijeet Samanta. Nobody helped them, there is no treatment facility here. '
In the fifth phase of the Bengal assembly elections, polling was held till 9:30 am till 16.15 percent. Polling was 14.88 percent in Darjeeling, 18.62 percent in Jalpaiguri, 14.00 percent in Kalingaponga, 16.52 percent in the rivers, 15.30 percent in North 24 Parganas, and 16.17 percent in East Bardhaman.
- In the fifth phase of the Bengal elections, reports of sporadic violence and clashes are coming out in some places this morning. Some workers have been injured in a clash between BJP and TMC in Bardhaman.
- BJP will meet the Election Commission in Kolkata today regarding the alleged audio clip of West Bengal Chief Minister Mamata Banerjee regarding the violence in Sitalakuchi in Cooch Behar.
- Outgoing MLA from Siliguri and United Front candidate and senior Communist leader Ashok Narayan Bhattacharya with his wife came to vote at Netaji Boys High School. Talking to journalists after casting their vote, they said that political parties are still with the administration to maintain peace during the elections.
- Trinamool Congress leader Madan Mitra voted in the fifth phase of the assembly elections in Kamarhati in the North 24 Parganas district. West Bengal minister Gautam Deb voted in booth number 173 of Siliguri.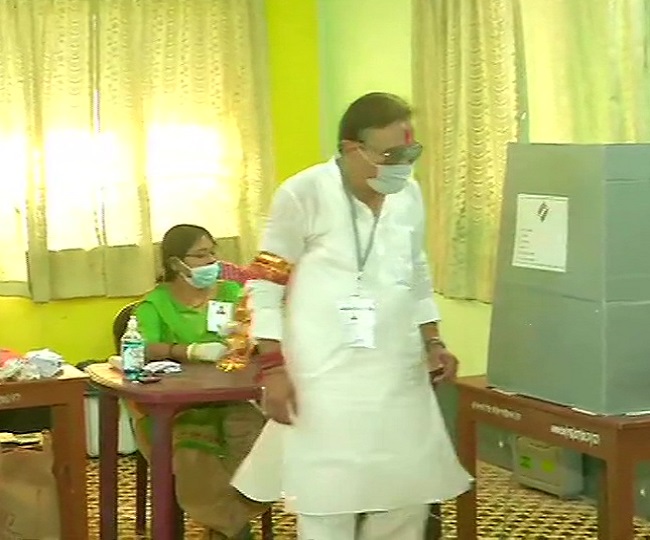 - Shikha Chatterjee, BJP candidate of Dabgram-Phulbari Legislative Assembly voted at the polling station in Shantinagar. Technicals in EVM at booth number 19/79, 19 / 76A, 19/271, 19/7, 19/10, 19/279, 19/31, 19/32, 19/33, 19/21 of Dabagram-Phulbari Assembly Polling has not started even after an hour of polling due to the disturbances.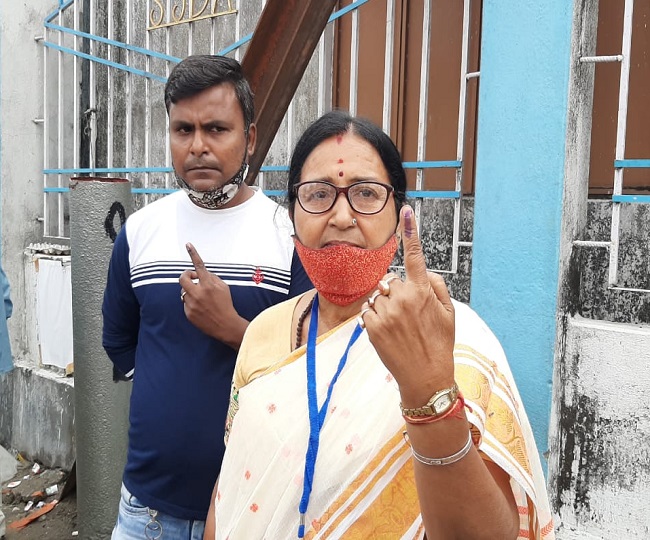 Voting is going on for the fifth phase of the West Bengal assembly elections. In Darjeeling booth number 263, people were seen waiting for their turn to vote. A large number of people have reached polling booths to vote in North 24 Parganas.
- Prime Minister Narendra Modi appealed to voters to vote in large numbers in the fifth phase of the West Bengal assembly elections. The Prime Minister has appealed to the voters who are voting for the first time to exercise their franchise in particular.
At booth numbers 19/150 and 19/158 of the Dabgram-Phulbari assembly, BJP supporters have alleged that Trinamool supporters are being allowed to enter the polling without queuing up.
Voting is going on for the fifth phase of the West Bengal assembly elections. People have also been queuing up at a polling station in Siliguri since morning.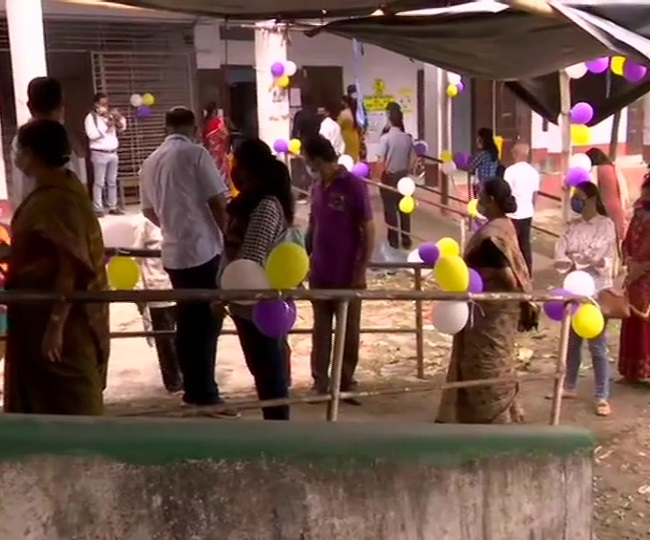 BJP's polling agent is not allowed to sit in Dabgram Phulwadi booth number 19/292 of Jalpaiguri district. There has been a deadlock over this. The BJP has complained to the election officials in this regard. The presiding officer says that the polling agent is from another place so this problem is coming up. This booth is in the minority area. State Tourism Minister Gautam Dev is contesting as a Trinamool candidate from here
A total of 1.07 lakh personnel of the central force will be deployed. Apart from this, 21,000 personnel of the state police will also be ready. Out of the 1071 Central Armed Police Forces (CAPFs), 853 companies will be on electoral duty. Section 144 will remain in force for 200 meters of all booths. A total of 319 candidates are in the fray in the fifth phase. In the last assembly election, Trinamool won 32 of these 45 seats while the Congress-Left Front alliance won 10 seats. The Gorkha Janmukti Morcha won three seats on the mountain.
The Election Commission has taken a big decision regarding the Bengal Assembly elections. The Election Commission has decided to stop campaigning in all the remaining three phases 72 hours in advance. The Election Commission has also decided not to allow rallies, street plays during the election campaign between seven in the morning and 10 in the evening.