Amid growing cases of corona infection, a high-level meeting was held on Saturday with the health ministers of the 11 most-affected states and union territories led by Union Health Minister Harsh Vardhan. During this, Union Minister Harsh Vardhan announced to make available six thousand new ventilators to the states. In the meeting, the states have also urged the central government for the shortage of Remedisvir, Oxygen, and Vaccine. State Health Ministers briefed Union Minister Harsh Vardhan about the steps being taken to prevent infection and also apprised them of the challenges being faced.
The health minister reviewed the situation after meeting with health ministers of Maharashtra, Chhattisgarh, Rajasthan, Gujarat, Madhya Pradesh, Kerala, Bengal, Delhi, Karnataka, Tamil Nadu, and Uttar Pradesh for about three hours. During the discussion on the lack of ventilators, the Union Minister informed that six thousand new ventilators will be given to the states. He said that 1121 will be supplied to Maharashtra, 1700 to Uttar Pradesh, 1500 to Jharkhand, 1600 to Gujarat, 152 to Madhya Pradesh, and 230 ventilators to Chhattisgarh.
States cited the lack of remadecevir and oxygen
During the meeting, all the states cited remadecivir and lack of oxygen. He said that due to this treatment of patients is becoming difficult. Along with this, expressing concern over the black marketing of Remedisvir, the states asked to determine its price and ensure availability. Delhi Health Minister Satyendra Jain demanded to increase the corona beds in the central government hospitals in Delhi. Jain said last year, providing extra beds to the central government aided in this fight.
Union Minister Harsh Vardhan informed that efforts are being made to ensure the availability of oxygen and Ramdesivir. Prime Minister Narendra Modi himself is monitoring this. He assured the states that there is no shortage of vaccines in the country. All states should try to give the vaccine to the eligible people as soon as possible.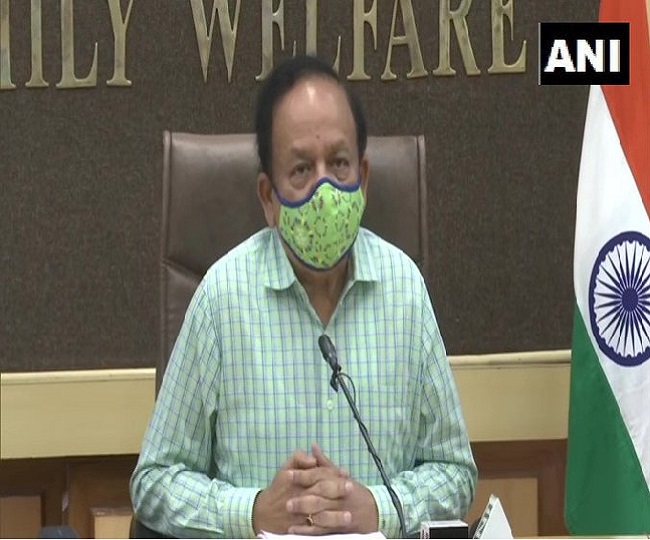 Oxygen plants will be built in hospitals
Talking to news agency ANI after the meeting, Health Minister Harsh Vardhan said that the central government is developing oxygen plants in many hospitals across the country. He said, 'Last year we bought one lakh cylinders and supplied them free of cost to the states. One lakh cylinders are being purchased. There will be no difficulty in the process of transporting oxygen from one state to another.
Companies reduced the price of Remedisvir
The National Pharmaceutical Pricing Authority (NPPA) said on Saturday that several companies had lowered the price of ramdescivir injection after government intervention. Cadila Healthcare, Dr Reddy's and Cipla have reduced prices. Union Chemicals and Fertilizers Minister Mansukh Mandaviya said, "After the intervention of the government, the price of Remedesivir has come down. I thank the companies.