Chief Minister Hemant Soren may extend the lockdown for a week, amid uncontrollable conditions due to Coronavirus infection. Earlier, a lockdown has been imposed in the state with all restrictions from 6 am to 6 am on April 29 at 6 am. According to government sources, the government will take an important decision on increasing the lockdown today. The CM will announce it after a meeting of the senior officials chaired by Chief Minister Hemant Soren. It is believed that further economic activities will not be banned. However, the government may impose some new restrictions.
Lockdown may increase for a week
It has been reported that the lockdown period is coming to an end on 29 April in the state. In such a situation, a decision will be taken in the meeting held under the chairmanship of the CM on Wednesday. Chief Minister Hemant Soren may also consult his cabinet colleagues on this issue before the decision to increase the lockdown. There is a possibility that the government may extend the lockdown period in Jharkhand by a week. However, it will be announced officially after the meeting.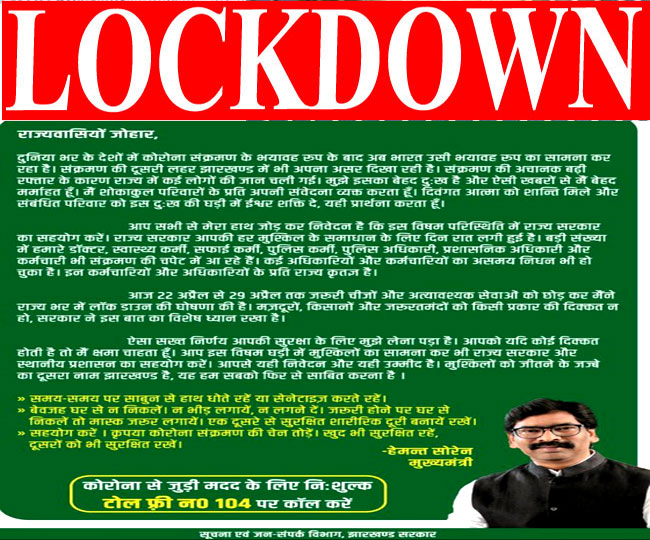 Congress demands to increase lockdown
It is believed that even if the lockdown continues further, all economic activities including construction work, industry and trade will not be banned in the state. Here Congress has demanded to increase the lockdown in Jharkhand. State Congress Committee spokespersons Alok Dubey, Lal Kishorenath Shahdev and Rajesh Gupta have demanded a further lockdown for a week. Appreciating the government's efforts in tackling the corona virus infection, the Congress said that corona vaccination should also be carried out on a war footing.
Lockdown in Jharkhand is still effective till April 29
Earlier, the lockdown in Jharkhand has been imposed in the name of Health Safety Week from 6 am in the morning of 22 April to 6 in the morning of 29 April. In the order issued by the state government, school-colleges, coaching, educational-training institutes, swimming pools, gyms, parks, hotels-restaurants (sit-down ban), cinema halls, malls, liquor shops were closed during the lockdown period. Has gone. The general public is strictly forbidden to leave on the road. Prohibitory orders have been imposed under Section 144 in the entire state. Ration, vegetable and drug stores are exempted from lockdown.