Bengal Governor Jagdeep Dhankad administered the oath of office to the cabinet ministers of Mamta Banerjee, who became the Chief Minister of the state for the third time after the Bengal Assembly elections on Monday. A total of 43 ministers were administered the oath by the Governor at 10:45 am in the presence of Mamta Banerjee at the Throne Hall of the Raj Bhavan. There are eight women in the cabinet. At the same time, three ministers Amit Mitra, Bratya Basu, and Rathin Ghosh sworn in as ministers in a virtual manner due to being infected with Kovid-19. Many old faces who have been ministers in the previous government in the 43-member new cabinet have also been given the opportunity this time. At the same time, there are 18 new faces in the cabinet, who have been given a chance for the first time.
In the swearing-in, the 43-member cabinet has several new faces including former cricketer Manoj Tiwari, former IPS officer Humayun Kabir, who has joined Mamata Banerjee's cabinet for the first time. Former Finance Minister Amit Mitra did not contest this time due to health reasons. But despite this, he has been inducted into the cabinet. The cabinet has 24 cabinet rank ministers, 10 have independent charge, and nine state ministers.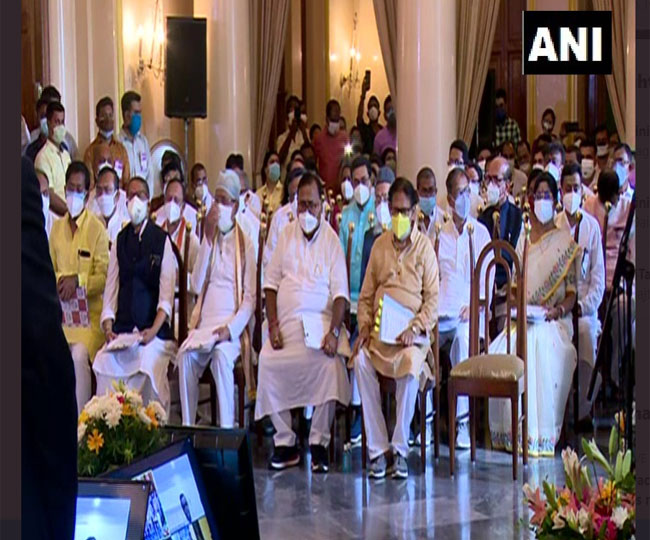 Cabinet meeting will be held in Navan after the swearing-in ceremony
There is also the first meeting of the state cabinet at the state secretariat Navanan at 3 pm after the swearing-in ceremony. The portfolios of all ministers will be divided in this meeting itself. According to sources, Mamta Banerjee will keep the Home Department and Health Department herself, while there may be some changes in the portfolios of the old ministers.
There may be a change in the portfolios of old ministers
The old ministers in Mamata Banerjee's new cabinet include Subrata Mukherjee, Partha Chatterjee, Amit Mitra, Firhad Hakim, Arup Biswas, Shobhanadeva Chattopadhyay, Vidhan Pandey, Jyotipriya Mallik, Somen Mahapatra, Malay Ghatak, Arup Vishwas, Ujjwal Biswas, Arup Rai, Chandranath Sinha , Ministers like Bratya Basu, Dr. Shashi Panja, Javed Khan, Swapan Devnath and Siddikulla Chaudhary have been re-inducted as Cabinet Ministers. Former Rajya Sabha members Manas Ranjan Bhuiyan, Rathin Ghosh, Pulak Rai, Bankim Chandra Hazra and Biplav Mitra have been included in the new cabinet.
Many new ministers including former IPS Humayun Kabir
Humayun Kabir, who defeated BJP candidate former IPS Bharti Ghosh in the IPS vs IPS battle, has also been made a minister. Just before the election, Kabir resigned from the job and joined the Trinamool Congress. Apart from this, Akhil Giri, Ratna De Nag, Santhali actress Birwah Hansda, Jyotsna Mandi, Cricketer Manoj Tiwari, Siuli Saha, Bulchiki Baraik, Dilip Mandal, Akaruzzaman, Srikant Mahato and Paresh Adhikari have been included in the cabinet for the first time.