The surge in the rainy river in Devprayag in the Tehri district was heavy on the market. With this, the ITI building along with 10 shops was turned into rubble. The market was closed these days due to Covid's curfew. It did not cause loss of life. Chief Minister Tirath Singh Rawat contacted the officials to take stock of the situation and have summoned the loss report to the district administration. This is the second cloudburst in Tehri in a week.
The incident took place around five o'clock on Tuesday evening. A cloud burst in the vicinity of Mount Dasharatha, some distance from Devprayag. Shops were demolished due to the huge stone and debris that flowed from the mountain. These include jewelery shops, computer centers, sweets, and furniture shops. During this time, a security worker present in the market escaped and saved his life.
In the strong current, the culvert on the road leading to the bus stand was also washed away. The people of the town are in panic due to the sudden upsurge. Senior Superintendent of Police Trupti Bhatt said that the river's spill had calmed down in a while. Citizens have been asked to be vigilant in view of the weather. Apart from this, three houses were damaged due to overflowing in Gram Panchayat Kyara of Dogee Patti area of ​​Narendranagar block in Tehri district itself. According to the village head Sultan Singh, due to flooding in the rainy river flowing near the village due to heavy rains, the damage has been done. In panic, the villagers moved to a safe place. However, by the evening people returned to the village.
Hail in Mussoorie, rain in Nainital
In Uttarakhand, there is a series of rain and hail from the mountain to the plains. There has been hail in Mussoorie and the weather has become cold due to rain in Nainital. On Tuesday, the hills of Kedarnath once again covered the sheet of snow, while the mountainous areas including Badrinath, Gangotri and Yamunotri received rains. At the same time, life in Dehradun was disturbed by the darkness. According to the forecast of the Meteorological Department, strong winds can prevail in the plains on Wednesday as well.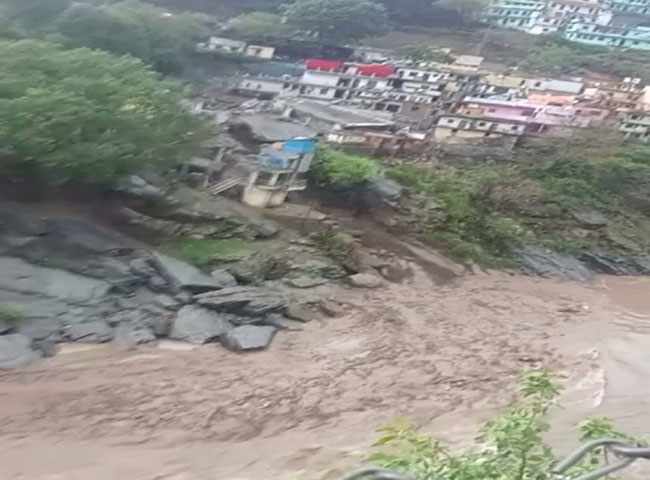 Meteorological Department issued a warning
Uttarakhand does not seem to be getting any relief from the rain at present. According to the Meteorological Department, there are chances of rain in the mountainous areas on Wednesday and Thursday as well. The department has issued heavy rain warnings in Chamoli, Uttarkashi, Rudraprayag and Pithoragarh.