In Indian cricket, the way captain Virat Kohli has led Team India to the summit under his captaincy. In this, Captain Kohli himself considers former captain Mahendra Singh Dhoni's very important contribution to his success as a captain. This is the reason that once again Captain Kohli has said a great thing in the internet media in honor of Dhoni.
Captain Kohli has always considered Dhoni as a captain. At the same time, when a fan asked Kohli to describe his relationship with Dhoni in just and only two words, Kohli used the two words without spending time, which fits on MS Dhoni's personality. The two words that Virat used for Dhoni were 'trust and respect', which reflects what Virat Kohli considers Dhoni.
It is known that Virat Kohli is currently in Quarantine in Mumbai with Team India. From where Team India will leave for England tour. Meanwhile, to spend time in quarantine, Virat Kohli asked the fans to ask questions, which he answered with great simplicity. A question was also asked to him by his wife Anushka Sharma, where are my headphones, then captain Virat Kohli also gave the answer. At the same time, he also told the meaning of the name of daughter Mavika.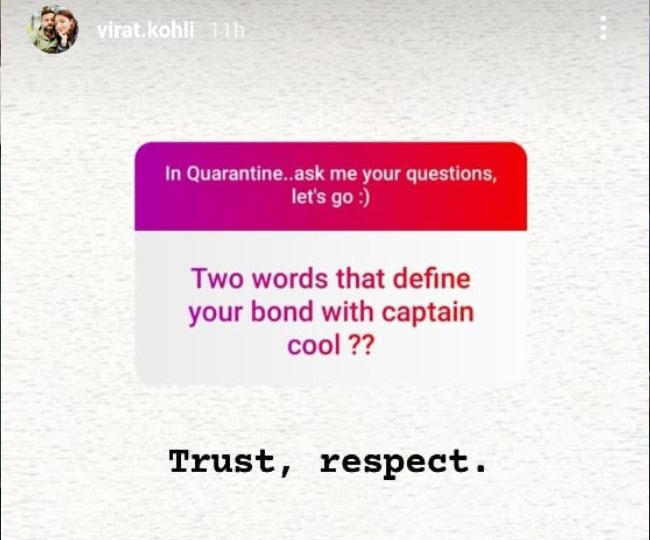 Virat Kohli is preparing for the World Test Championship to be played against New Zealand on a tour of England and a five-match Test series against the hosts. At the same time, MS Dhoni will be eyeing the rest of the season of IPL 2021, as he has said goodbye to international cricket and he has only appeared in the IPL after that. However, the 2020 season did not end well for him.