The chain-breaking of the growing corona infection in the district has been extended to section 144 by June 30. While issuing the order, Additional Deputy Commissioner of Police (ADCP) Law and Order Shraddha Pandey said that the epidemic spreading due to Kovid-19 has been declared a disaster by the government. Due to this, instructions for partial corona curfew have been issued. In view of this, Section 144 will remain in force in the city till June 30. Apart from essential services and commodities, any other type of movement will be restricted. The number will be restricted to 25 at the wedding ceremony and more than 20 at the funeral. If the number of active corona cases is less than 600, the night curfew will be applicable in the district from 7 to 7 in the evening. The weekly corona curfew will remain in force on Saturday and Sunday.
Know about Section 144
Section 144 of CrPC is imposed when it is about maintaining peace or avoiding any emergency. According to experts, if there is a possibility of any kind of safety, health hazards, or riots, then section -144 is used. After the installation of this stream, no more than five or more people can congregate in the area.
Explain that in case of need, Internet services can also be stopped during the implementation of Section 144. A notification is issued by the District Collector of the area to enforce the clause. After the implementation of this clause, there is also a restriction on the carrying of weapons in that area.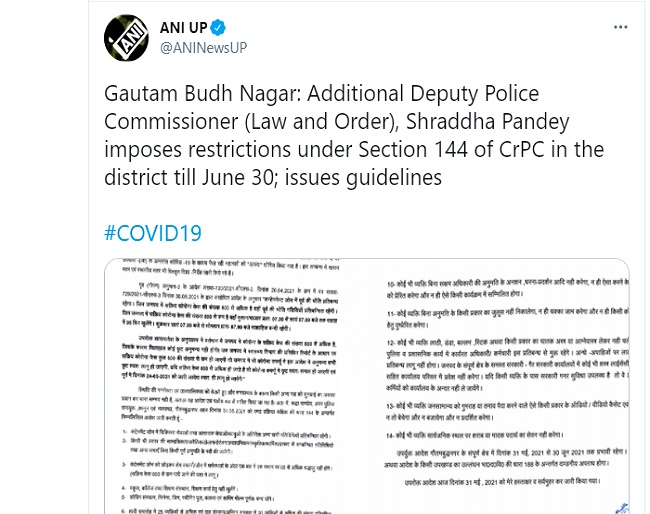 At the same time, in the second wave in Noida city, the corona infection showed its widespread form by the early fifteen days of May but also gave relief to the people in the last days. Even though the infection was higher in May than in April, double deaths occurred, but healthy rates also improved. In May, 28 thousand people returned home after beating Corona, which is four times more than in April. At the same time, now the number of new infected and the death toll has also started decreasing. The outbreak of the second wave lasted from 15 April to 15 May. With 15,202 new cases and 121 deaths reported in April, the recovery rate remained nominal. Only 7,155 people were able to beat Corona against the new infected. In May, 21,057 new cases were found and 238 people succumbed to the infection.