One person died while five people were injured when part of a building collapsed in Mumbai's Bandra area. The injured have been admitted to the hospital. At the same time, 17 people have been rescued so far. Fire and Police Department officials present at the spot are engaged in the rescue work.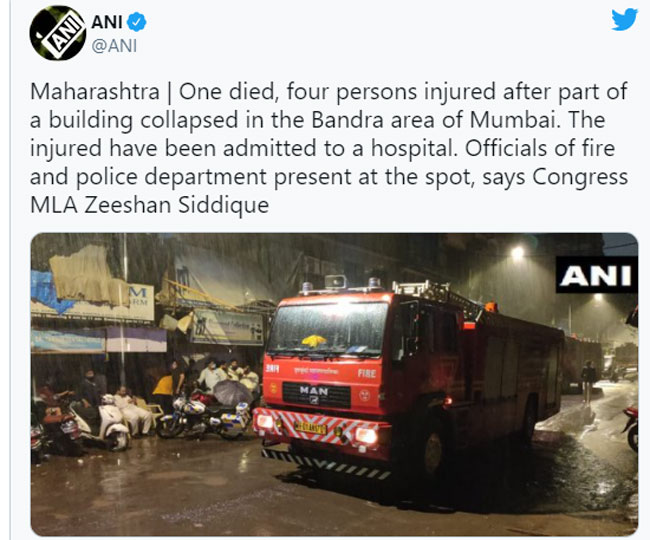 According to the information, part of a four-storey building collapsed in Bandra area of ​​Mumbai. One person died in this accident that happened around 1.30 pm. At the same time, five people were also injured. After getting information about the incident, officials of the fire department and local police reached the spot. The injured were immediately admitted to the hospital. After the accident, Congress MLA from Bandra Zeeshan Siddiqui also reached the spot. Siddiqui said the building collapsed around 1:30. Police and fire officials are present at the spot. Rescue operation is on. One person has died in the incident. The injured have been sent to nearby hospitals.
It is known that it is raining incessantly in Mumbai, due to rain, the fire personnel engaged in relief and rescue work are also facing a lot of trouble. Fire personnel are trying to ensure that no more people are trapped under the debris. It is to be known that many people came out after hearing the noise of a part of the four-storey building built in the street collapsing. Part of the debris of the building also fell on nearby houses.
Category: India
#Maharastrabuildingcollapses
#buildingcollapsesinjured
#buildingcollapsesinMumbai
#buildingcollapsesinBandraarea
#Maharastranews
Reported by:
Pankaj Prasad