Former Union minister Jitin Prasada, who has been angry with Congress for a long time, joined the BJP on Wednesday. Just before the Uttar Pradesh assembly elections, this political upheaval is being seen as a big setback for Congress. Meanwhile, Milind Deora has increased the concern of Congress by calling the work of the Gujarat government exemplary. Sachin Pilot and Milind Deora are among such young Congress leaders, whose displeasure often heats up the market of political speculation.
Congress leader Milind Deora, while sharing a tweet of CMO Gujarat on his Twitter account, has described the work of Gujarat government as good. Deora has written – This is a welcome step worth emulating for other states. He has said that if we want to prevent further loss of jobs in the hospitality sector of India, then all the states should come forward immediately.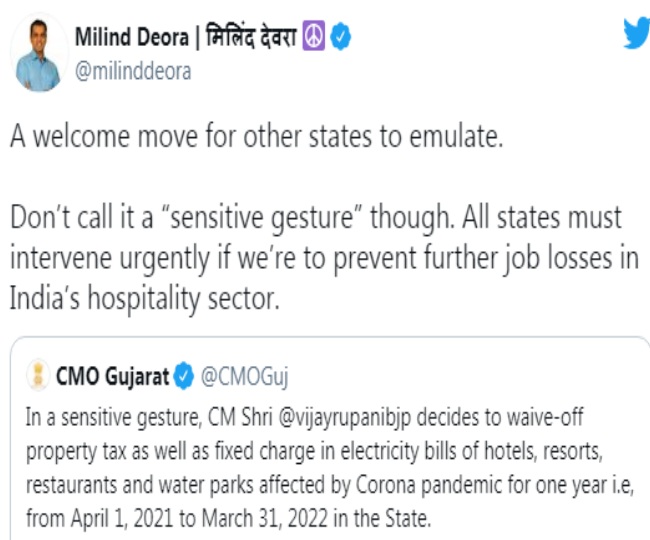 Milind Deora has also given a strong statement on his former colleague Jitin Prasada joining BJP. He tweeted and said- I believe that Congress should try to regain its old position. Congress is the big party of the country and in that sense, it can and should do this too. Deora has said that we still have such leaders who, if given strength and used in the best way, can give great results.
Remember that there was a time when Jyotiraditya Scindia, Milind Deora, Jitin Prasad, and Sachin Pilot were considered veteran leaders of the youth brigade of Congress. These leaders had been in Congress governments earlier also. Scindia had joined the BJP long back. Now Jitin Prasada has also joined BJP. Not only this, Pilot and Deora have often raised the demand for reforms in the party. Now political speculation has intensified once again with the latest tweet of Milind Deora.
Category: India: Politics
#politics
#MilindDeoraNews
#JitinPrasadajoiningBJP
#MilindPraiseGujratModel
#MilindDeoraonGujaratModel
#MilindDeoraIncreasesCongressTension
#JitinPrasadJoinBJP
#CongressleaderMilindDeora
#MilindpraisedGujarat