After Jaipal for the marriage, the matter of firing the bride with a revolver before climbing on the stage was not even old that people in Pratapgarh started worshiping 'Corona Mai' by setting up the idol in the temple. On the instructions of the district administration, the police demolished the temple of Corona Mai late on Friday night.
Police demolished the Corona Mai temple built in Juhi Shukulpur village on Dewanganj Road, two kilometers from Sangipur market in Pratapgarh district, on Friday night. Sangipur police had reached here late at night. After this, the remains of the broken idol were put out in a tractor-trolley.
Nagesh Kumar Srivastava, elder brother of Lokesh Srivastava, who installed the idol in the temple, has been taken into custody. Now the family members are accusing the police of bullying.
When this temple of Pratapgarh became viral on the internet media, the crowd started increasing. Here on June 7, Deepmala Srivastava of the village had established the temple under the neem tree. Four days ago some people had built a temple of Corona Mata in Juhi Shukulpur of Sangipur police station area. Where people started worshiping while promoting superstition.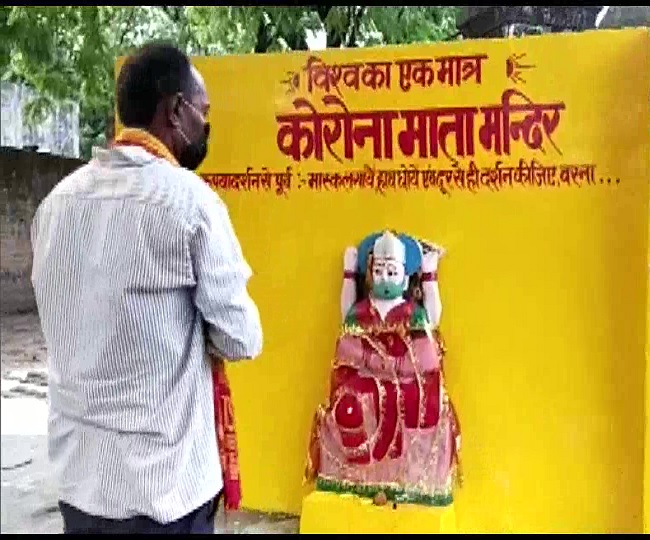 The image of Corona Devi was realized in the form of a statue in the temple. After this, the worship started here. According to the villagers, three people had died due to coronavirus infection here and many people became positive. After the treatment, all of them were fine. In such a situation, the villagers resorted to worshiping. People installed the idol of Corona Mata under a neem tree in the village and started performing aarti in the morning and evening.
Category: India: Uttar Pradesh
#CoronaMaiMandir
#CoronaMaaiyaMandirInPratapgarh
#PoliceDemolishedCoronaMaiMandir
#Pratapgarh
#UPNews
#UttarPradeshnews