Politics has heated up in Uttar Pradesh ahead of the 2022 assembly elections. 11 MLAs suspended from Bahujan Samaj Party have now united. All of them have also decided to form a new party under the leadership of Lalji Verma. Nine MLAs suspended from BSP had also gone to meet Akhilesh Yadav in Samajwadi Party in Lucknow today. Of the total 18 MLAs in the BSP, nine were suspended and two expelled by the party.
There is a stir in the politics of Uttar Pradesh. BSP is on the verge of a complete breakdown and there is talk that all the rebel MLAs will soon join the SP and fight the upcoming assembly elections under the banner of the Samajwadi Party. Shravasti MLA Aslam Raini, who is facing suspension after rebelling against BSP in the Rajya Sabha elections, said that all the 11 rebel MLAs of BSP will form their new party together. Raini said that our leader will be Lalji Verma. Along with him, Ram Achal Rajbhar is also with us. We will make Lalji Verma the head of our party. 11 MLAs are together now. Right now we are short of one MLA, due to which a new party is not being formed immediately. Meanwhile, if one more MLA comes along, he will form the party. The name of the new team is to disassemble Lalji Verma. Lalji Verma declined to comment.
Raini said that we have no complaint with Bahujan Samaj Party President Mayawati, but the behavior of the party's national general secretary Satish Chandra Mishra is not up to the mark. Raini says that he has no complaints with BSP supremo Mayawati, his main complaint is with Satish Chandra Mishra. Mayawati does only as much as she says. All 11 MLAs have no displeasure with sister Mayawati, Satish Chandra Mishra is trying to bring the party together. He said that today there is not a single Muslim in the state with BSP.
On meeting Akhilesh Yadav, MLA Aslam Raini said that we can meet any leader. Earlier also nine suspended MLAs had met Akhilesh Yadav and have met even today. There is no evidence that we met today. During the meeting of these rebel MLAs with Akhilesh Yadav today, the 2022 assembly elections were discussed. First six MLAs went, later three more had arrived. After the meeting, all of them came out of the back gate of the Samajwadi Party office. It is also believed that now the BSP rebels will add the expelled leaders from BSP. After this, the responsibility of bringing them to SP has been given.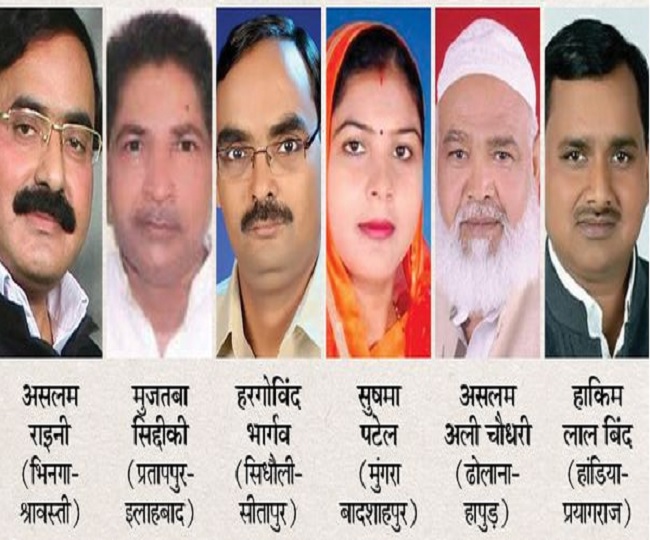 Mujtaba Siddiqui said - we wait, sister ji withdraw the suspension
Mujtaba Siddiqui, MLA from Pratappur, Prayagraj, suspended from BSP said that we are waiting for Behen ji to withdraw the suspension. Now if the suspension is not withdrawn, then we will take further steps. We are just waiting for the stand of BSP President Mayawati. Right now there has been talk among the rebel MLAs about forming a party, but there has been no consensus. He said that senior party leader Lalji Verma also has no option. In BSP, we are harassed everyday. Sometimes there is a threat about the ticket and sometimes the fund. Coordinators threaten people. He said that he had a formal meeting with Akhilesh Yadav today. There has been no talk of him joining the Samajwadi Party in any way nor was there any talk of getting a ticket. Today seven of us MLAs met him. We met him even after he was suspended from the party after the Rajya Sabha elections.
The arrival of rebel MLAs will give a huge boost to SP: Akhilesh Yadav
SP supremo Akhilesh Yadav says that the arrival of all the rebel MLAs will give a big boost to the Samajwadi Party and will complete the mission 2022 with everyone's cooperation. Then the Samajwadi Party government will be formed. The rebels who met Akhilesh Yadav included Aslam Raini, Aslam Ali, Mujtaba Siddiqui, Hakim Lal, Sushma Patel and Hargovind Bhargava.
MLA suspended from BSP
Aslam Raini (Bhinga-Shravasti)
Aslam Ali Choudhary (Dholana-Hapur)
Mujtaba Siddiqui (Pratappur-Prayagraj)
Hakim Lal Bind (Handia-Prayagraj)
Hargovind Bhargava (Sidhauli-Sitapur)
Sushma Patel (Mungra Badshahpur-Jaunpur)
Vandana Singh (Sagadi-Azamgarh)
Ramveer Upadhyay (Sadabad-Hathras)
Anil Singh (Purwa-Unnao).
MLA sacked from BSP
Lalji Verma (Kathari-Ambedkarnagar)
Ram Achal Rajbhar (Akbarpur-Ambedkarnagar).