The house of senior Aam Aadmi Party leader and Rajya Sabha MP Sanjay Singh, who had alleged scam in the land purchase of Ram Janmabhoomi Trust, was attacked on Tuesday. He himself has tweeted this information. Sanjay Singh alleged that those arrested were entering the house to attack me. But my colleagues stopped him, then the police arrested him. He said that four-five people were involved in the attackers.
Aam Aadmi Party leader Sanjay Singh has tweeted- 'My house has been attacked. Listen with open ears, BJPmen. No matter how much hooliganism you do, I will not allow donations to be stolen in the temple built in the name of Lord Shri Ram. For this, even if I get killed.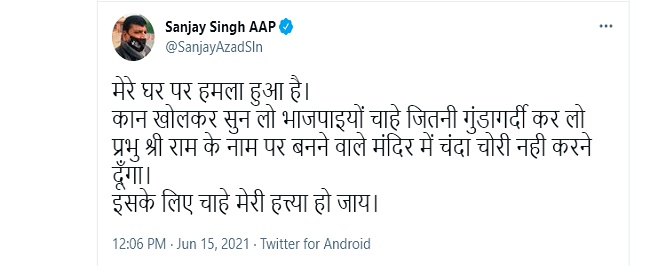 It is being told that the house of Aam Aadmi Party's Rajya Sabha MP Sanjay Singh was attacked in New Delhi on Tuesday. With this, Sanjay Singh, while talking on a news television channel, said that the attackers were raising slogans against him and about the Ramjanmabhoomi Trust. It is worth mentioning that Sanjay Singh had alleged scam in the land purchase of Ram Janmabhoomi Trust during his stay in Uttar Pradesh. After the attack, Sanjay Singh said that I will send these donation thieves to jail. Sanjay Singh has also told that even a few months ago I had received threats to burn me by sprinkling kerosene.
Significantly, on June 13, Sanjay Singh had leveled allegations of land scam on Champat Rai, general secretary of Shri Ram Janmabhoomi Teerth Kshetra Trust in Lucknow. During this, Sanjay Singh had said that Champat Rai, with the help of Anil Mishra, a member of the organization, bought land worth Rs 2 crore for Rs 18 crore. Describing it as a case of money laundering, Sanjay Singh had demanded a probe by the CBI and the Central Enforcement Directorate.