Will Malvika Sood Sachar, sister of film star and actor Sonu Sood, who became a real-life hero during the Corona period, step into politics. Discussions about Malvika's entry into Punjab politics are in full swing and it will be revealed at 5 pm on Wednesday. Malvika has called the media this evening. After this, the market of speculation has become hot.
Media will talk in the evening, the restlessness of the leaders preparing to contest from Moga increased
Even before the discussion of Malvika's entry into politics, the restlessness of the leaders preparing to contest the assembly elections in local politics has increased. Now Malavika Sood Sachar has invited the media to reveal the next strategy on Wednesday evening at her ancestral residence located on Dussehra Ground Road (SS Niwas).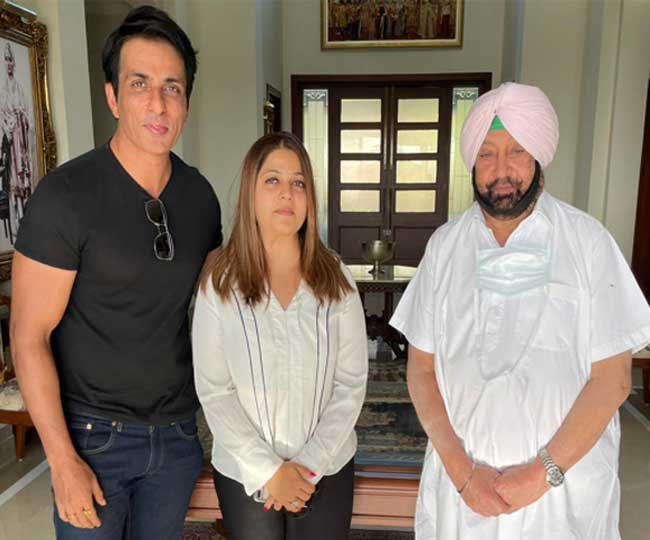 Sonu Sood and his sister Malvika with Punjab CM Captain Amarinder Singh.
In the midst of the discussion of joining politics, Malvika Sood's call to the media at five o'clock in the evening has once again become a topic of discussion in the politics of the city. In March last year, before the Corona period, when film actor Sonu Sood was distributing cycles to laborers and girl students walking several kilometers to a government school here in Moga. He had revealed that he has no intention of joining politics, he has a lot to do in his film career. Yes, if Malavika (his younger sister) wants to come, she can.
This hint was given to film actor Sonu Sood a year and a half ago
Now that the political circles had intensified in the run-up to the 2022 assembly elections, it was about two and a half months ago when Chief Minister Captain Amarinder Singh called Sonu Sood to Chandigarh to announce the brand ambassador of vaccination. At the same time, Sonu Sood had introduced CM Captain Amarinder Singh to his sister Malvika Sood Sachar to meet Chief Minister Captain Amarinder Singh. It was only after that meeting that a period of rapid discussion started in the city.
These discussions gained strength when Malvika Sood Sachar increased his activism after returning from Chandigarh, Sonu Sood's focus also increased more on Moga. To encourage vaccination, Sonu Sood had mentioned Malvika Sood Sachar's name thrice for being active in social service work in Moga during the on-line discussion with CM Captain Amarinder Singh.
Malvika Sood herself is also participating in the political meetings of Congress these days. She was also present during the meeting of the Vidhansabha Committee in the past, although Malvika Sood Sachar is not even a primary member of the Congress, but it is believed that Malvika Sood herself is looking very serious to step into politics, although she is still in her own right. The cards are not opening, but suddenly on Wednesday, by calling the media, these discussions have started getting air once again.