In Uttar Pradesh, after the government of the village and the district, now the government of the block is also being formed. The ruling Bharatiya Janata Party has got a bumper victory in the block chief elections. The Bharatiya Janata Party, which is considered the party of the city, has now established its dominance in the villages as well. BJP has performed vigorously in today's polling for 476 blocks.
From western to eastern and central Uttar Pradesh, along with the Brij region and Bundelkhand, BJP waved its flag in the block chief elections. BJP has already captured 334 posts out of total of 825 posts of Block Pramukhs elected unopposed and even after voting today has won. In Gonda, in 12 out of 16 blocks, women have come to the presidency by winning. If any of them has stepped into politics for the first time, then someone will play the second innings. In only four blocks, male candidates have been placed on the post of block chief.
BJP won seven out of eight seats in Lucknow, Samajwadi Party clean
The Bharatiya Janata Party has won seven in the eight block major seats of Lucknow in the voting held today. In Lucknow, except Chinhat, the BJP has won seven major block seats. In Chinhat, independent candidate Usha Yadav won. In the remaining seven seats, the BJP has waved the flag. For the first time in Lucknow, the account of Samajwadi Party has not been opened. The Samajwadi Party had six out of eight seats. The Samajwadi Party could not win a single seat out of eight for the first time.
BJP's victory in Congress stronghold Rae Bareli, won 11 out of 18 seats
The BJP flag was also hoisted in Rae Bareli, the parliamentary constituency of Congress working president Sonia Gandhi. BJP has won 11 out of 18 seats here. Independents won five seats and Samajwadi Party candidates won two seats.
BJP's Piyush Pratap Singh- Harchandpur, Ashuvendra Singh- Sataon, Hanumant Pratap Singh-Shivgarh, Anil Singh alias Neelu Singh- Kheeron, Anju Kushwaha-Salon and Shivram Rawat-Dalmau. Independents Sangeeta-Chhatoh, Dharmender alias Rajiv Yadav-Rahi, Satyabhama Maurya-Unchahar, Vibha Singh-Sareni and Vaishli Singh-Amawan have won. From here, SP's Shivani Singh has won from Lalganj and Rakesh Kumar from Rohaniya. Earlier, in five blocks, the BJP candidates were elected unopposed in Jagatpur, Deeh, Dinshahgaura, Bachhrawan and Maharajganj.
In Jaunpur, BJP won on 15, Independents on four and SP candidates on two.
In Jaunpur, the results of the election for the chief post of 21 blocks were declared. In this, BJP-supported candidates captured 15 blocks, while SP-supported won two. While four blocks were occupied by independents. The elections were held peacefully amid tight security arrangements.
BJP, three independents and one SP won five out of nine in Hardoi
In Hardoi on Saturday, out of nine blocks, BJP won five, Independents three and SP one in the results, which came after voting and counting of votes for the post of block chief. Former minister Abdul Mannan was given victory to an independent. SP in Sursa and BJP in Harpalpur could not save the bail. Aarti of BJP won in Sandila. In Behandar, Lakshmi Devi backed by former minister Abdul Mannan won. BJP candidate Satendra Kumar Singh alias Munna Singh won in Bilgram. BJP's Vijay Pal won in Sursa. Independent Vinod Singh Tomar won in Bharran. Independent Kushi Bajpai won in Pihani. BJP's Long Shree won in Madhauganj. BJP's Anil Kumar Singh won in Sandi. In Harpalpur, SP's Anokhilal won.
BJP won 14 out of 15 in Gonda, one was won by SP
In Gonda district, polling was held in 15 of the 16 seats of the block chief. In which BJP won 14, while Samajwadi Party also managed to open account with one seat.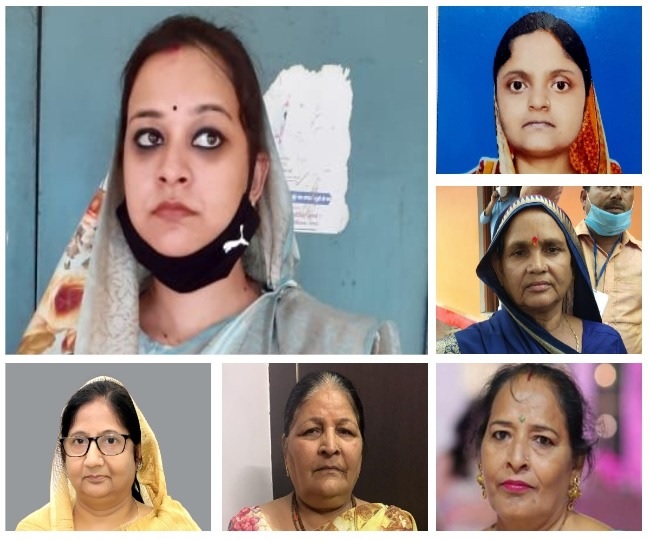 BJP's Rekha Mishra from Gonda's Jhanjhari, Priyanka Gautam from Pandarikripal, Poonam Dwivedi from Itiathok, Tilka Devi from Colonelganj, Priyanka Singh from Paraspur, Richa Singh from Haldharmau, Jugrani Shukla from Katrabazar, Jagdev Chaudhary from Mankapur, Anil Kumar Paswan from Chhapia, Madhulika Patel from Babhanjot, Manoj Kumar Pandey from Tarabganj, Rajendra Pratap Singh from Belsar, Arundhati Singh from Nawabganj and Anita Yadav from Wazirganj registered victory. From here, Babita Singh of Samajwadi Party won from Rupeedh.
BJP won eight out of nine seats in Balrampur
In Balrampur district, BJP has won eight seats out of nine blocks. Congress account is open here. Eight BJP candidates were elected unopposed. Sohrata Devi from Utraula, Aarti Sonkar from Balrampur, Hemant Jaiswal from Sriduttganj, Rakesh Tiwari from Gandasbudge, Pankaj Singh Chauhan from Rehra Bazar, Manoj Tiwari from Pachpedwa, Shakti Singh from Gainsari and Swamita Singh from Tulsipur. Congress's Aviral Singh Harraiya has won from Satgharwa.
BJP in 15 out of 19 blocks in Sitapur
In Sitapur, polling was held in eight blocks for the block chief election on Saturday. In this, BJP has won in four blocks, SP in three and Independent candidates in one. 11 BJP candidates have already been elected unopposed. In such a situation, BJP candidates have become prominent in 15 out of 19 blocks. The election process was conducted peacefully on the day of polling. The police lathi-charged some people after the election.
Four seats for BJP, three for independents and two for SP in Ambedkar Nagar.
In Ambedkar Nagar, the BJP got four of the nine seats of the block chief. BJP had won Katehri, Bhiyan and Bhiti unopposed while today it won in Baskhari. Independent Tanda, Jahangirganj and Jalalpur and Samajwadi Party candidates won from Akbarpur and Ramnagar today.
Fake female voter arrested in Baghpat, sent lockup
A woman who became a fake voter for the election of the block chief has been arrested in Baghpat on Saturday. In the Pilana block here, the woman who went to cast her vote as a fake Afsana has been taken into custody by the police and sent to the lockup.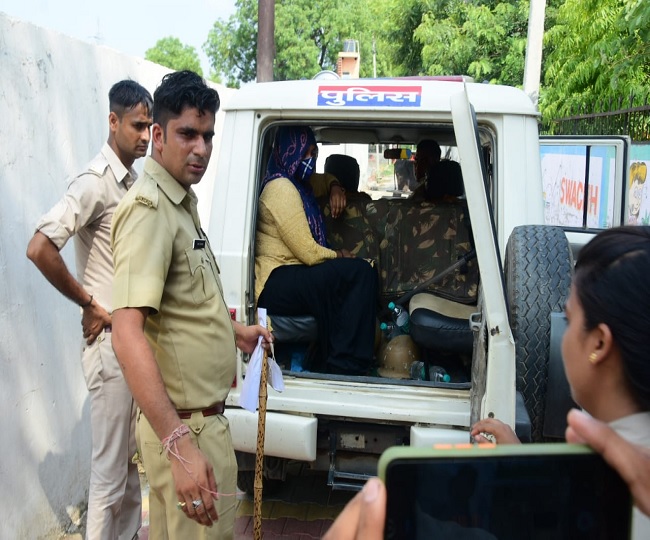 Nagma Khatoon, a resident of Loni, was going to cast her vote here as an Afsana. Afsana had already cast her vote, due to which Nagma Khatoon came in the custody of the election officer.
More than 334 of BJP's chiefs elected unopposed
BJP's state general minister JPS Rathore said that more than 334 of the elected unopposed block-heads belong to the BJP. According to Rathore, who is handling the responsibility of Panchayat elections on behalf of the party, BJP will have a great performance in the posts of chiefs, area panchayats like district panchayat president. The BJP will win most of the posts for which polling is on Saturday.