Prime Minister Narendra Modi is going to give a gift of Rs 1475 crore to his parliamentary constituency Varanasi including Rudraksha Convention Center at 11 am today. Although the first budget was close to 1583 crores, but due to the lack of plans for the 100 crore projects of the Jal Nigam, it was reserved for further development at the last minute. Thus, now only projects worth Rs 1475 crore will be inaugurated and foundation stone will be laid by the Prime Minister on Thursday.
Prime Minister Narendra Modi will be in his parliamentary constituency Varanasi for about five hours on Thursday. In the afternoon, BHU will address a public meeting at IIT's Techno Ground. The PM will also interact with the doctors and Corona Warriors in the newly constructed MCH wing at BHU on the preparations for the third wave of Corona. The Prime Minister will inaugurate the Rudraksha Convention Center constructed at a cost of 186 crores with the help of Japan. From here, in the presence of the Japanese delegation, they will also interact with the enlightened people of Kashi. After this, at around 3.30 pm, we will leave for Delhi from Babatpur Airport.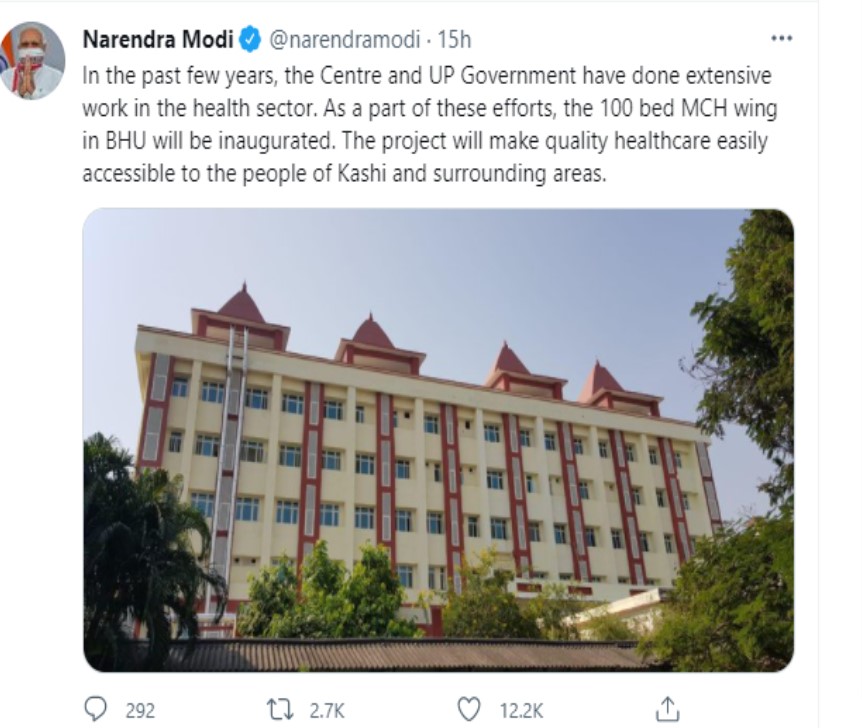 PM's visit time: Prime Minister will land at Babatpur airport at 10.25 am and will reach BHU helipad at 10.50 am. From the helipad at 11.00 am will go to BHU IIT Techno Ground. 12.10 MCH wing will leave from the ground. From here you will go to Sampurnanand Sanviv at 1.30 pm. Rudraksha will go to the convention center at 1.40 pm and after the event at the Rudraksha convention center will leave for Babatpur airport.
Representatives from Japan : During the event in Rudraksh, guests of the Japanese Embassy, ​​Suzuki Satoshi, Ambassador of Japan, Chikage Suzuki (wife), Kiyos Kazuhiro (Counselor), Oda Sharichi (Secretary) will be present. At the same time, the invited representatives of JAKA will be Matsumoto Katsuo (Chief Representative), Akamin Kengo (Senior Representative), MP Singh (Chief Development Project Officer). While PMC members Abe Reiko (Chairman), Dr. Joydeep Das (Engineer), Mohit Singh (Senior Engineer) besides Ota Masataka (General Manager), Arun Kumar Mishra (Manager), Ganesh Goyal (Senior Manager) on behalf of the executing company. ) etc. were present.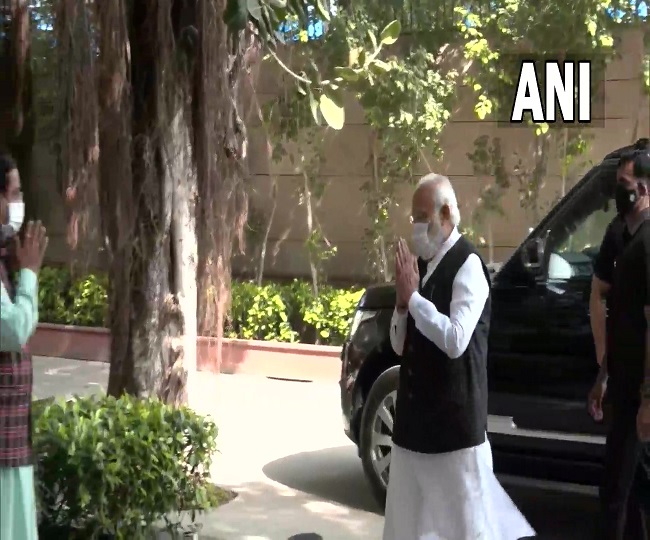 Main projects included in the list of foundation stone
Skilling and Technical Support Center (CSTC) of Central Petrochemicals Engineering and Technical Institute (CIPET) in Mahgaon – 48.14 crores
-ITI Mahgaon - 14.16 crores
-Rajghat Primary School Adampur Zone - 2.77 crores
Water supply project in Sis Varuna - 108.53 crores
Water supply project in Trans Varuna - 19.49 crores-Water Treatment Plant Bhelupur Solar Power - 17.24 Crore
Work on drinking water operation in Sis Varuna - 7.41 crores
- Project related to laying sewer line in Koniya Ghat area - 15.03 crores
Pumping stations, sewage pumping etc. at the Ghats of the city - 9.64 crores
0.8 MW capacity solar power plant - 5.89 crore at Koniya Pumping Station
Sewer line project in Mukimganj and Machodari area - 2.83 crore
Urban place-making under Lahartara Chowkaghat flyover - 8.50 crores
Construction of Mango and Vegetable Integrated Pack House in Karkhianv Industrial Area - 15.78 crores
Transit Hostel in Police Line, Office Building of Economic Offenses Research Organization Sector Unit - 26.70 crore
- Construction of rifle and pistol shooting range - 5.04 crores
-47 Rural Connectivity Roads Total length 152 km constructed, widened - 111.26 crores
Har Ghar Nal Yojana – 428.54 crores under Jal Jeevan Mission program.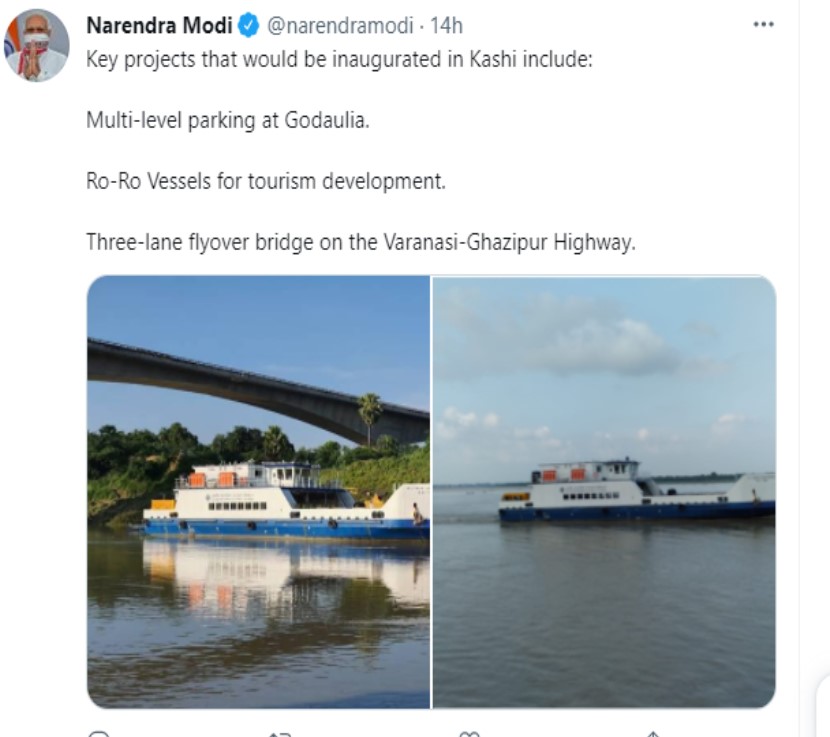 These major schemes will be launched
- Rudraksha Convention Center - 186 crores
- Multilabel Parking - 19.55 crores
- CIPP lining renovation of old sewer line - 21.09 crore
- Sewer restoration work - 8.12 crores
- Beautification of four parks - 4.45 crores
- 100 bed MCH wing in BHU - 45.50 crore
- 50 bed women's hospital in Deendayal Hospital Pandeypur - 17.39 crores
- Regional Institute of Ophthalmology in BHU - 29.63 crores
- Shri Lal Bahadur Shastri Hospital Ramnagar Housing - 11.97 crores
- PSA oxygen generation - 11 crores in 14 hospitals and health centers
- 80 teacher residential flat in BHU - 46.71 crore
- Machodari Smart Senior Secondary School and Skill Development Center - 14.21 crores
Three female hostels, classes and labs in four schools and colleges – 5.79 crores
- Operation of two-row packs for tourism development in river Ganga - 22 crores
- Operation of the ship from Rajghat to Assi - 10.72 crores
- Installation work of notice boards on 84 ghats - 5.08 crores
- Resting place in Rameshwar - 8 crores
- Panchkos Parikrama Marg 33.91 km. and widening - 62.04 crore
- Varanasi-Ghazipur Road Three Lane Overbridge Setu - 50.17 crore
Two drinking water projects under Shyama Prasad Rurban Mission-7.72 crore
- 11 drinking water projects - 61 crores under the World Bank assisted Neer Nirmal Project-II.