Prime Minister Narendra Modi-style kurta has become a craze among the people. Be it Holi or Diwali, Modi Pichkari or Modi Crackers, the market is filled. Now a sculptor from Muzaffarpur, Jaiprakash is in discussion by making a piggy bank of the shape of Prime Minister Narendra Modi. Through this, they want to spread the messages of Prime Minister Narendra Modi among the children.
Modi piggy bank made in the name of PM Modi
Jaiprakash told news agency ANI that Prime Minister Narendra Modi had announced Janata Curfew last year to prevent the spread of coronavirus. Jaiprakash said that the Prime Minister is trying to save the country, so he decided to make a piggy bank in his name to save money.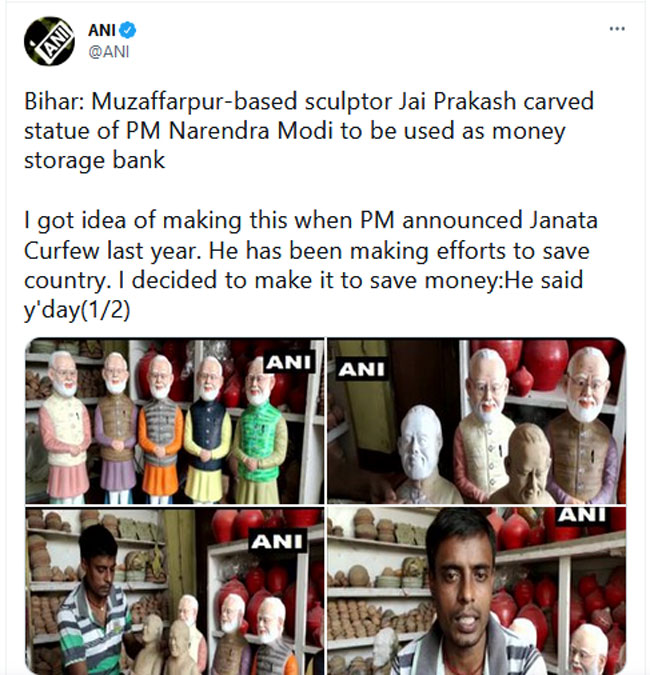 Coins and notes can be deposited up to one lakh
Jayaprakash says that it took him a month to make this piggy bank. People are very fond of it in the market. In this, coins and notes of about one lakh rupees can be deposited. They say that this piggy bank can also be used to tell children about Prime Minister Narendra Modi.
Jaiprakash is a big supporter of PM Narendra Modi
Be aware that Jayaprakash is a big supporter of PM Modi. Earlier, he came into the discussion by preparing the statue of PM Modi. During the last elections, the statues of PM Modi made by Jaiprakash were demanding not only in Muzaffarpur but across the state. Supporters used to come from far and wide to buy it. After this, there is a discussion of Jaiprakash's Modi piggy bank.