Amidst the tussle in Punjab Congress, it has been announced to make Navjot Singh Sidhu the state head. Four working presidents have also been made. The Executive Chairman will be Sangat Singh Giljian, Sukhwinder Singh Danny, Pawan Goyal and Kuljit Singh Nagra. This has been announced by the Congress High Command a while back. Pawan Goyal is the Chairman of the Planning Board, Faridkot. He is an old Congressman. Danny is an MLA and Dalit leader. Kuljit Singh Nagra is currently the Congress in-charge of Sikkim, Nagaland and Tripura.
Sidhu can make a new beginning today by bowing his head in Shri Darbar Sahib and Shri Dugryana temple
Navjot Singh Sidhu may visit Shri Darbar Sahib and Shri Dugryana Mandir on Monday to pay obeisance. According to sources close to Sidhu, after this the historical sites Jallianwala Bagh and Hussainiwala will also visit. Apart from this, preparations are also being made to go to his Bargadi.
Congress had raised the issue of sacrilege of Sri Guru Granth Sahib vigorously before the 2017 elections, but now Navjot Singh Sidhu can raise this matter once again as the investigation has not been completed in four and a half years. Even before becoming the president, he had repeatedly attacked Chief Minister Captain Amarinder Singh regarding the Bargadi issue. Official information about this program is not yet received but Sidhu's team is making this program.
Punjab Congress's new top team
Navjot Singh Sidhu - Punjab Congress President.
- Sangat Singh Giljian - Executive Chairman.
Sukhjinder Singh Danny - Executive Chairman.
Pawan Gayle - Executive Chairman.
- Kuljit Singh Nagra - Executive Chairman.
Navjot Singh Sidhu pays obeisance at Gurdwara Shri Guru Dukh Nivaran Sahib
After the announcement of making Punjab Congress President, Navjot Singh Sidhu reached Gurdwara Sri Guru Dukh Nivaran Sahib in Patiala and bowed there. He stayed there for a long time and had darshan. Sidhu was congratulated by the people present there. A large number of people were present outside also. Sidhu returned to Patiala late at night from Jalandhar. He will go to Amritsar on Tuesday.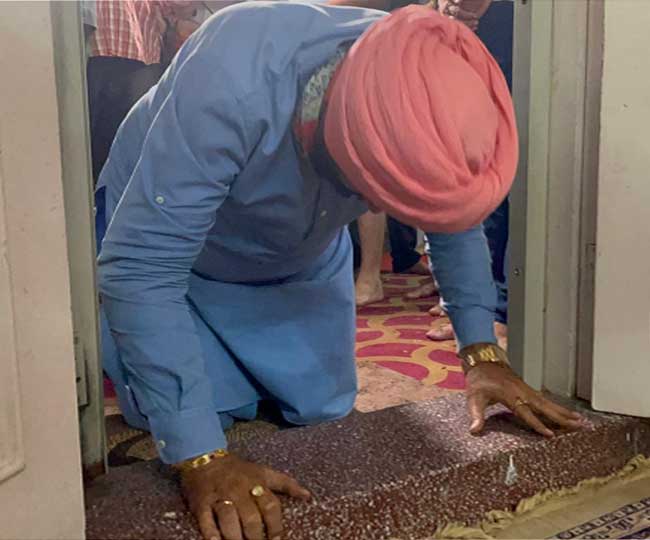 Navjot Singh Sidhu bowing down at Gurdwara Sri Guru Dukh Nivaran Sahib in Patiala.
KC Venugopal issued letter, Kuljit Singh Nagra relieved from the charge of Sikkim, Nagaland and Tripura
A letter in this regard was issued late night on behalf of Congress National General Secretary KC Venugopal. The National President of the party has appointed Navjot Singh Sidhu as the President of Punjab Congress with immediate effect, the letter said. The National President has also appointed four working Presidents of the Punjab Congress. The party also appreciates the services of outgoing Punjab Congress President Sunil Jakhar. Along with this, Kuljit Singh Nagra is also relieved from the post of Congress in-charge of Sikkim, Nagaland and Tripura.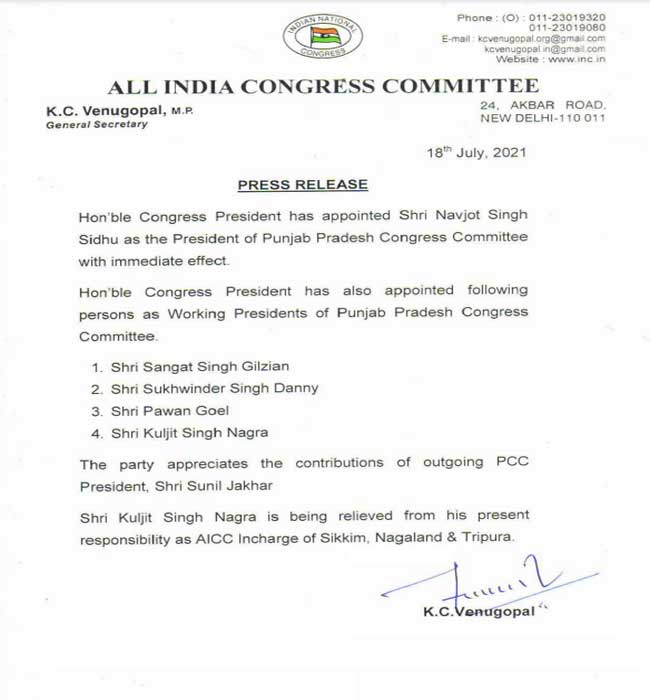 Representation of each section, Sangat Giljian, Sukhwinder Danny, Pawan Goyal and Kuljit Nagra Executive Head
The Congress high command has finally stamped Sidhu's name, bypassing the 48-day effort and opposition from Chief Minister Captain Amarinder Singh. Congress has also appointed four working heads along with Sidhu. These include Sangat Singh Giljian from OBC quota from Doaba, Sukhwinder Singh Daini from Dalit quota from Majha, Pawan Goyal from Hindu quota from Malwa and Kuljit Singh Nagra from Sikh quota.
Before taking this decision, Congress President Sonia Gandhi had called the MPs and leaders opposing Navjot Singh Sidhu and indicated that the party would appoint Sidhu as the state head. Captain Amarinder Singh also did not play in this decision. Because the Captain had made it clear that he would go with Sidhu only if he publicly apologized. Despite all the opposition, late evening the party's organization general secretary KC Venugopal made an official announcement to make Sidhu the head.
The party has tried to give representation to all three regions of Punjab. Two working heads have been deployed from the largest Malwa region of Punjab. One of them is a Hindu and the other a Sikh face. In the Hindu face, Pawan Goyal, a conservative Congressman of the Faridkot Planning Board, has been made the class head. Along with this, Kuljeet Nagra, who was MLA from Fatehgarh Sahib for the second time, has also been made a working head.
At the same time, Sukhwinder Singh Dani, who started his political career from Youth Congress, has been assigned the representation of the Majha region from the Dalit quota. Danny is also an MLA from Jandiala in the Amritsar district. Last time he got the ticket of the Legislative Assembly from the quota of Rahul Gandhi. At the same time, the OBC category has also not been ignored. The complaint of the OBC class was that they are neither given representation in power nor in the organization. Udmur MLA Sangat Singh Giljian has been made the working head.
Sidhu supporters celebrated and distributed sweets
On the other hand, there was a wave of happiness among the supporters of Navjot Singh Sidhu in Punjab after this announcement. Sidhu supporters celebrated at many places in the state including Patiala and Amritsar. In Patiala, supporters of Sidhu celebrated by dancing and singing along with Congress flags and distributed sweets. At other places in the state also Sidhu's supporters celebrated and distributed sweets.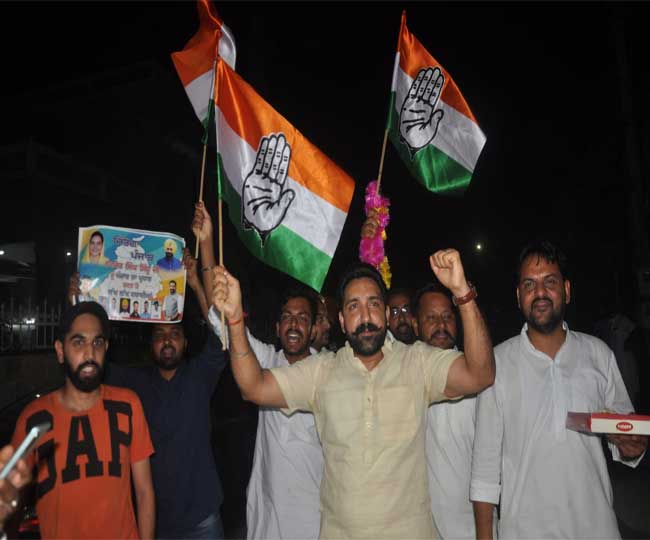 Navjot Singh Sidhu's supporters celebrate in Patiala.
Earlier in the day, Navjot Sidhu met with Congress MLAs and leaders to increase his strength. With this, now Congress President Sonia Gandhi herself took over the command for Navjot Sidhu. Sonia Gandhi had called Congress MPs and leaders. After this, the voices of the leaders opposing Sidhu had softened. Former Punjab Congress president Partap Singh Bajwa had also spoken of celebrating the high command's decision in Sidhu's case.
10 MLAs including Khaira openly came out in support of Captain
10 MLAs including Bhulatth MLA and Sukhpal Singh Khaira, who recently rejoined the Congress party, came openly in support of Capt. These MLAs are issuing a joint statement that it is the prerogative of the party high command to select the state Congress, but the graph of the party has gone down due to the allegations and developments going on in the last few days. The MLAs also said that they hoped that the party high command would take cognizance of their suggestions and take into account the position, contribution and background of Captain Amarinder Singh while taking important decisions for the party.

Khaira, Harminder Singh Gill, Fatehjung Bajwa, Gurpreet Singh GP, Kuldeep Singh Vaidya, Balwinder Singh Ladi, Santokh Singh, Badalipur, Joginder Pal, Jagdev Singh Kamalu and Piramal Singh Khalsa, who supported Capt, said that since the election is only six months away. So, pulling the party in different directions will only hurt its prospects in the 2022 elections. He also supported Captain Amarinder Singh's demand that Navjot Singh Sidhu, who had made several tweets against him and the government, should publicly apologize so that the party and the government can work together.
The MLAs advised Navjot Singh Sidhu to take precautions. These MLAs said that he is a celebrity and undoubtedly also an asset to the party but publicly condemning and criticizing his own party and the government has only created a rift in the cadre and weakened it.