After completing the journey of almost four and a half months, Bigg Boss is going to reach its destination today. After just a few hours, the winner of Bigg Boss 14 will be revealed. The show, which started on 3 October 2020, will end tonight. After all the ups and downs and push-ups, one will take the winner's trophy today. Do not miss any news related to the grand finale of Bigg Boss 14, so we will be connected live with you and will give you every little big update related to the finale.
Bigg Boss 14 Grand Finale LIVE UPDATES:
Bollywood veteran actor Dharmendra attended Bigg Boss 14. On the stage of Bigg Boss, Dharmendra shared a lot of things with everyone present in the house and outside. Dharmendra arrived here to promote the upcoming dance reality show 'Dance Deewane 3'.
* Bigg Boss X Contestant, Famous Bailey Dancer and Bollywood actress Nora Fatehi also reached the grand finale. Here Nora gave a great dance performance and had a lot of fun with the family.
* Ali Goni is out of Bigg Boss 14's winner's race. Now the contest will be between Rahul Vaidya, Rubina Dilac and Nikki Tamboli. Remind you that Ali made a wild card entry in Bigg Boss. He had gone out of the house once before.
* Ritesh Deshmukh went to the house and offered 14 lakh rupees to the contestants. Rakhi Sawant is out of the Bigg Boss winner race with Rs 14 lakh. Remind you that Rakhi tore the check for Rs 14 lakh to reach the finale when he got an entry in the finals.
* Makers of Bigg Boss 14 fulfilled a wish of Rakhi Sawant and introduced him to Ritesh. But not Rakhi's husband Ritesh, but Bollywood actor Ritesh Deshmukh. Ritesh had a lot of fun with all the contestants present in the house.
* Bigg Boss 14's biggest entertainment queen Rakhi Sawant gave a loud dance in the grand finale. Rakhi tied her dance in the grand finale.
* Bollywood actress Madhuri Dixit met everyone through the video and showed the top 5 finalists.
* His family has come to support the five contestants. At the same time, some ex contestants of Bigg Boss 14, Abhinav Shukla, Jan Kumar Shanu, Sonali Phogat, Jasmine Bhasin, Rahul Mahajan, Shahzad, Ejaz Khan, Pavitra Poonia have also participated in the grand finale of Bigg Boss 14.
As soon as the Grand Finale started, Salman Khan announced that voting lines would be opened for some time during the Finale, so you can vote if you want to save your favorite contestant.
* Madhuri Dixit, Nora Fatehi, Dharmendra and Ritesh Deshmukh are going to be guests in the Big Boss Grand Finale today. Where Nera will spread her dance, Ritesh is going to have fun with the contestants at home. Madhuri Dixit will announce the top 4 finalists.
* Today Rakhi Sawant of lastly Rakhi will meet her wish. Ritesh is going to meet Rakhi at the grand finale. Show host Salman Khan has given this surprise to Rakhi. See a glimpse
* According to The Khabari Fan Page, Rakhi Sawant has accepted an offer from Bigg Boss and she is out of the show with Rs 14 lakh.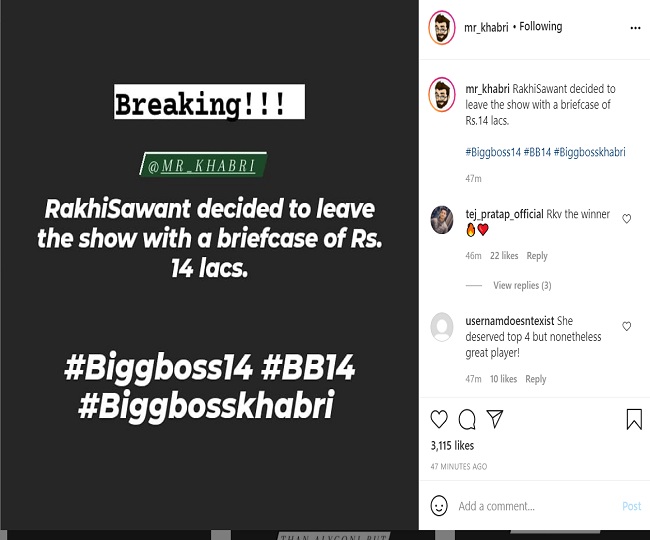 * Shocking news is coming for Ali Goni's fans. According to the news of Fan Phase Khabari, who gave information about Bigg Boss, Ali Goni has become active in the show. However, we do not confirm this news officially before the episode is telecast. But according to the news, Ali number has become homeless from home.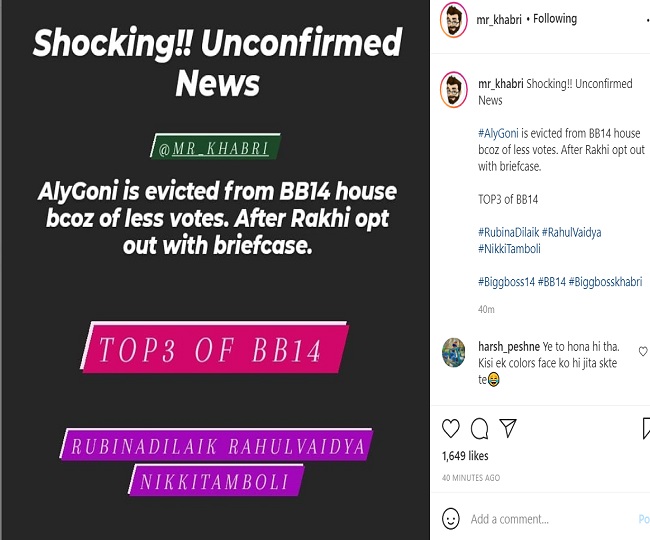 * Grand finale is full of performance and Rakhi Sawant does not have such a dance. Bigg Boss 14's biggest entertainer Rakhi Sawant will be seen dancing to her own song 'Pardesiya' in Finale. Apart from this, today is probably the last time fans will also see Julie inside them.
* Before the grand finale, a photo of Salman Khan's outfit has come out, that what Bhaijaan is going to wear today. Salman Khan's stylist Ashley Rebello shared a photo of Bhaijaan's outfit on his Instagram, in which a man is seen holding a Salman Khan suit in his hand. A cream color suit is seen in the photo, which has a border of black color and only black colored buttons are attached on the sleeves.
* The show's finalist, Ali Goni, will be seen dancing to a romantic song 'Jab Tak Jahan Tera Naam Hai' with Jasmine. Jasmine is already out of the show, she will only perform with Ali . Watch video
* Today both finalists Rahul Vaidya and Rubina Dilac are going to have a performance in which both will be seen dancing on the stage 'Allah Duhai Hai'. The enmity of both is also clearly seen in this song. See a glimpse
* Colors have started sharing some promos of Finale on their Instagram, in which all contestants are seen giving their performance.