Today, on the first trading day of the week i.e. Monday, the stock market closed with a heavy fall. The Bombay Stock Exchange's major index Sensex lost 1145.44 points to close at 49744.32 level. At the same time, the National Stock Exchange's Nifty lost 306.05 points to close at the level of 14675.70. Today the Sensex gained 15.78 points to open at the level of 50905.54. At the same time, the Nifty of the National Stock Exchange opened up 17.30 points at 14999.05. The stock market closed on Friday on a steep decline. The Sensex was down 434.93 points to close at 50889.76. The Nifty was down by 137.20 points to close at 14981.75.
In today's trading, shares of Grasim, Hindalco, Tata Steel, JSW Steel, and Adani Ports closed on the green mark. On the other hand, shares of EICHERMOT, M&M, Tech Mahindra, Doctor Reddy, and Axis Bank closed at the red mark. All sectors closed on the red mark today in the sectoral index. These include Auto, Media, Realty, PSU Bank, IT, Pharma, FMCG, Banks, Finance Services, and Private Banks.
Sensex shares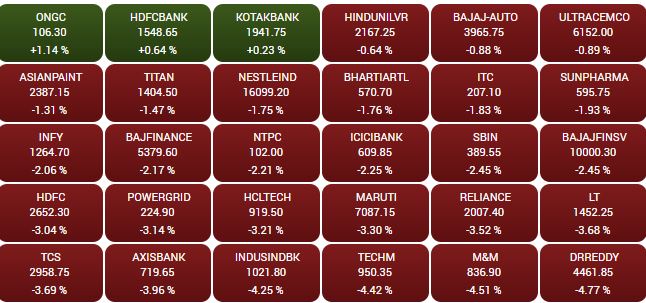 Dr. Reddy's shares were the biggest loser among the Sensex stocks, followed by M&M, Tech Mahindra, Axis Bank, IndusInd Bank and TCS. On the other hand, ONGC, HDFC Bank and Kotak Bank closed in the green mark.
Last week, eight of the top 10 Sensex companies recorded a decrease in market capitalization of more than Rs 1.23 lakh crore. Last week, Tata Consultancy Services recorded the most decline among the top-10 valued companies. Among the top 10 companies of the Sensex last week, only the market capitalization of Reliance Industries Limited and State Bank of India has registered an increase.
Meanwhile European markets were also trading with a downward trend. Meanwhile, benchmark Brent crude was up 0.66 percent to trade at US $ 62.55 per barrel.