Sports Shorts: Harmanpreet Singh named Asian Player of the Year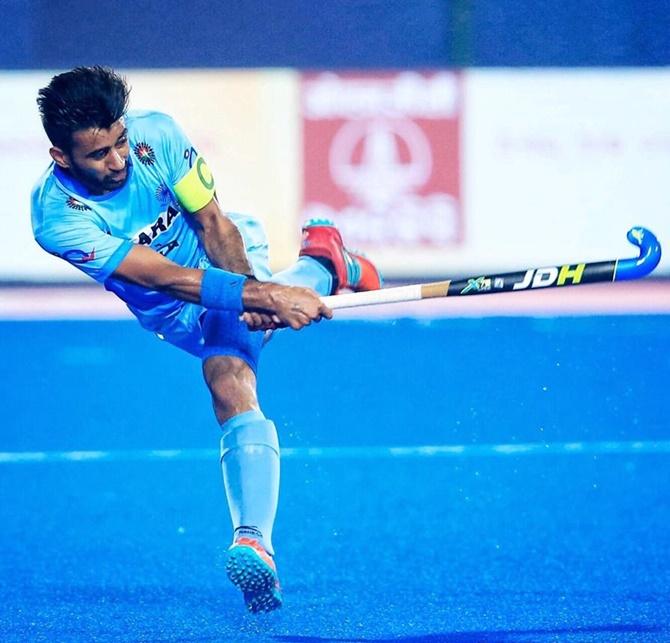 Summary of sports events and persons who made news on Saturday
EPL: Tottenham stunned at Burnley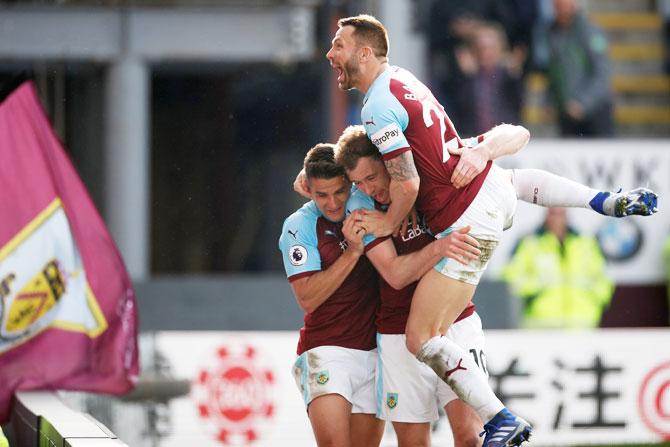 But for third-placed Spurs, who trail leaders Manchester City and Liverpool by five points, this may prove to be a loss that leaves them with too much ground to make up.
How Chandela shot her way to gold at World Cup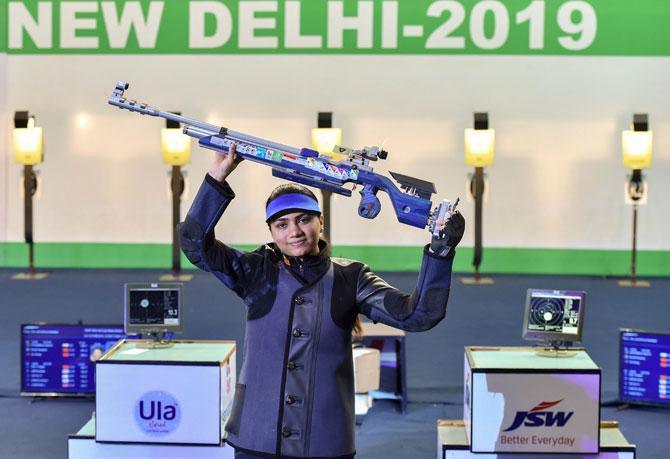 'I was just trying to control my nerves. Nerves do play a big role. I just asked myself to stay calm as it was a matter of few more shots'
ISSF WC: Chandela breaks 10m air rifle world record to win gold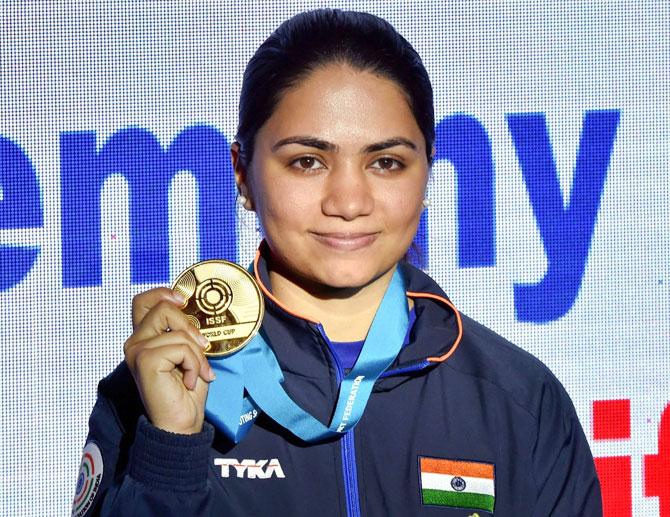 Chandela shot an astonishing 252.9 in the eight-women final, finishing 1.1 points ahead of silver medallist China's Ruozhu Zhao (251.8) points.
PIX: P V Sindhu flies Tejas fighter jet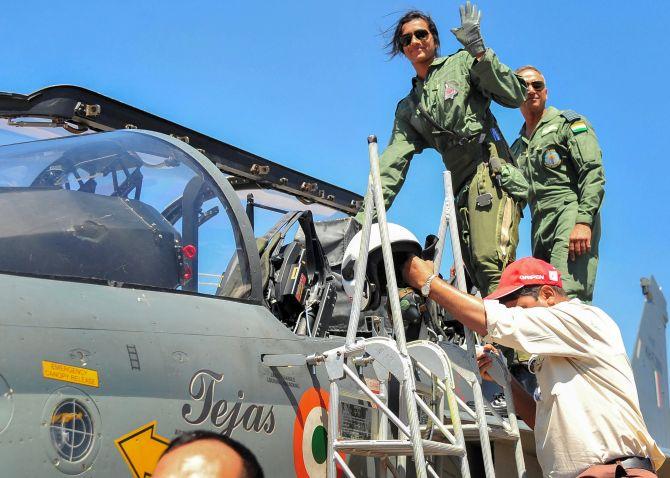 The flight was part of the Women's Day event at the Aero India 2019 air show.
EPL: Fulham lose at West Ham; Watford win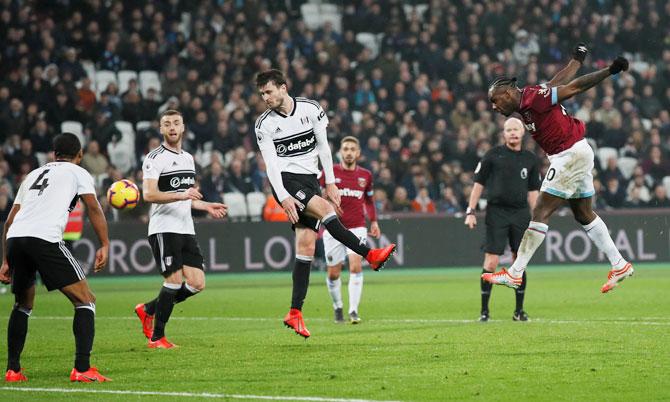 There was controversy about West Ham's equaliser when Mexican striker Javier Hernandez stooped to head in from close range but replays suggested the ball went in off his arm.
Europa League last 16 draw: Chelsea to face Dynamo Kiev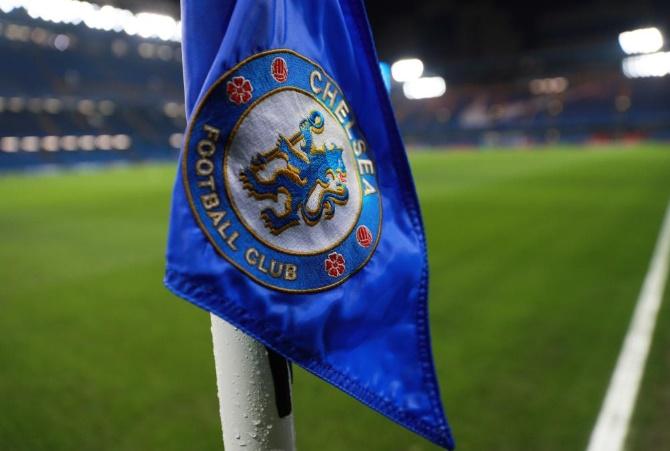 Chelsea will face Dynamo Kiev at home in the first leg of their Europa League last-16 tie, while London rivals Arsenal will travel to Rennes following Friday's draw in Nyon, Switzerland.
IOC urges India isolation after Pakistani athletes denied visas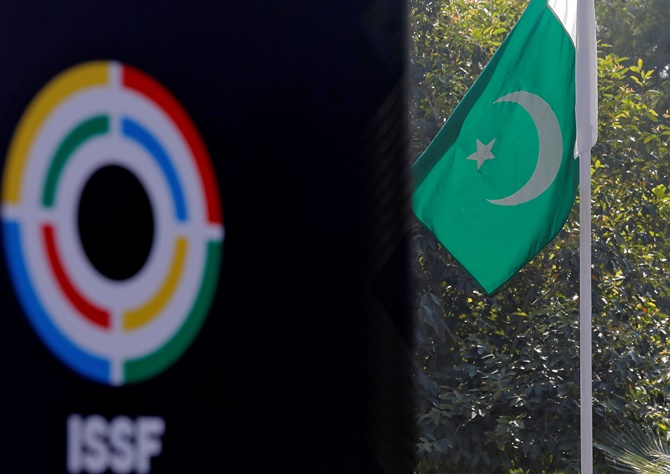 The IOC said the refusal of visas for competitors went against the principles of the Olympic charter relating to discrimination and political interference from the host country.
Pak Olympic Association hails IOC decision on revoking quota places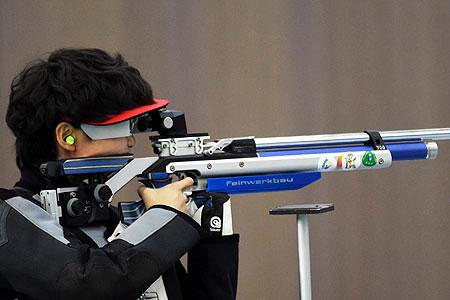 Pakistani shooters were not allowed to participate in the ISSF event in Delhi.
Sports Shorts: Nike panned after basketball star's shoe splits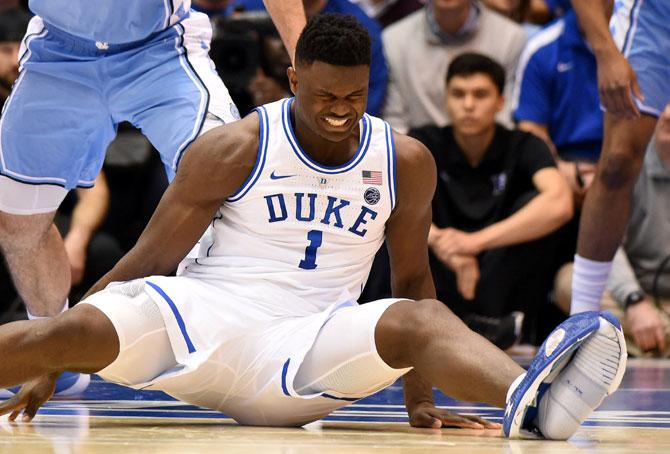 Summary of sports events and persons who made news on Friday
Pulwama attack: Indian sports caught in Pak conundrum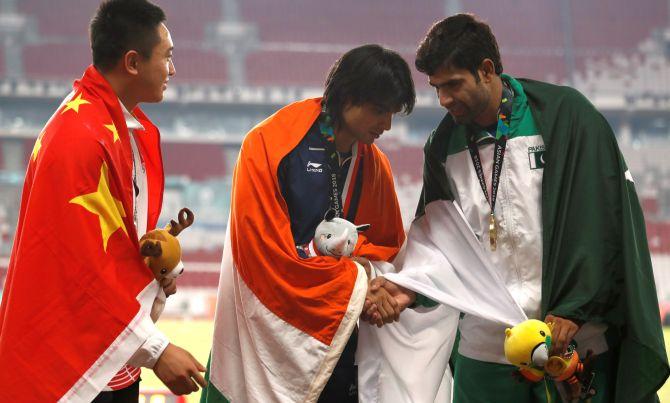 The fallout of the Pulwama terror attack, which killed over 40 CRPF personnel, on the sporting ties between India and Pakistan was felt the strongest on Friday.
Football Extras: FIFA bans Chelsea from next two transfer windows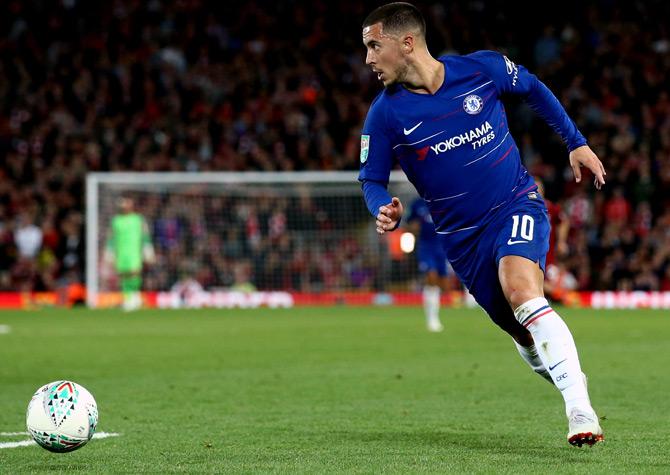 News of all that's transpired on and off the football field
EPL updates: Liverpool's Salah feeling the heat in title chase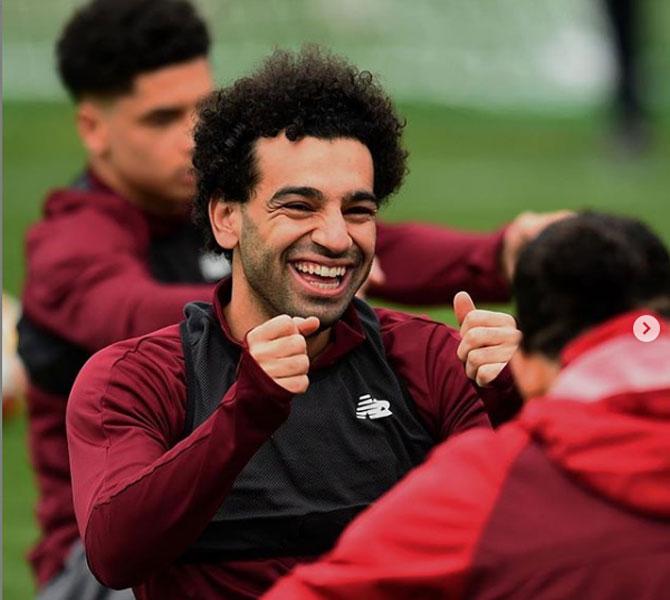 Klopp fined by FA for referee comments after West Ham draw
Murray could make return after hip surgery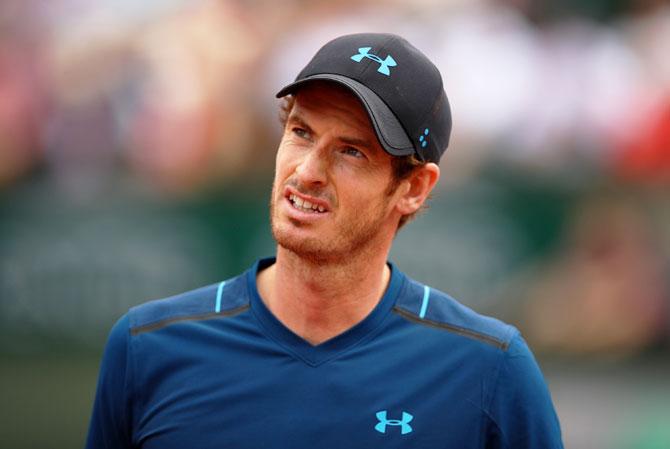 Three-time Grand Slam champion Murray said before his first round exit at the Australian Open last month that the tournament could be his last as a professional due to severe hip pain.
IOC takes away 2 quotas, spares 14 at Delhi shooting World Cup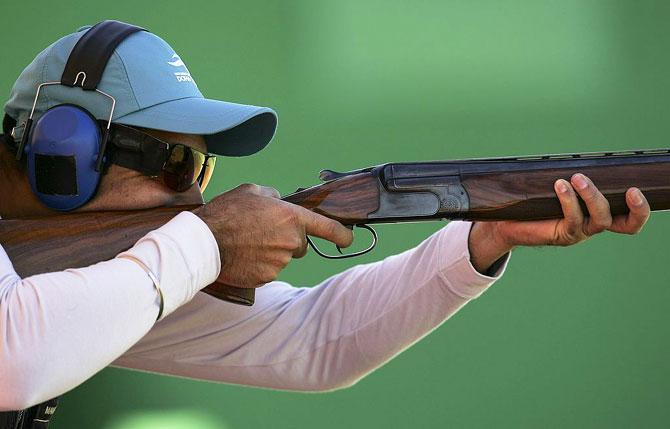 This was announced by the ISSF president Vladimir Lisin during his address to the season-opening World Cup at the Dr Karni Singh Shooting Range.
India pays for denying Pak shooters visas
IOC 'suspends discussions' with India for hosting global events
Europa League PIX: Arsenal, Chelsea storm into last 16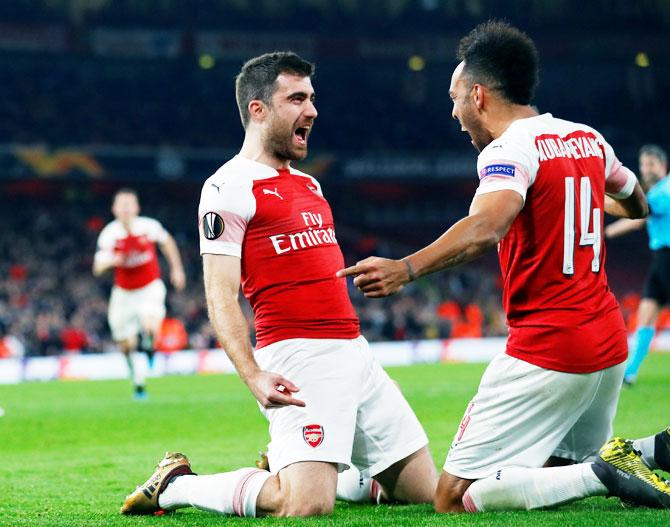 Rattled by embarrassing domestic defeats, Chelsea looked jittery before Olivier Giroud settled their nerves with a close range tap-in shortly after halftime at StamfordBridge following good work by N'Golo Kante and Willian in the build-up.
Sports Shorts: Mary Kom to hit your TV screens soon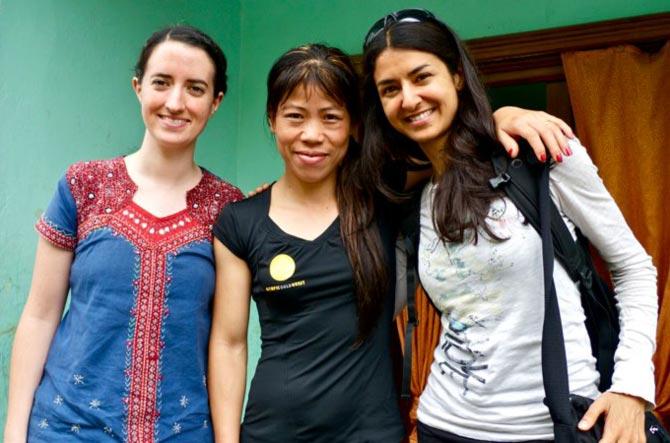 Summary of sports events and persons who made news on Thursday
Football Extras: Allegri's decisions under spotlight after Juve swept aside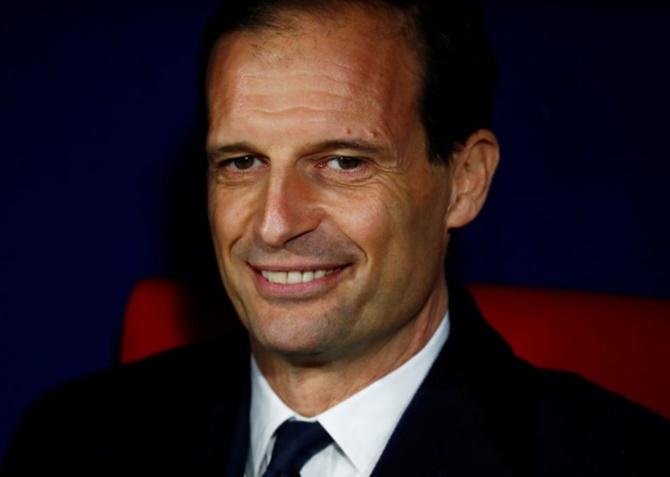 News of all that's transpired on and off the football field
Ronaldo reminds Atletico of Champions League haul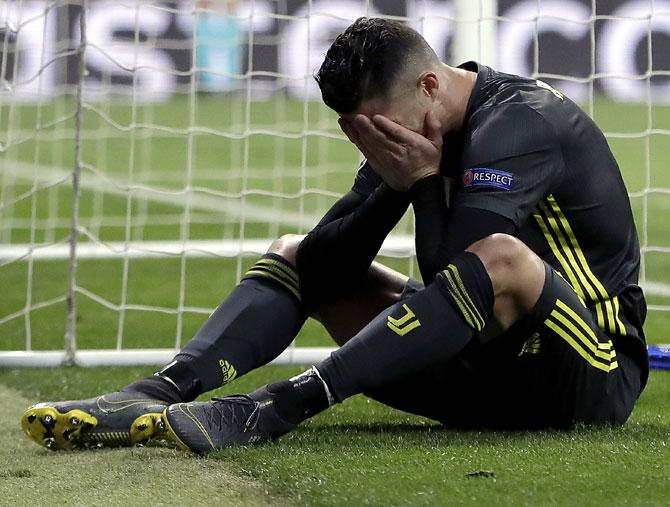 Cristiano Ronaldo was singled out by Atletico Madrid fans on Wednesday as Juventus lost 2-0 in the Champions League last 16 but the former Real Madrid forward was quick to point out his stellar record in the competition.
Everything wrong with Barcelona...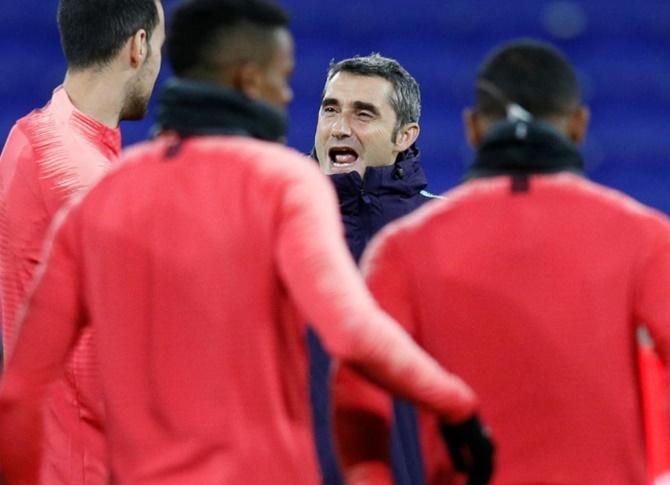 Barca feel familiar February blues as tiredness sets in
Here's what Tendulkar will do to support Pulwama martyrs' families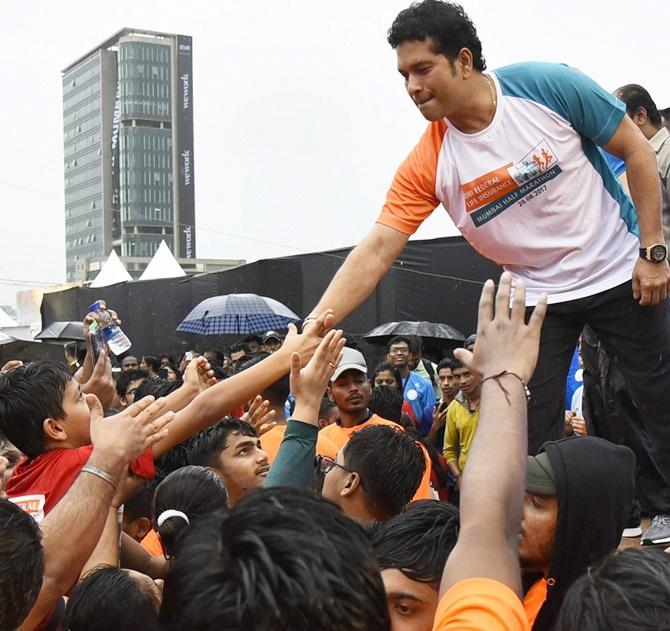 Tendulkar will join thousands of runners during the IDBI Federal Life Insurance New Delhi Marathon, on Sunday, to raise funds for the families of the martyrs of the Pulwama terror attack.
Tiger ready to take on new challenge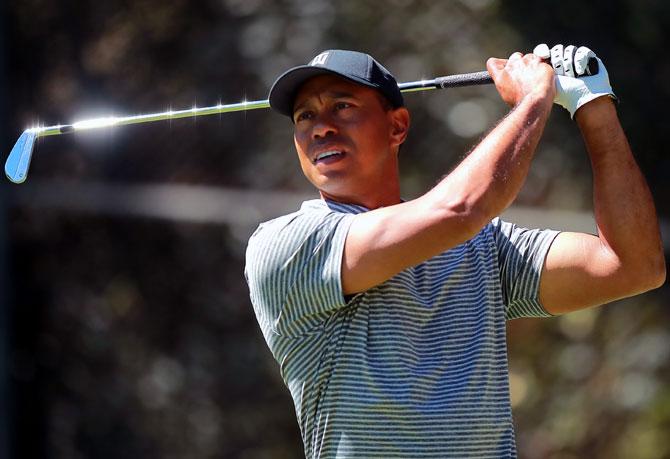 The strong field at this week's World Golf Championships features 27 of the top 30 golfers in the world rankings, including past champions Dustin Johnson and Patrick Reed.
पिक्स: अब होगी मल्लखंब की वर्ल्ड चैम्पियनशिप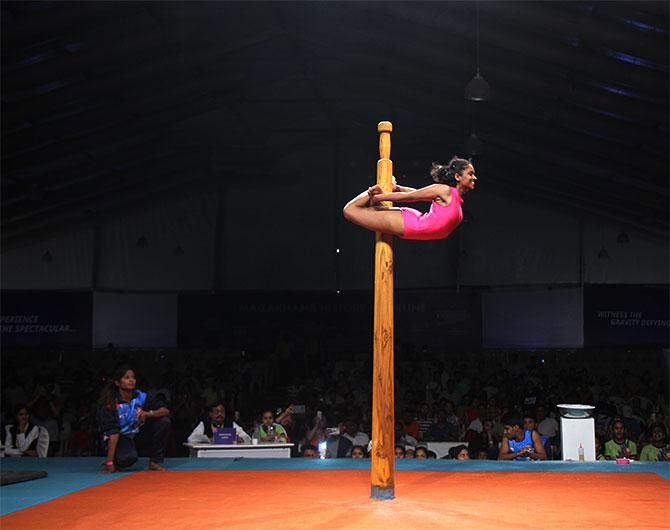 हितेश हरसिंघानी/Rediff.com पेश कर रहे हैं मुंबई में आयोजित मल्लखंब वर्ल्ड चैम्पियनशिप की कुछ झलकियाँ।
How Atletico outsmarted shell-shocked Juventus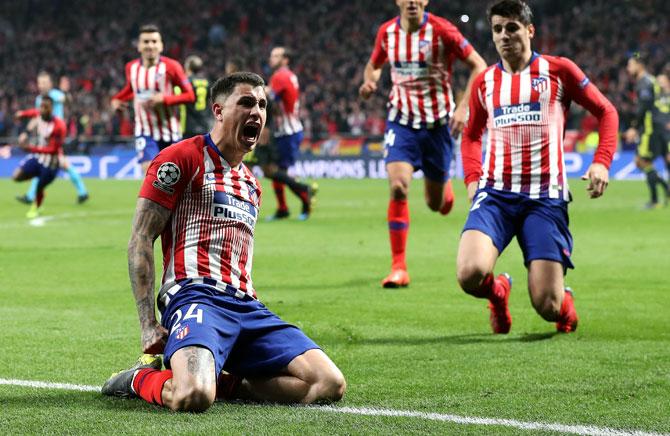 Atletico Madrid coach Diego Simeone is renowned for his wild touchline antics but a shrewd tactical move with a triple substitution swung Wednesday's Champions League game against Juventus firmly his side's way.
Why World No. 1 Osaka is struggling to deal with limelight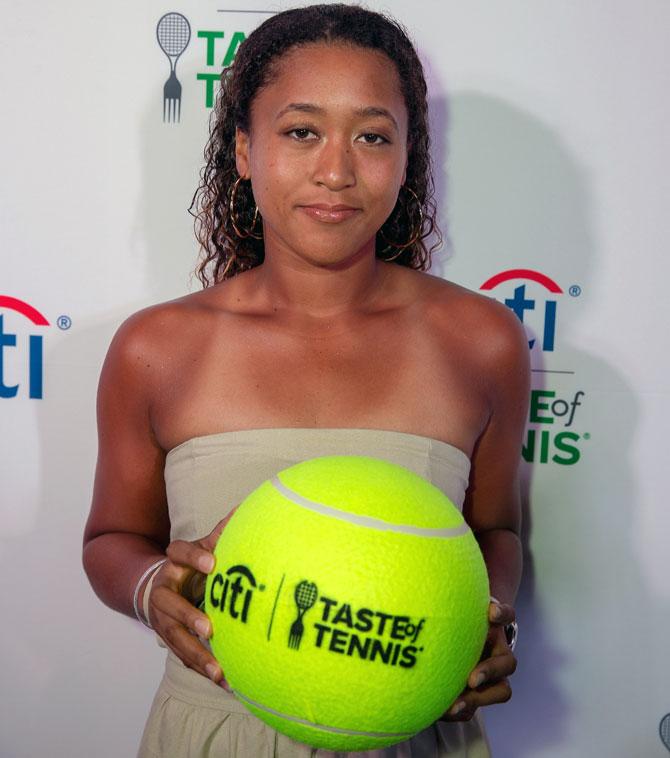 Two-times Wimbledon champion Petra Kvitova says Naomi Osaka's shyness is a problem for her as she struggles to deal with the increased scrutiny in the wake of her success at the Grand Slams and her rise to the top of the world rankings.
PIX: Atletico overpower Ronaldo's Juventus; City rally to victory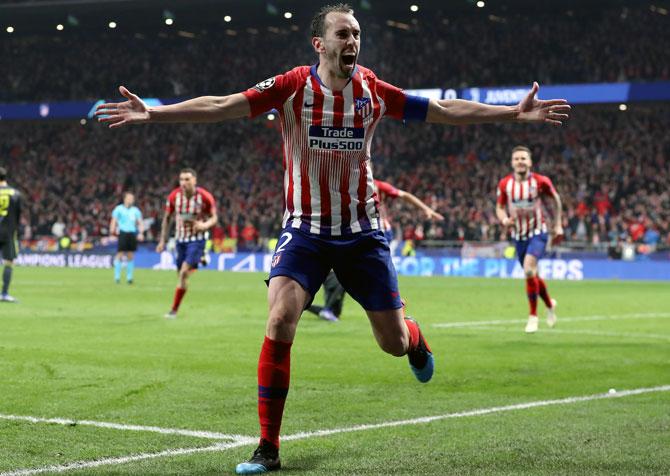 Ten-man Manchester City staged a dramatic comeback with late goals from Leroy Sane and Raheem Sterling securing them a 3-2 win at Schalke 04 in their Champions League Round of 16 first leg.
Football Extras: What Chelsea must do turn season around...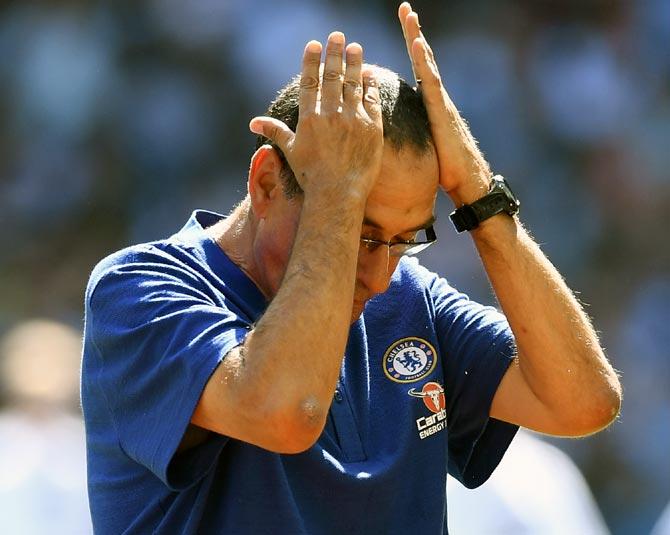 News of all that's transpired on and off the football field
Tennis: Federer to make clay court return at Madrid Open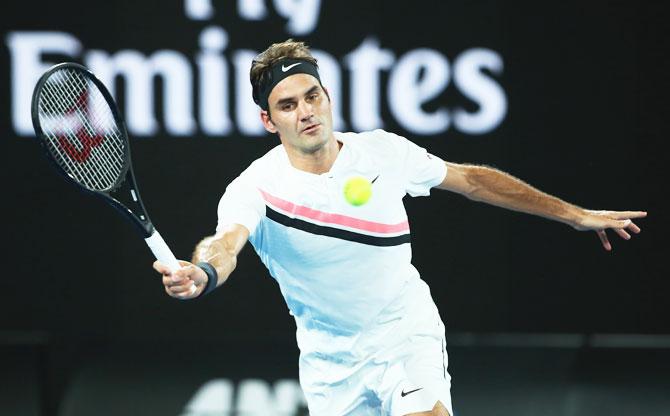 Top seed Dominic Thiem was knocked out the Rio Open in the first round on Tuesday, going down 6-3, 6-3 to Laslo Djere.
'If I message Abhinav at midnight, he will reply in five minutes'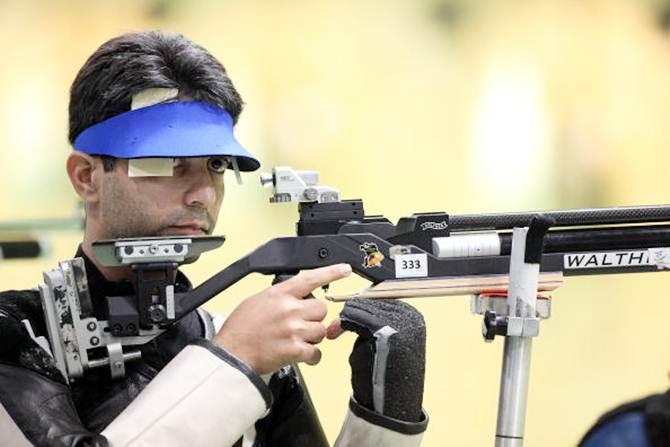 One of India's most consistent rifle shooters in recent times, Ravi was down after failing to win an Olympic quota despite displaying good form in the last World Championship.
Is Barca's Suarez suffering from goalscoring curse?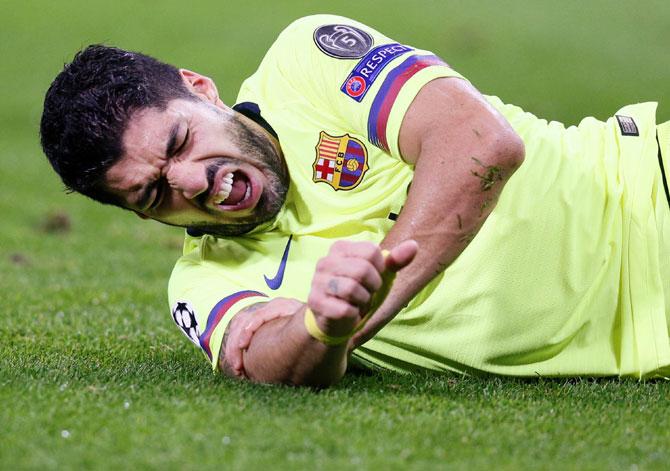 Barca's Suarez in firing line after European away goals drought
'I dedicate my medal to the heroes who lost their lives in Pulwama'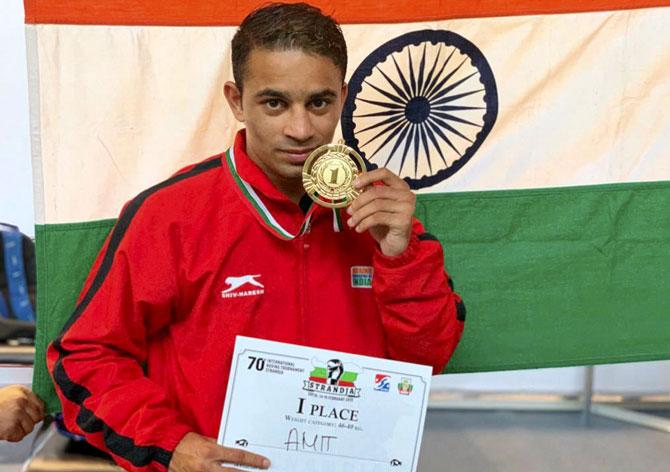 The 23-year-old Naib Subedar in the Indian Army said the Pulwama terror attack, which claimed the lives of 44 CRPF personnel, was on his mind through the tournament.
Watch out for Ferrari this F1 season!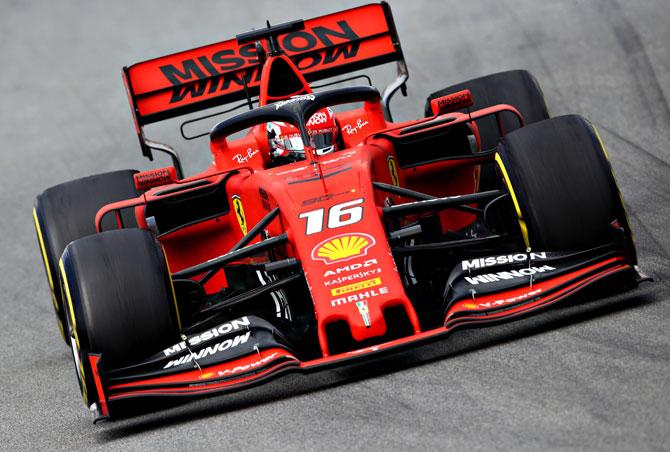 Ferrari's times were eye-catching, and quicker than anything from last year's weather-affected first four-day test at the Circuit de Catalunya.
PIX: Wasteful Barca held by Lyon; Bayern frustrate Liverpool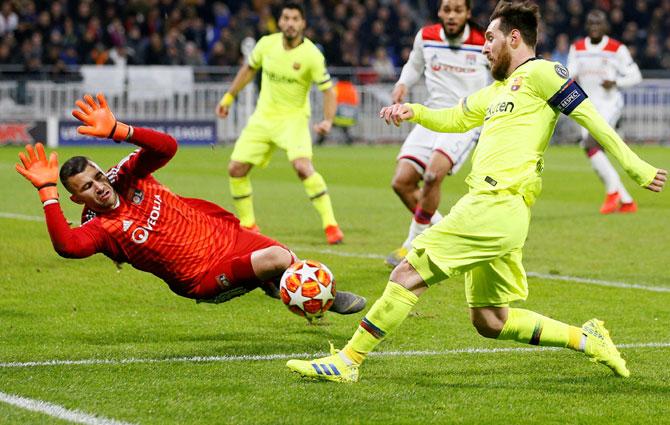 Barcelona were held to a frustrating 0-0 draw at Olympique Lyonnais in their Champions League last-16 first leg on Tuesday as both sides remained unbeaten in this season's competition.
PIX: Legends Padukone, Frost on court with chess great Vishy!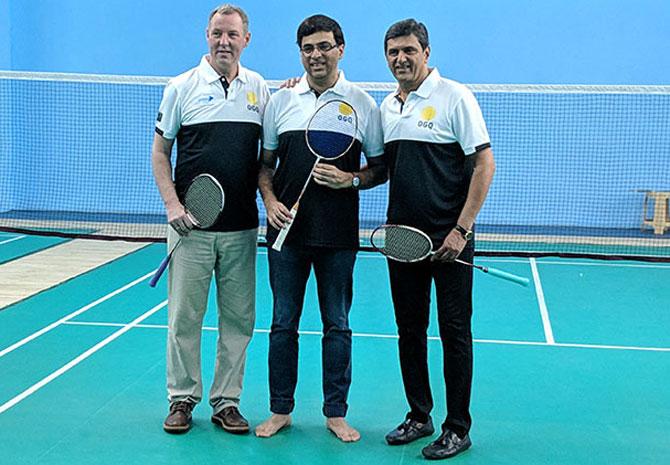 It was a rare sight to witness badminton legends Prakash Padukone and Morten Frost get back on the court to relive their glory days with India's chess wizard Viswanathan Anand for company.
Tennis round-up: Osaka stunned by Mladenovic in Dubai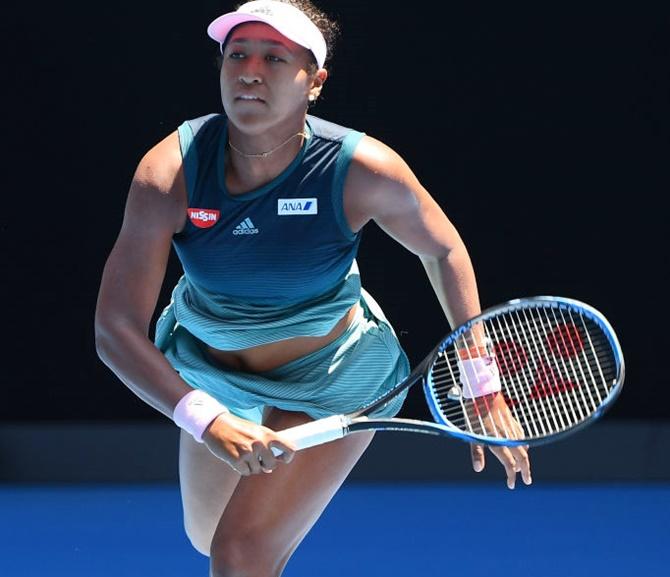 World number one Naomi Osaka was beaten in her opening match at the Dubai Duty Free Tennis Championships on Tuesday, losing to France's Kristina Mladenovic 6-3, 6-3 on her return to competitive action after winning last month's Australian Open.
Pakistan shooters not taking part in New Delhi World Cup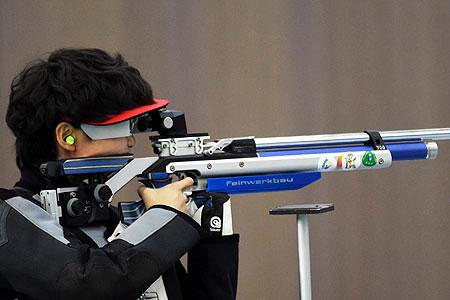 Pakistan will not participate in the shooting World Cup in New Delhi after a top official of the national federation confirmed that its marksmen had not been issued visas
'We appeal AIFF to postpone Srinagar match but will go if forced to'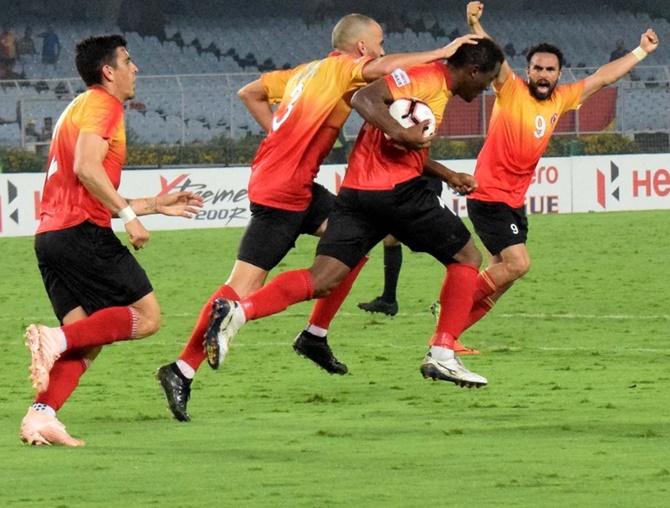 East Bengal said they will travel to Srinagar for their match against Real Kashmir on February 28 if 'forced' to do so by the AIFF.
Signs of stagnation at Atletico ahead of Juve visit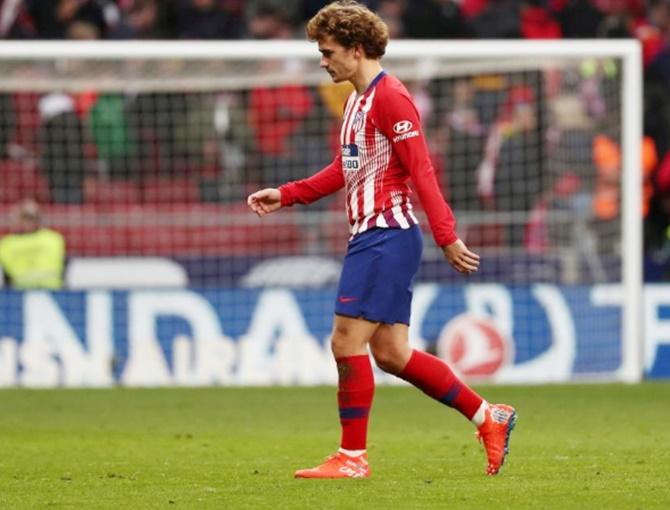 Their limp performance does not inspire confidence ahead of the visit of the all-powerful Serie A leaders and familiar foe Cristiano Ronaldo.
Bengaluru FC's heartwarming gesture for Real Kashmir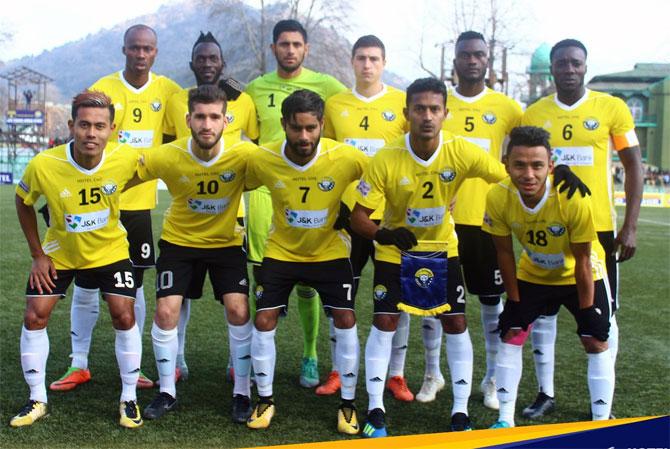 Bengaluru FC offer to play friendly in Srinagar, Real Kashmir invite them in March
Should Solskjaer be made permanent Manchester United manager? Vote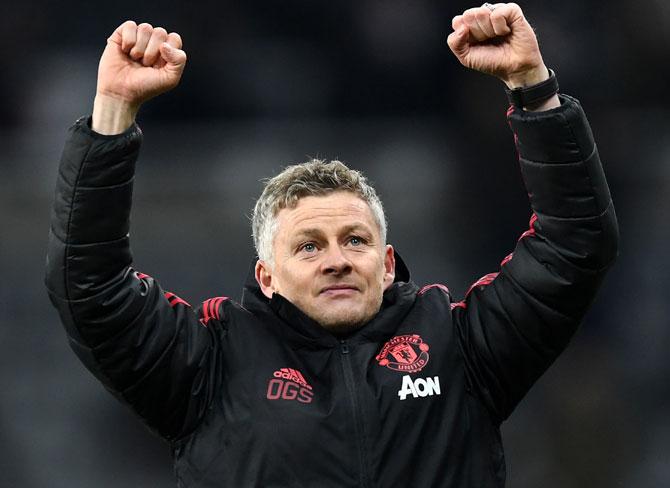 Last week, Manchester United's French winger Anthony Martial said he was hoping the Norwegian will stay in charge beyond this season.
In his fifth year at Ferrari, can Vettel do a Schumi?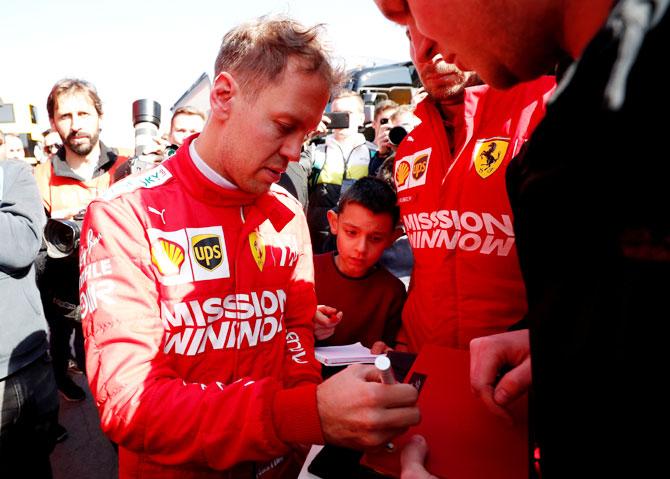 'The team is developing and closer together year by year so I hope that this year we get to have a lot of fun -- fun means win a lot of races and then ultimately you are fighting for the championship'
After shock retirement at 23, Missy Franklin finds peace in Hinduism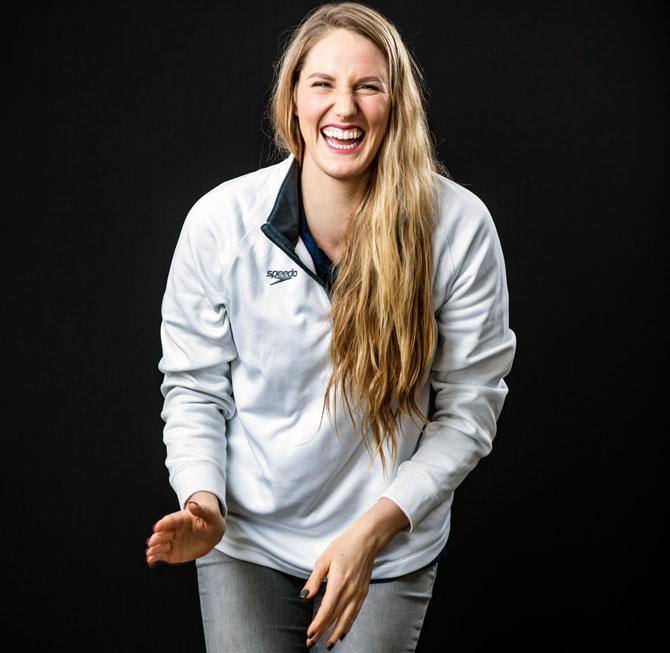 Learning Hinduism and reading the epics of Ramayana and Mahabharata have taken a chunk of Missy Franklin's time ever since the five-time Olympic gold-medallist swimmer announced a shock retirement in December last year.
PIX: Jharkhand's Yuwa-India steals show at Laureus Sports Awards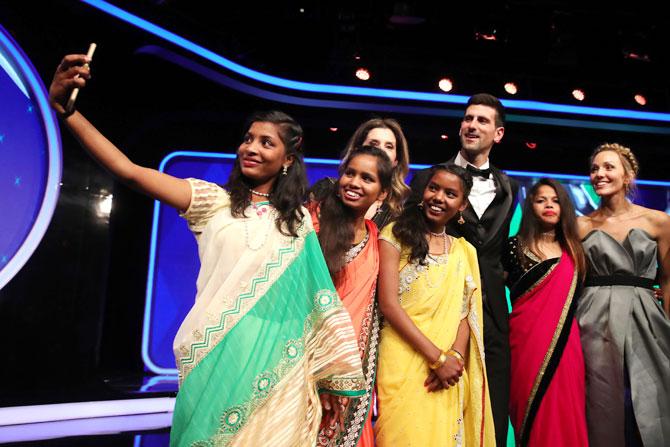 It couldn't have been a prouder moment for India at the Oscar Awards of sports, as Neeta Kumari, Hema Kumari, Konika Kumari, and Radha Kumari went on stage to collect the award they richly deserve.
Champions Preview: Barca wary of Lyon; City aim to break semis jinx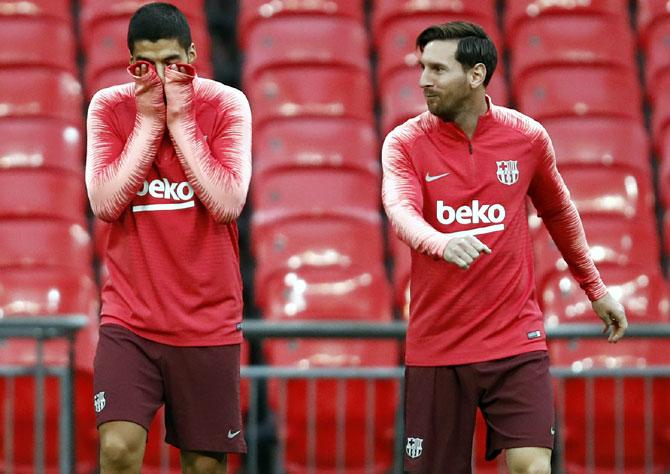 Manchester City have never gone past the semi-final stage of Europe's premier club competition.
Football Extras: Interesting line-up in FA Cup quarter-finals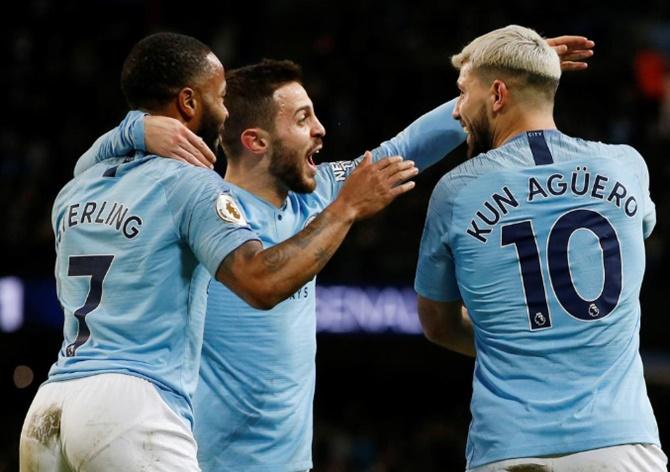 News of all that's transpired on and off the football field
Laureus awards PHOTOS: Top honours for Djokovic, gymnast Biles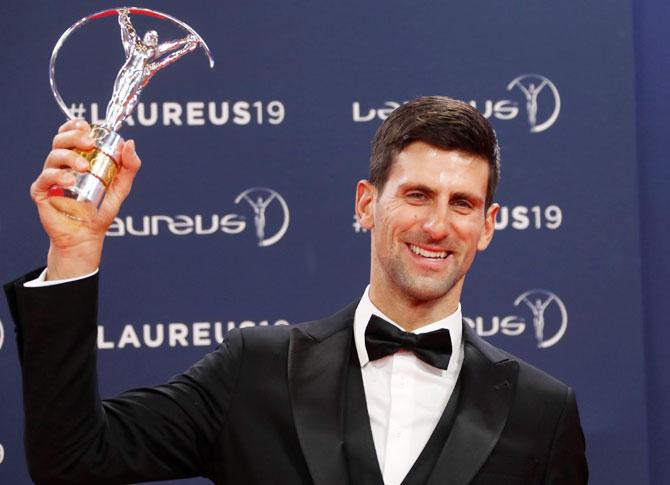 Serbian Djokovic, who 12 months ago had elbow surgery, won Wimbledon and the U.S. Open in 2018, before lifting this year's Australian Open crown, to add to his tally of Grand Slam singles titles and reclaim top spot in the rankings.
The Ole revolution at ManU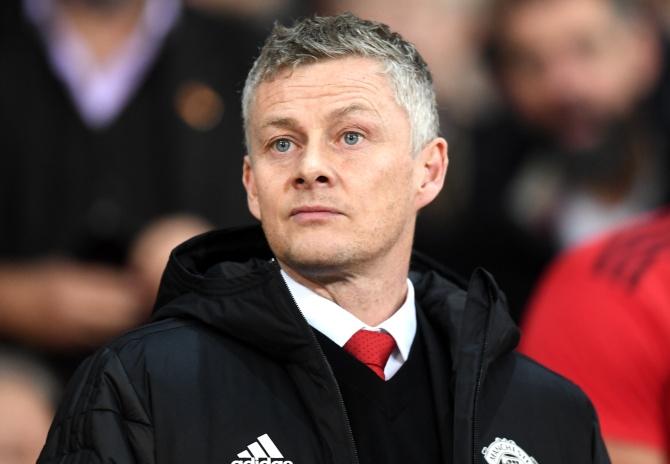 'Solskjaer has improved morale by freeing players from the shackles with which Mourinho had bound them.''He has made his team a happier bunch of people,' says Suhit K Sen.
PHOTOS: United dump holders Chelsea out of FA Cup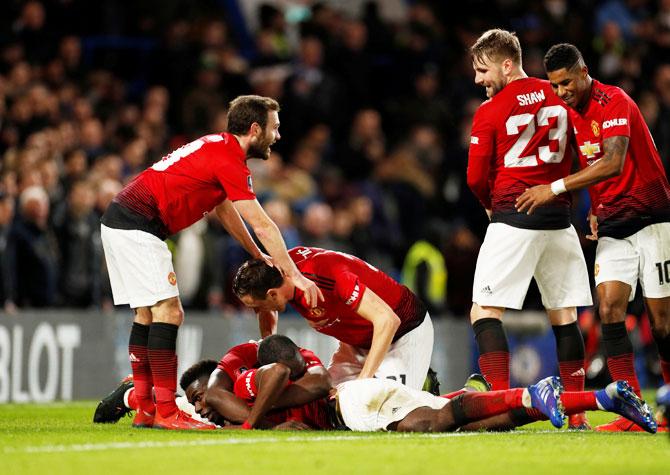 Spaniard Herrera finished off a fine move with a precise header from Pogba's cross just past the half-hour and United's French midfielder scored himself when he nodded powerfully home from a Marcus Rashford delivery before the break.
Semenya accuses IAAF of breaching confidentiality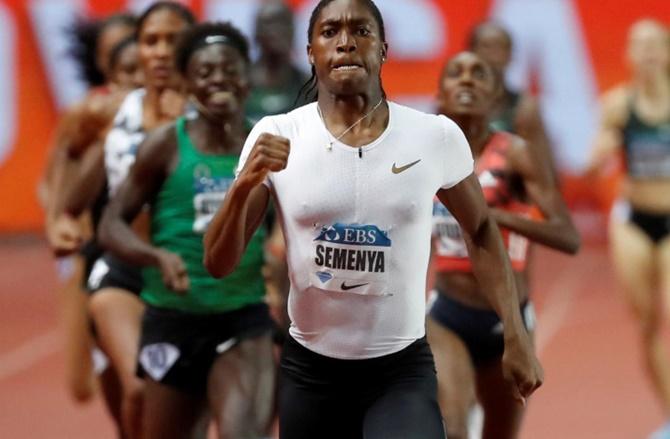 Caster Semenya has said the International Association of Athletics Federations (IAAF) breached confidentiality regulations ahead of her appeal hearing on Monday where she is fighting for her athletics future.
Pulwama fallout: Minerva moves court, East Bengal wait & watch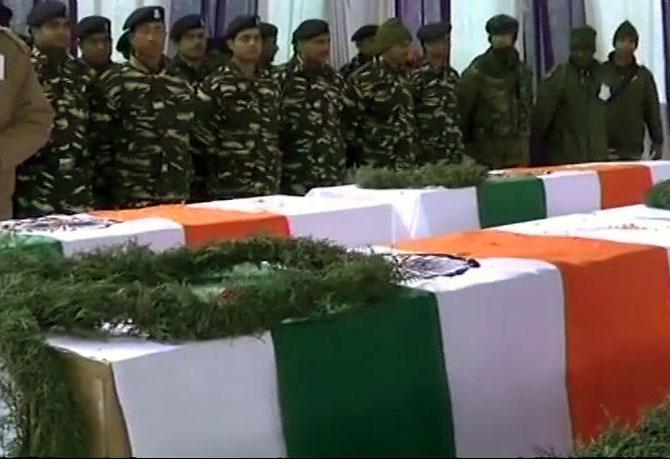 The AIFF has referred the Minerva issue to its League Committee and maintained silence on East Bengal's concerns.
Indian Football Roundup: FC Goa seal play-off berth; Chennai in drivers' seat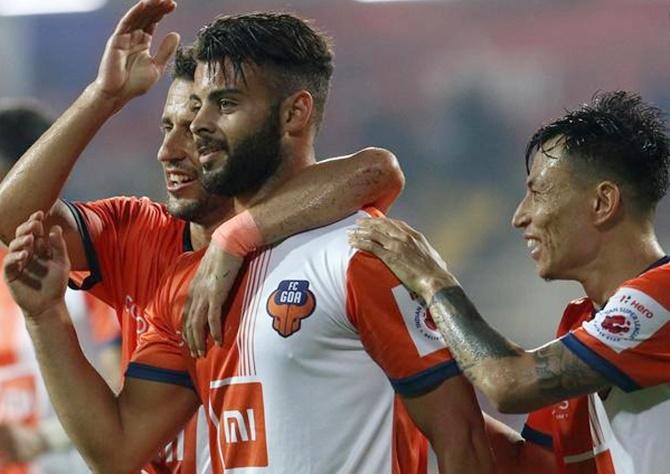 FC Goa became the second Hero Indian Super League side to book their place in the play-offs after a convincing 3-0 win over Kerala Blasters FC in Margao Monday.
F1: Vettel gets Ferrari off to strong start; Williams suffer delay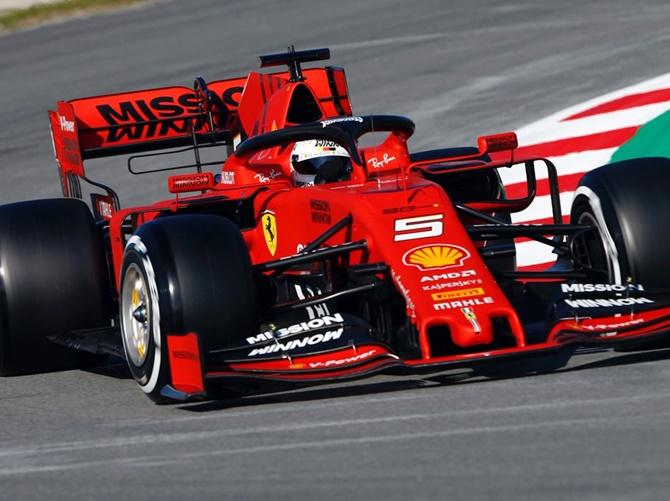 Ferrari made a strong start to the first day of Formula One testing, on Monday, with four-times world champion Sebastian Vettel top of the timesheets at lunchtime with 72 laps completed.
This tennis great has advice for Paes, Bhupathi, Sania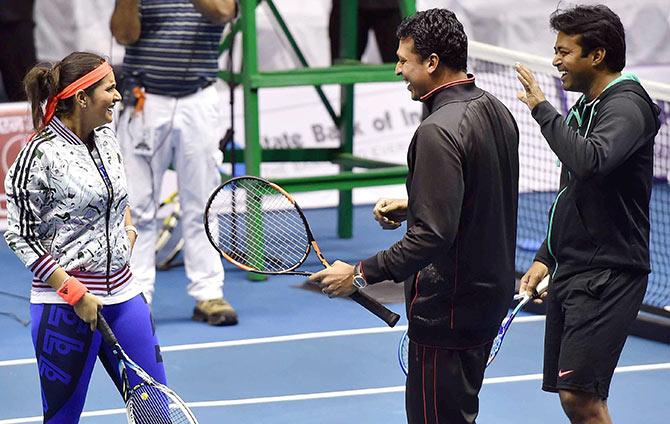 Paes, Bhupathi, Saina need to work together for growth of Indian tennis: Becker
Pakistan shooters granted visas for New Delhi World Cup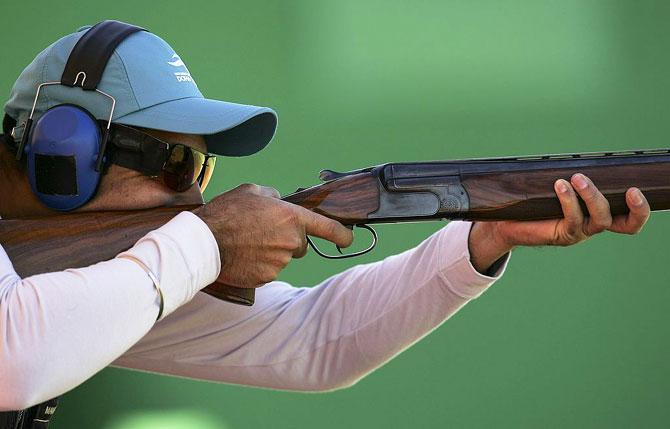 NRAI said Indian government had given clearance for the applications, but that was before last Thursday's dastardly attack
The struggles of a national badminton champion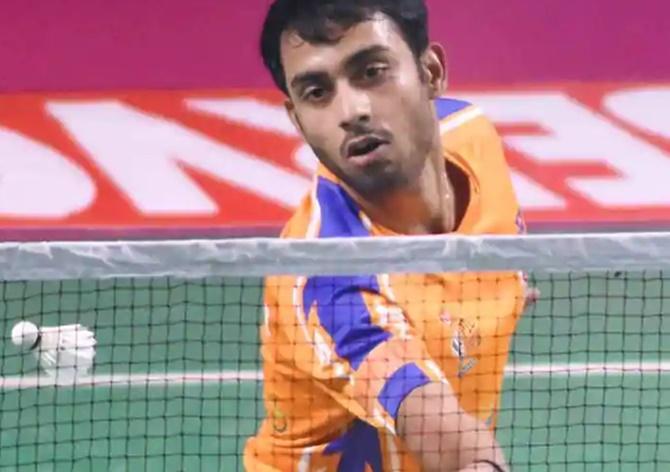 I need funds to play more international tournaments, says National Champion Sourabh Verma
Football Extras: Mbappe helps PSG extend lead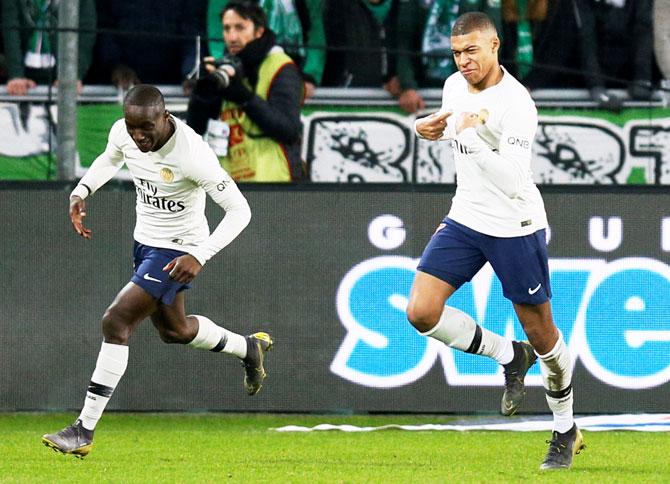 News of all that's transpired on and off the football field
Sports Shorts: Aus sports now have gender equality in salaries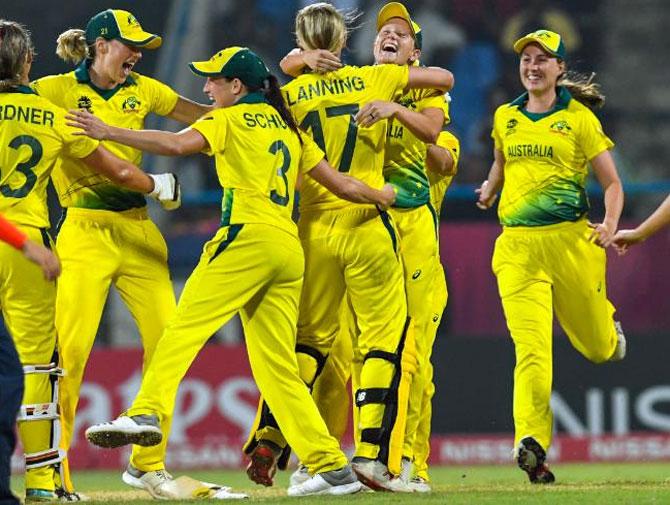 The CEOs of Cricket Australia, the National Rugby League and Football Federation Australia, have signed up to the "Pathway to Pay Equality" report by the Male Champions of Change Institute (MCC), which details a milestone-based approach to achieving pay equity between male and female athletes.
PIX: Best Sports Photos of the Week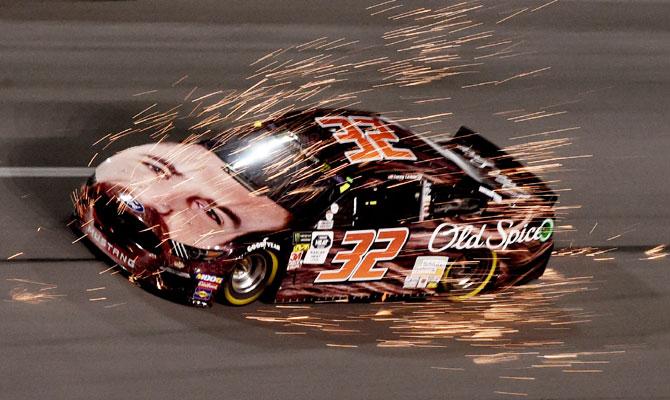 Rediff.com brings you a wrap of big stories in pictures with the Best Sports Photos of the Week.
Five talking points from the weekend in La Liga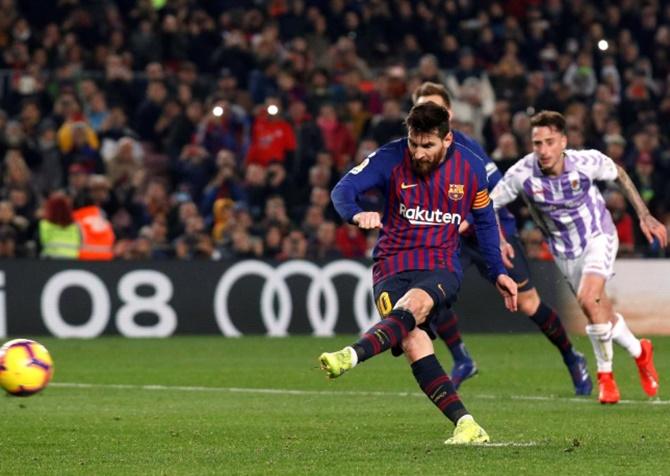 La Liga leaders Barcelona earned a narrow 1-0 win over Real Valladolid to move seven points clear at the top, while Real Madrid lost 2-1 at home against Girona to fall to third behind Atletico Madrid.
PIX: Mallakhamb gets a world championship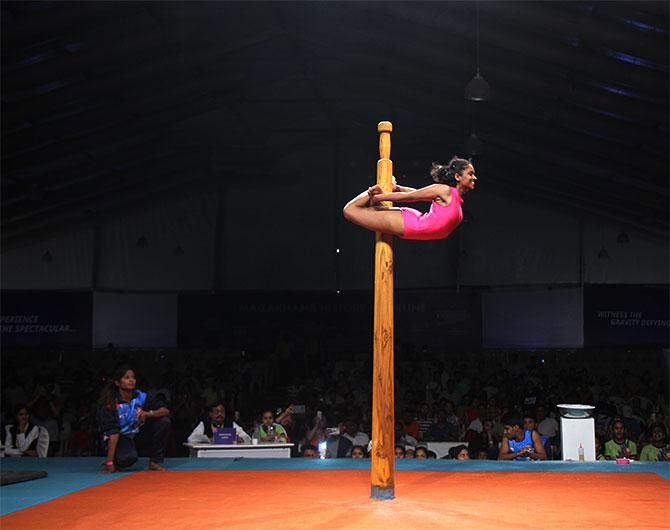 Hitesh Harsinghani/Rediff.com captures glimpses from the Mallakhamb World Championship 2019 in Mumbai.
Champions League Previews: Barca lack sparkle; Liverpool favourites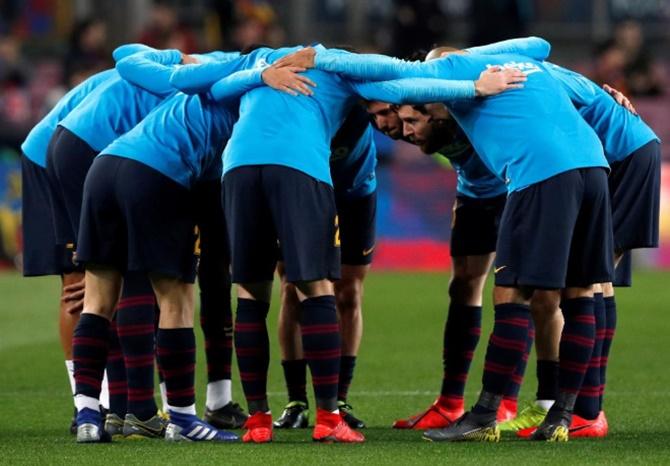 Barcelona have been haunted by their recent failures in the Champions League and there are concerning signs for the Catalans as they prepare for Tuesday's last-16 first leg away to Olympique Lyonnais.
Tennis round-up: Osaka on why she split with coach Bajin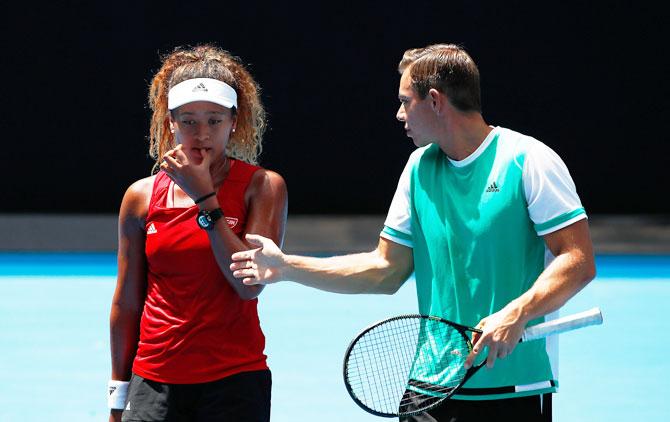 'Everyone thinks it was a money-related issue, but it wasn't'
PIX: Supermom Sania Mirza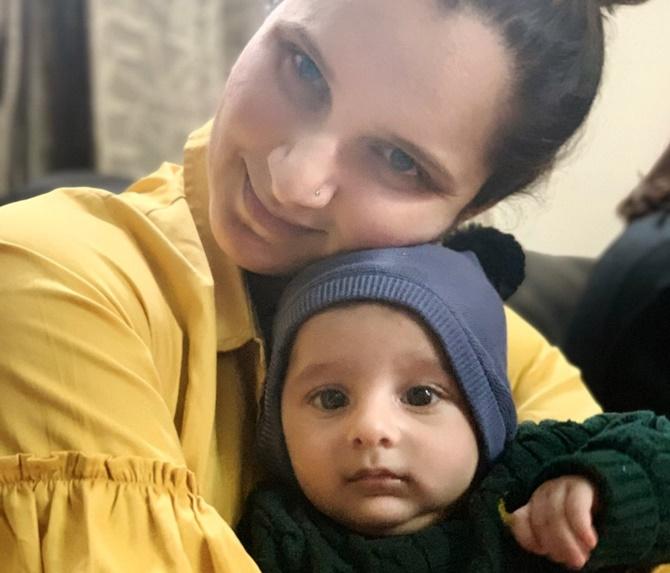 Enjoy these pictures of the supermom with super style.
Here's what Sania Mirza has to say on Pulwama attack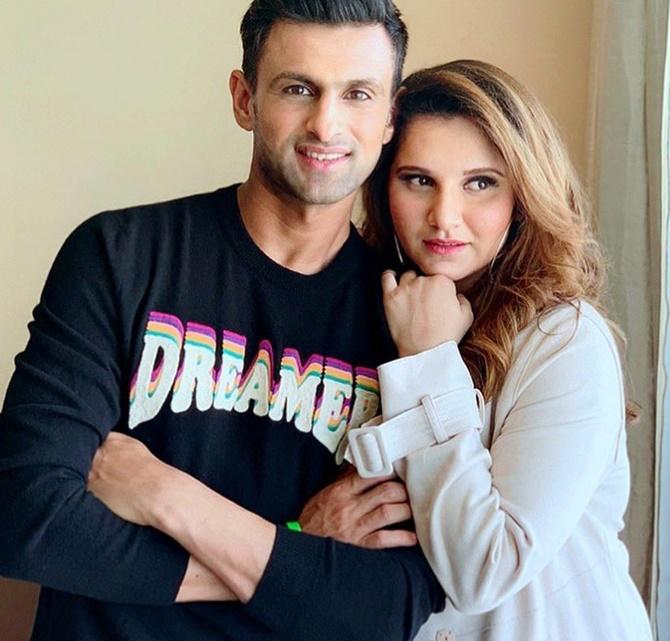 Mirza, who is married to Pakistani cricketer Shoaib Malik, is trolled and targetted every time the relation between India and Pakistan takes a hit.
Sports Shorts: Boxer Amit Panghal shines; Delhi stun Bengaluru FC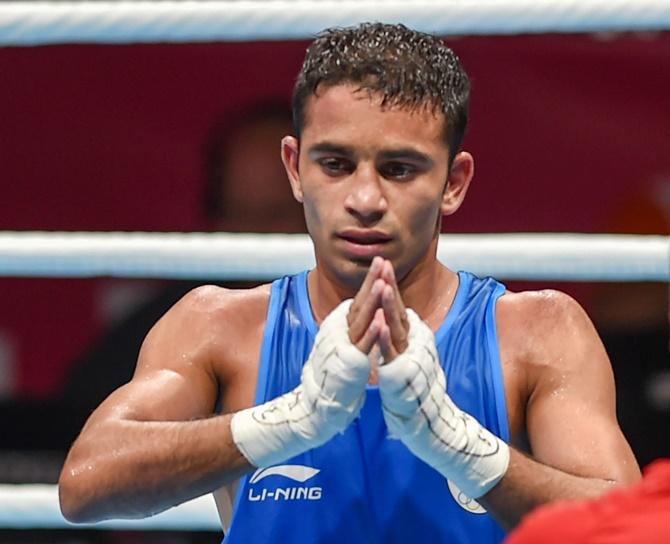 Summary of sports events and persons who made news on Sunday
'Could move court if three points are awarded to Real Kashmir'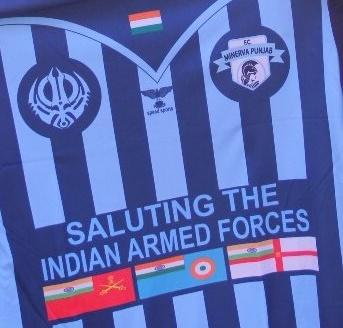 The club said it had not received the assurances it had sought as far as security of its players are concerned
Jharkhand-based NGO Yuwa wins Laureus Sport for Good honour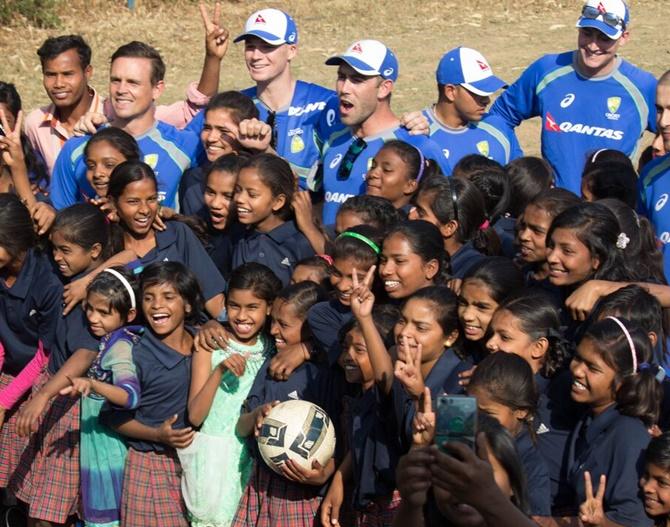 The NGO runs a football program in rural Jharkhand covering 450 girls.
Real suffer shock home defeat, derailing title bid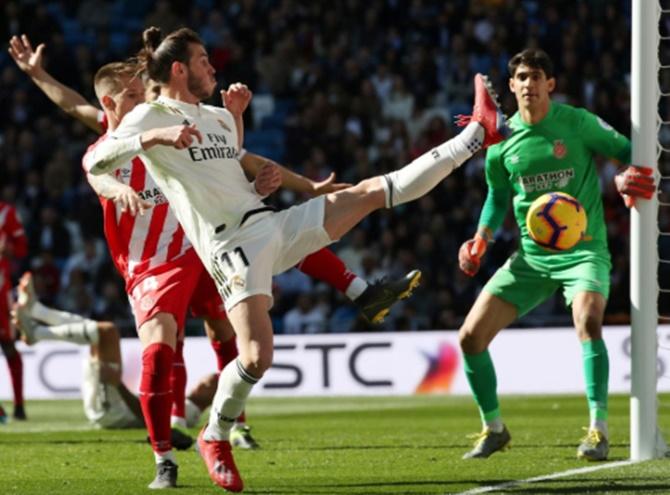 Real Madrid's resurgent La Liga run skidded to a halt as they fell to a shock 2-1 defeat at home by struggling Girona on Sunday in which captain Sergio Ramos was sent off in added time, leaving them nine points adrift of leaders Barcelona.
Football Extras: Robben picks his 'worst stadium'; Sanchez worried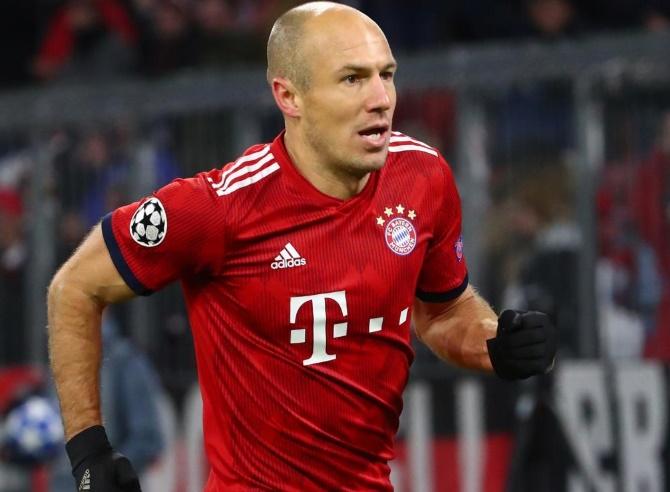 News of all that's transpired on and off the football field
The wait is over! Ferrari unveil new F1 car for new era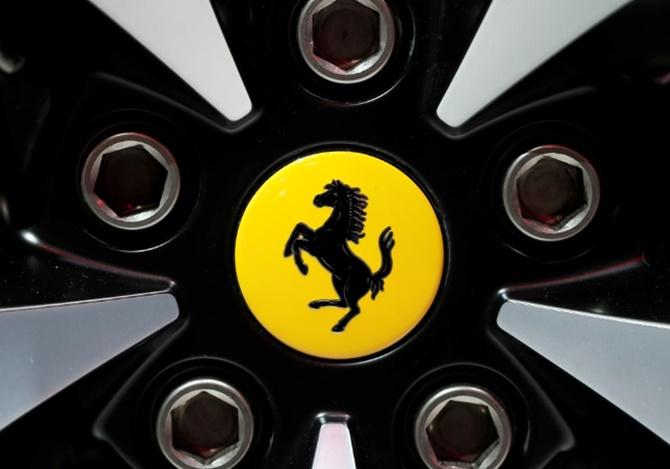 Ferrari presented the SF90 with plenty of fanfare at their Maranello factory.
La Liga: Messi penalty helps under-par Barca beat Real Valladolid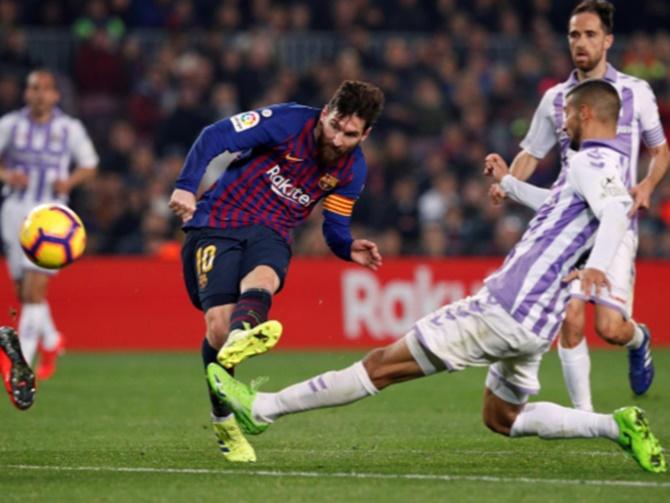 Lionel Messi scored one penalty and missed another as Barcelona beat Real Valladolid 1-0 on Saturday to open up a seven-point lead at the top of La Liga.
FA Cup: Man City end Newport's dream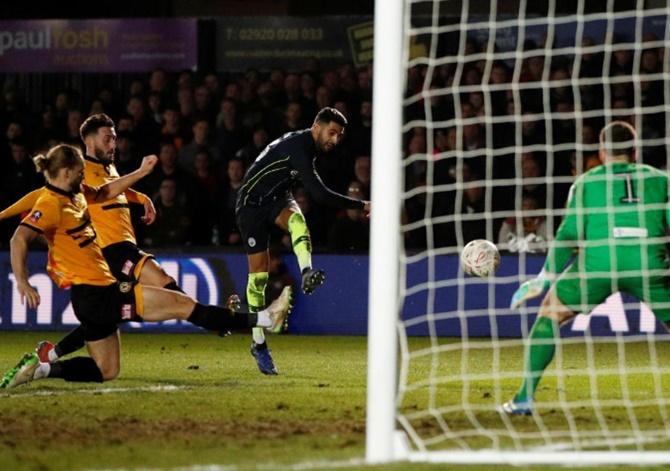 Manchester City endured some anxious moments but escaped from fourth-tier Newport County with their FA Cup hopes intact as Phil Foden scored twice in an ultimately comfortable 4-1 fifth-round victory on Saturday.
Tennis Roundup: Mertens stuns Halep to lift Qatar Open title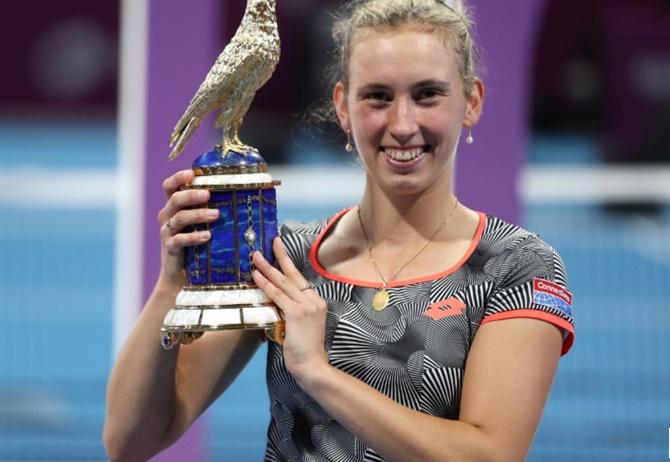 Belgium's Elise Mertens rallied from a set down to beat top seed Simona Halep 3-6, 6-4, 6-3 and clinch her first Premier-level title at the Qatar Open on Saturday.
PIX: Argentines pay tribute to Sala at special memorial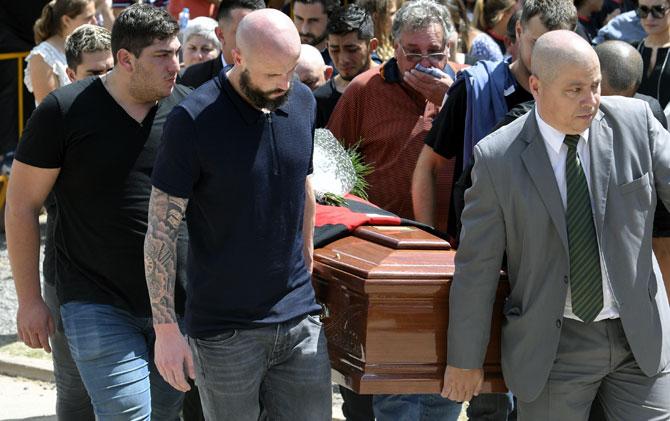 The 28-year-old's body was flown back to Argentina and arrived in Buenos Aires on Friday morning before being driven the 538 km (334 miles) to Progreso, where he grew up.
Pulwama terror attack: Minerva forfeit I-League match in Srinagar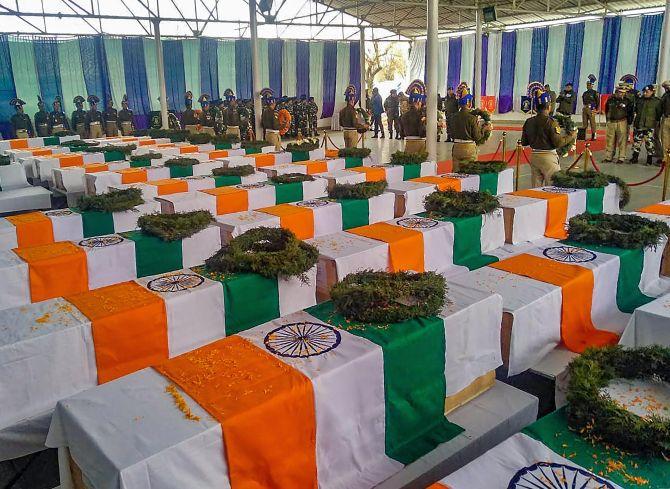 Defending champions Minerva Punjab FC forfeited their I-League match against Real Kashmir FC in Srinagar after the All India Football Federation (AIFF) turned down their request to relocate the fixture in the aftermath of the Pulwama terror attacks.
Saina outclasses Sindhu to retain Nationals crown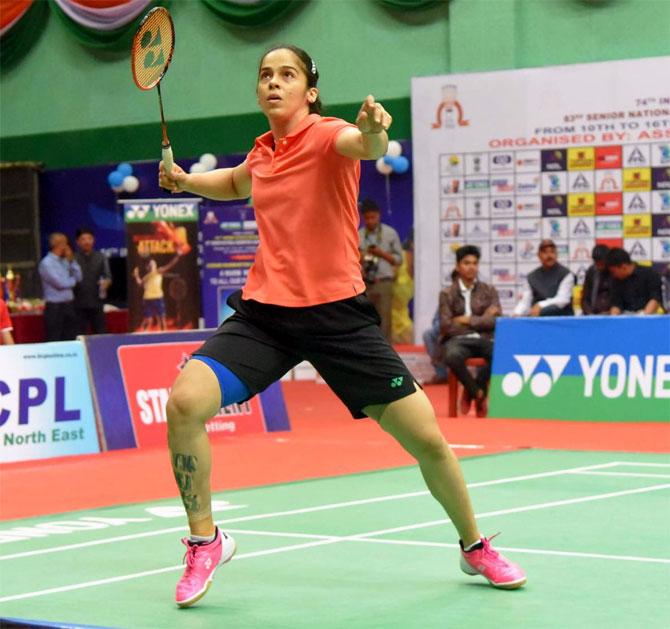 Three-time champion Saina Nehwal registered a 21-18, 21-15 win against PV Sindhu, a two-time winner, in the summit clash.
Football PIX: Coman rallies Bayern to victory; Juventus cruise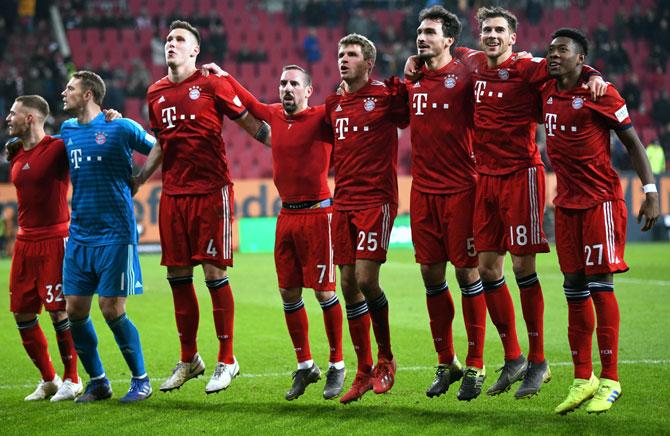 Champions Bayern Munich twice needed to come from a goal down to beat hosts Augsburg 3-2 on Friday courtesy of Kingsley Coman's two goals, and cut the gap with leaders Borussia Dortmund to two points.
Tennis round-up: Halep outlasts Svitolina, faces Mertens in Doha final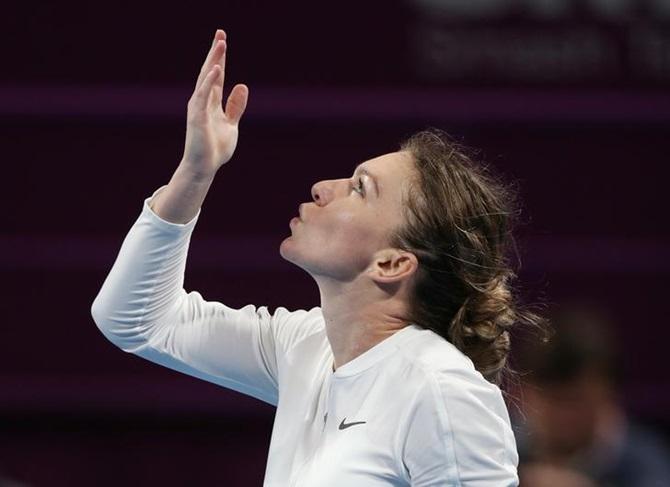 Top seed Simona Halep came back from 4-1 down in the deciding set to beat Elina Svitolina 6-3 3-6 6-4 in the Qatar Open semi-final on Friday, marking her first victory over the Ukrainian in nearly two years.
Sports Shorts: Sindhu, Saina set up summit clash at Nationals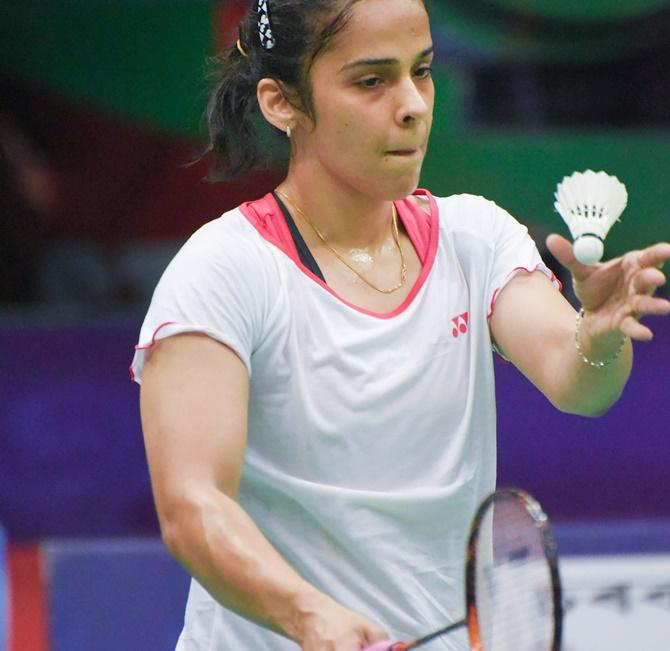 Summary of sports events and persons who made news on Friday
Football Extras: Sala's body arrives in Argentina for weekend funeral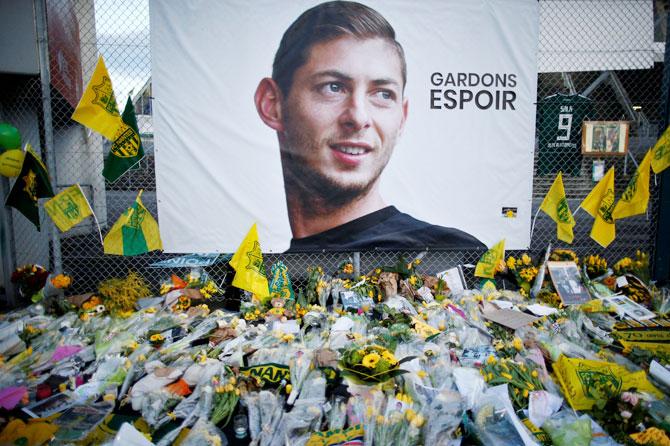 News of all that's transpired on and off the football field
Sportstar awards: Deepika, Ranveer cheer for Prakash Padukone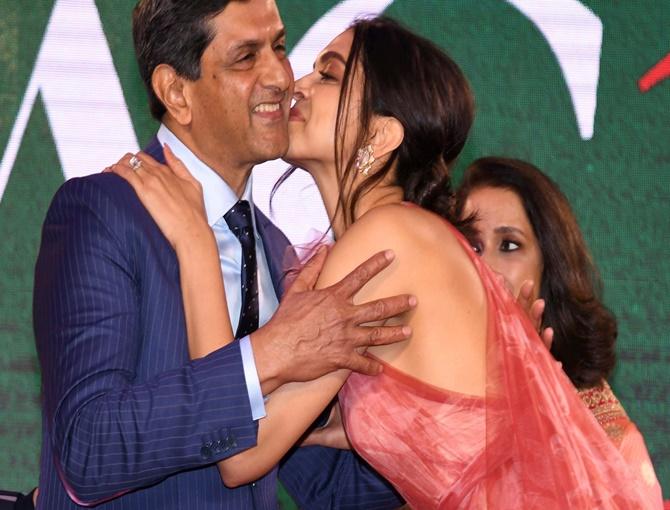 Badminton legend Prakash Padukone was bestowed with the Lifetime achievement award at the Sportstar Aces awards function in Mumbai.
SAI requests CBSE to adjust board exam dates of shooters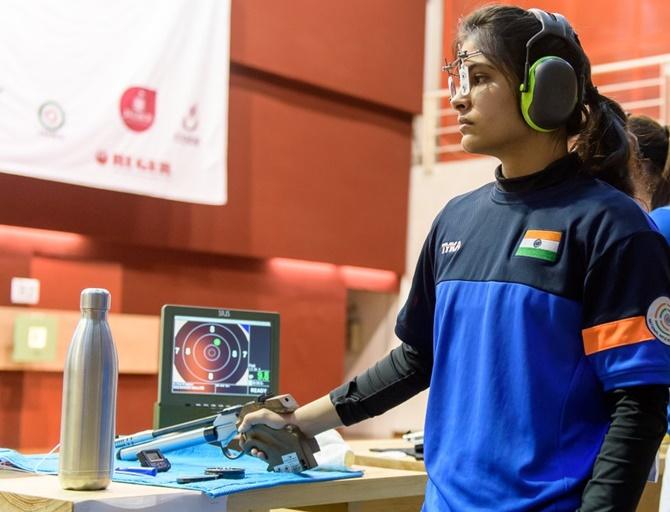 The initiative by SAI is part of ongoingefforts of the government to help young athletes balance their sporting career and academics.
'We cannot play football where 42 of our brothers have been martyred'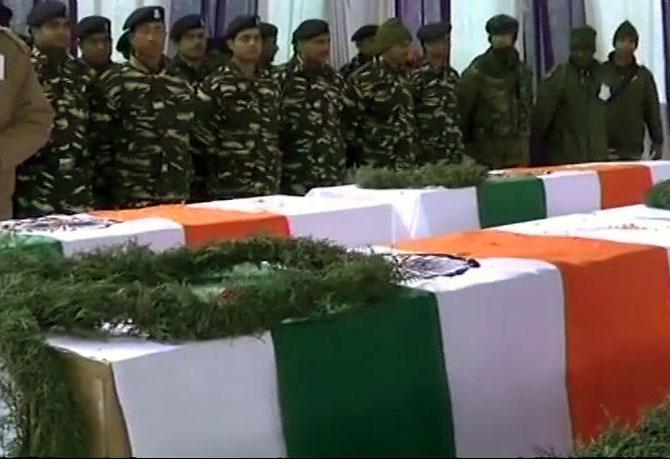 Minerva Punjab FC have requested the All India Football Federation (AIFF) to shift their upcoming I-League match from Srinagar or defer it in the wake of the Pulwama terrorist attack, saying the club is ready to forfeit if the game is not rescheduled.
Gear up for year end battle between Davis Cup and ATP Cup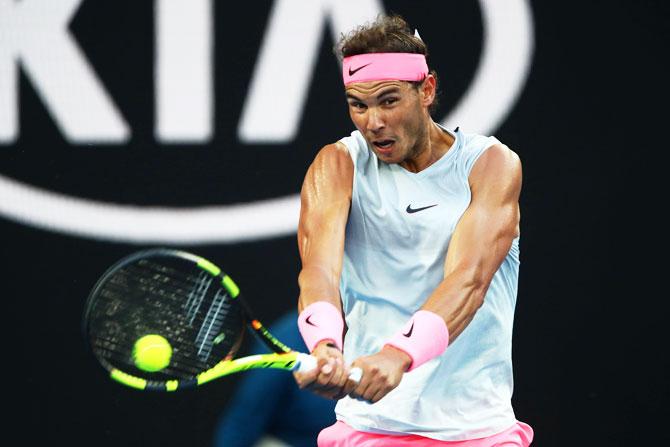 Rafael Nadal to play for Spain in new Davis Cup Finals while World No 1 Novak Djokovic and Roger Federer, have already said they would support the ATP Cup -- seen as a rival team event to the Davis Cup -- when it begins in Australia just a few weeks after the ITF's flagship event.
Tennis round-up: Halep to meet Svitolina in Doha semis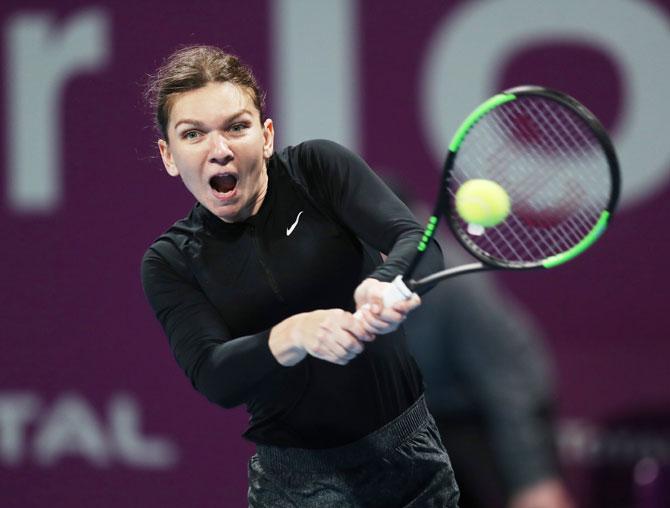 Playing in her first tournament with new coach Thierry Van Cleemput, Halep raced to a 4-0 lead in the opening set before her ninth-seeded opponent fought back to force a tiebreak.
Europa League: Lacazette sent off in Arsenal loss; Chelsea, Napoli win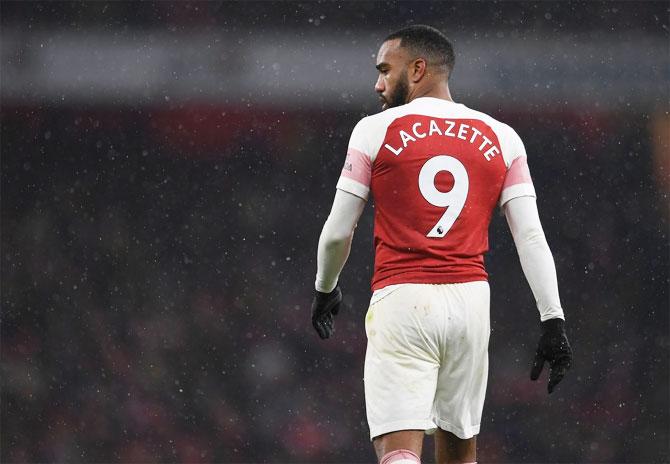 Arsenal had scored 10 goals in two matches against BATE Borisov in the same competition in 2017 but never looked like being as prolific in the freezing temperatures of Belarus.
How much has Mourinho's departure cost Manchester United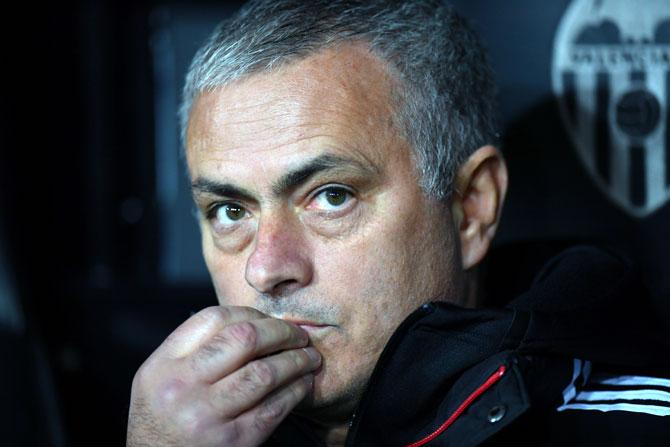 Sacking Portuguese manager Jose Mourinho cost Manchester United 19.6 million pounds ($25.10 million), the English Premier League soccer club said.
Can India clinch a medal in TT at 2020 Olympics?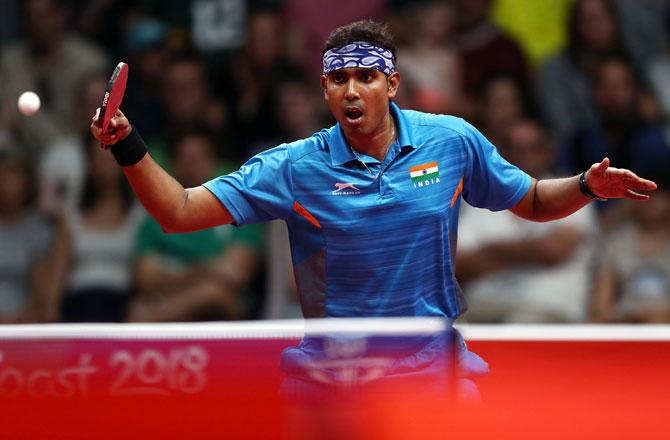 Ace paddler Sharath Kamal, who clinched a historic mixed doubles bronze with Manika Batra at the Asian Games last year, feels the road to the 2020 Tokyo Olympics seems difficult in the newly-introduced category, but once the spot is booked, a medal win is possible.
Love at first sight! McLaren show off new F1 car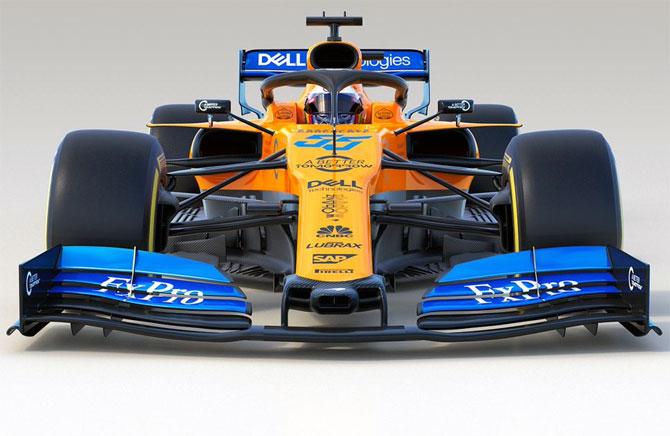 The blue and papaya orange MCL34 car was unveiled by 34 team employees at the former champions' Woking headquarters before Sainz and 19-year-old British rookie team mate Lando Norris stepped up to admire it.
Racing Point ready to move on from cash-starved Force India era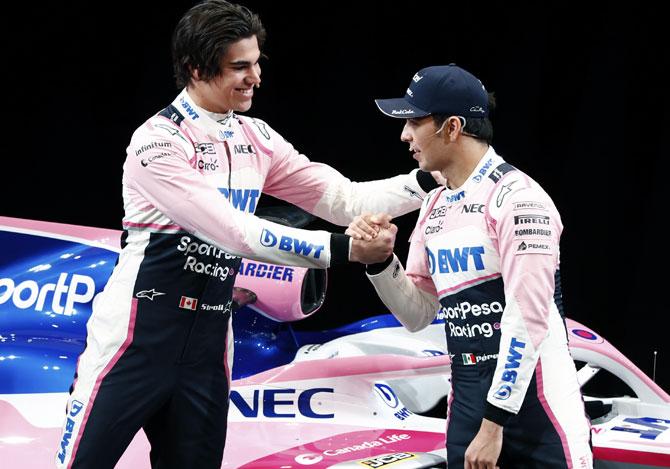 Racing Point have put the cash-starved Force India days behind them and now have the resources to show Formula One what they can really do, the Canadian-owned team said.
F1 remains ultimate dream for Maini despite sports car switch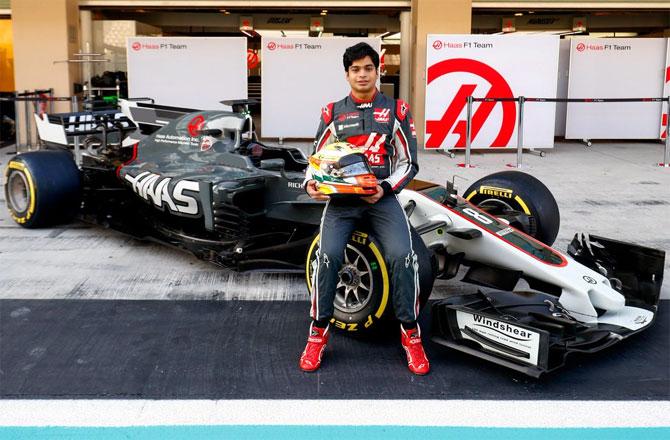 Indian driver Arjun Maini's road to Formula 1 has become tougher with his shock switch to sports car racing.
Football Extras: Real's Ramos says he got yellow card on purpose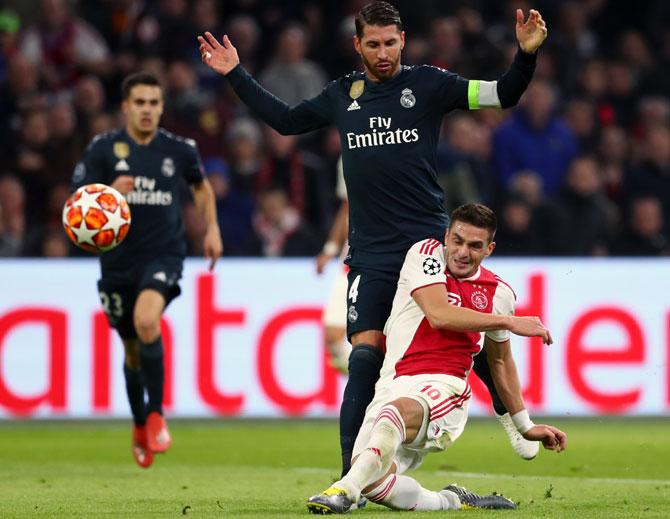 Real Madrid captain Sergio Ramos risks being hit with an extra game suspension which would rule him out of a potential Champions League quarter-final first leg after admitting he got booked on purpose in Wednesday's 2-1 win at Ajax Amsterdam.
Hima sprints from track to classroom in exam season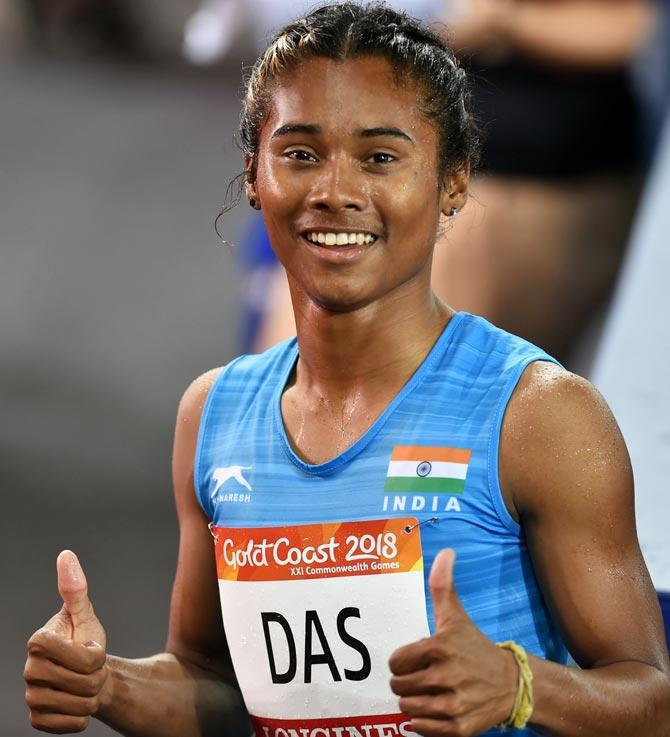 India's sprint sensation Hima Das doesn't want to be left behind in studies either and is juggling between training and board exams these days.
Sr National badminton: Saina refuses to play due to uneven surface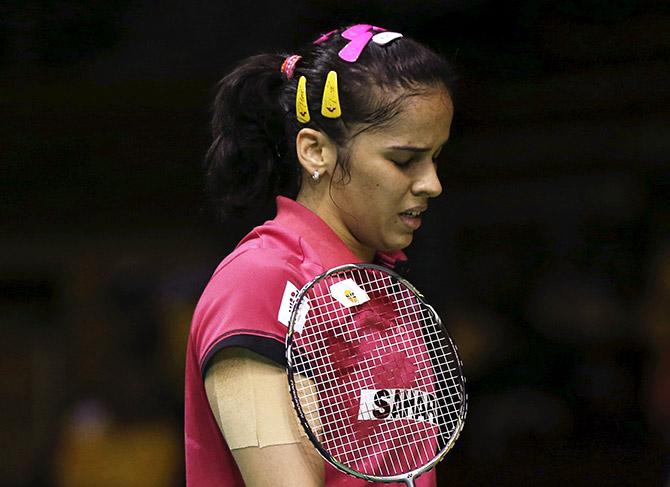 Up against Shruti Mundada in the pre-quarters, Saina had a look at the surface and immediately made it clear that she won't risk playing on it given that the All England Championships are around the corner.
Tennis round-up: Halep, Svitolina cruise into Qatar Open quarters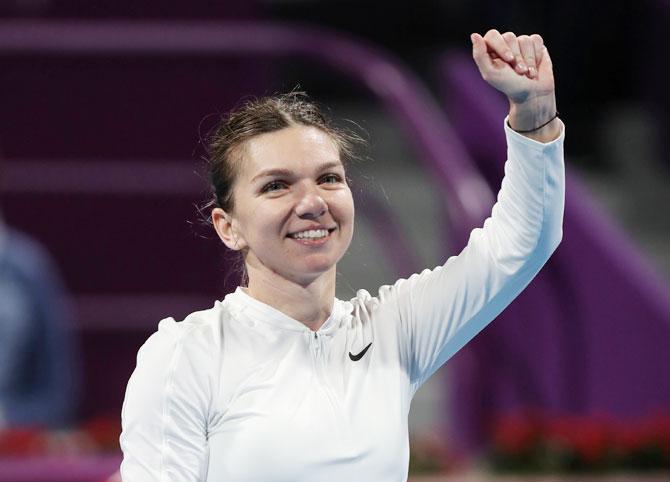 Earlier on Wednesday, Czech Karolina Pliskova was forced to withdraw from the tournament due to a viral illness.
Champions League: Real win as VAR denies Ajax; Spurs down Dortmund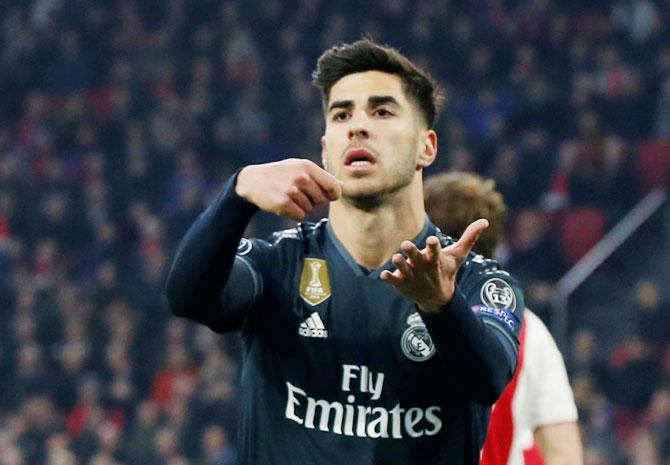 Images from the Champions League matches played on Wednesday
Sports Shorts: IAAF wants Semenya to lower testosterone level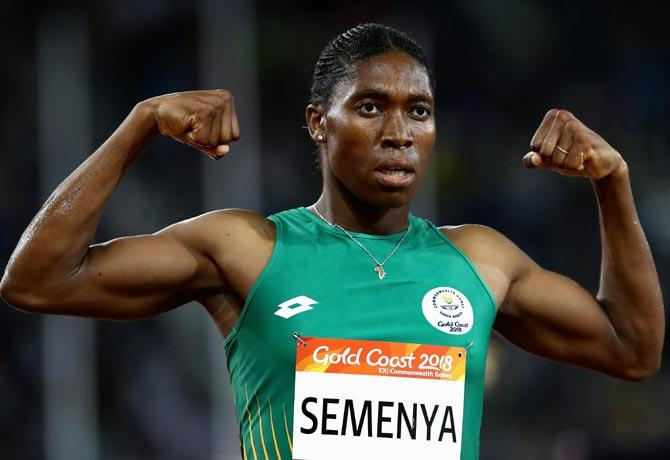 Summary of sports events and persons who made news on Thursday
Indian Football Roundup: Myanmar knock India out of Gold Cup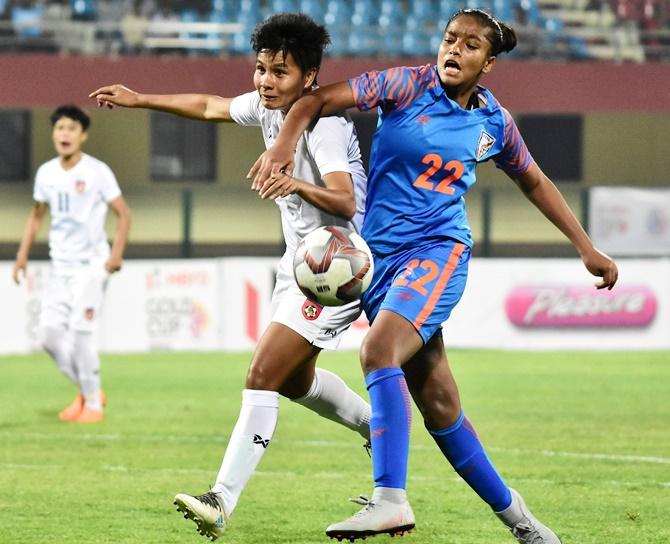 Hosts Mumbai City FC suffered their third defeat in a row after going down 0-2 to North East United FC in a lop-sided Indian Super League game, in Mumbai, on Wednesday.
I have to keep learning new strokes everyday: Sindhu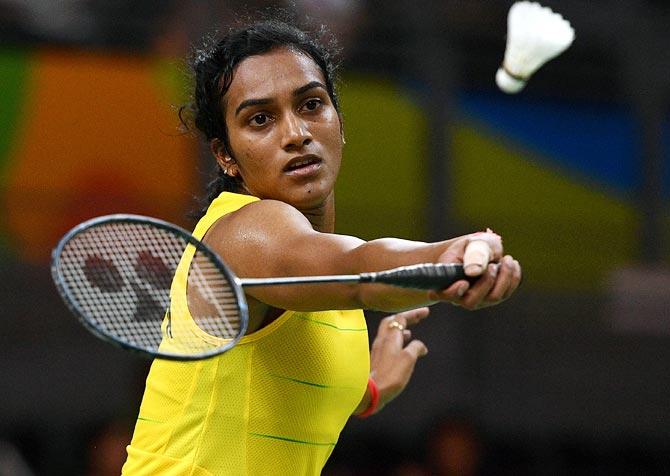 P V Sindhu said she still has lots to learn and needs to add a few more shots to her repertoire to dominate world badminton.
Football Extras: Move aside Neymar, Mbappe is here...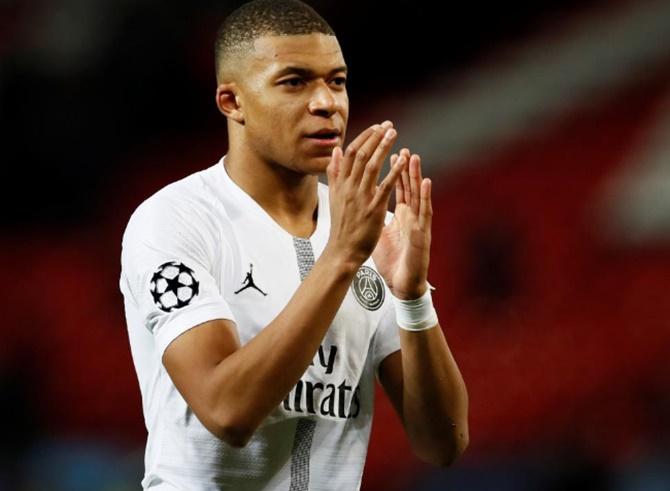 News of all that's transpired on and off the football field
Sports Shorts: Will chess be included in 2024 Olympics?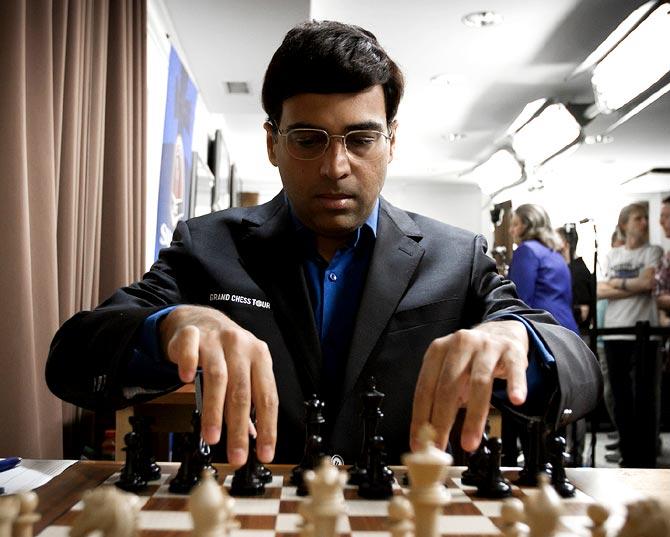 FIDE said in a statement that the game of chess has a "genuine global appeal" and that it has 189 national federations and 600 million people who practice chess globally.
F1: Hamilton hungry for more with new Mercedes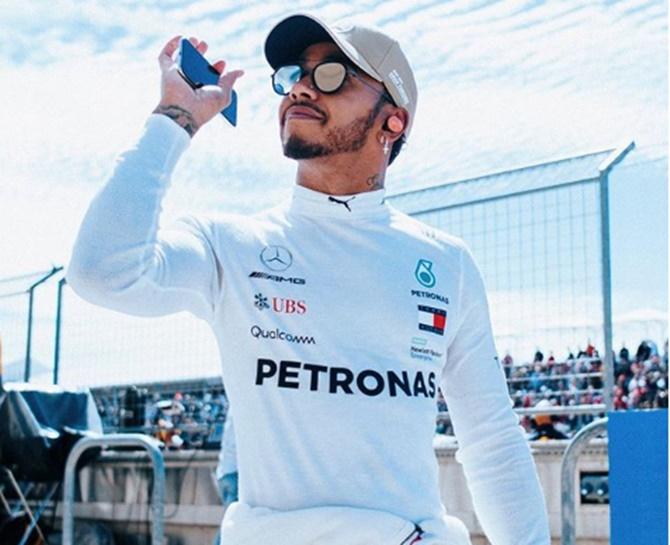 Formula One champions Mercedes ran their new car for the first time at Silverstone on Wednesday with title holder Lewis Hamilton saying he felt 2019 could turn out even better than last season.
How a refugee footballer's honeymoon turned into deportation nightmare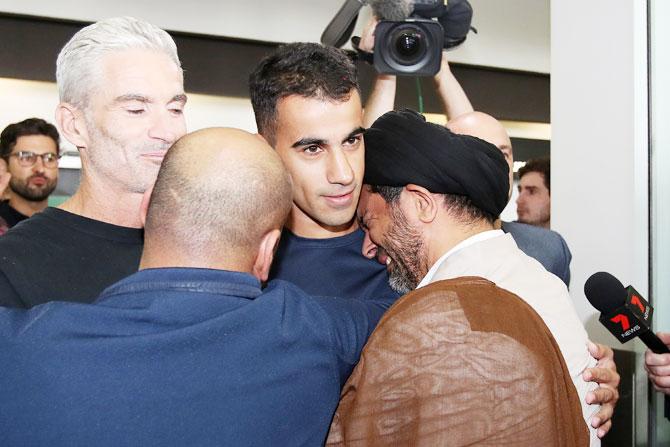 As the 25-year-old, who has refugee status in Australia, got off a plane in Bangkok on November 27, Thai immigration police were waiting to arrest him based on an Interpol "red notice" from Bahrain.
Tough draw for Saina, Sindhu at All England Championship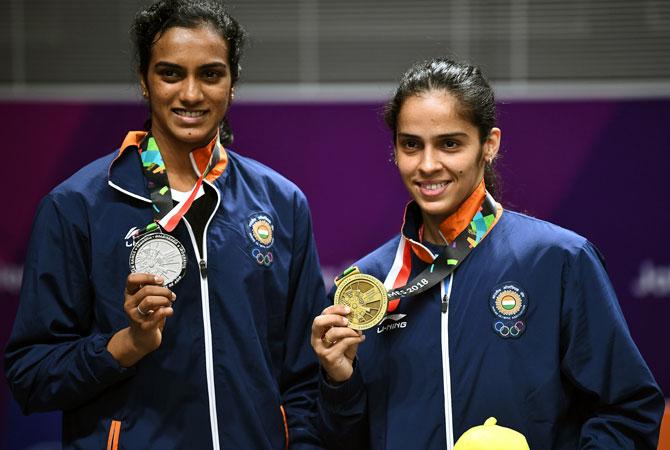 PV Sindhu will open her campaign against South Korea's Sung Ji Hyun, while Saina Nehwal takes on Scotland's Kristy Gilmour in the first round.
PIX: Pogba sent off as PSG outclass United; Roma win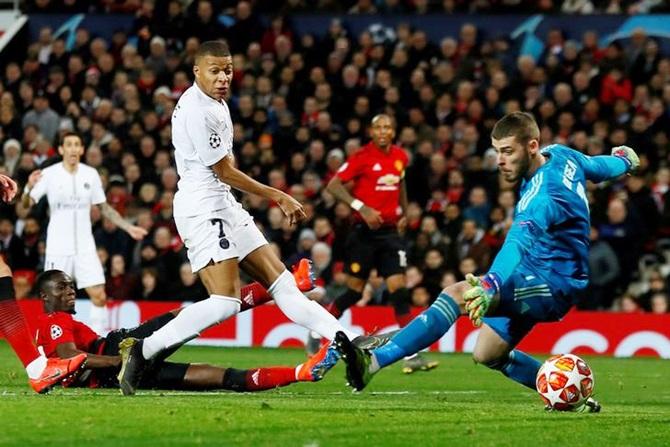 Second half goals from Presnel Kimpembe and Kylian Mbappe gave the impressive French side a clear advantage ahead of the return in Paris on March 6.
Real ditch 'galacticos' for youth while Ajax export young blood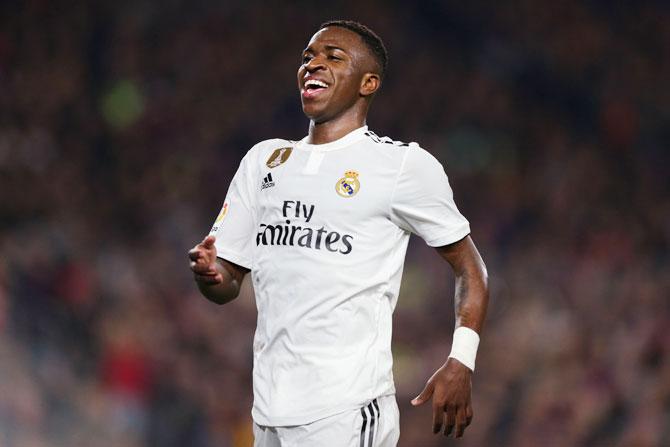 Ajax, four-times European Cup winners who are in the knockout stages for the first time in 13 years, have enhanced their reputation as a talent factory due to the rise of homegrown Dutch players Frenkie de Jong and Matthijs de Ligt.
Pele pays tribute to 'goalkeeper with magic' Banks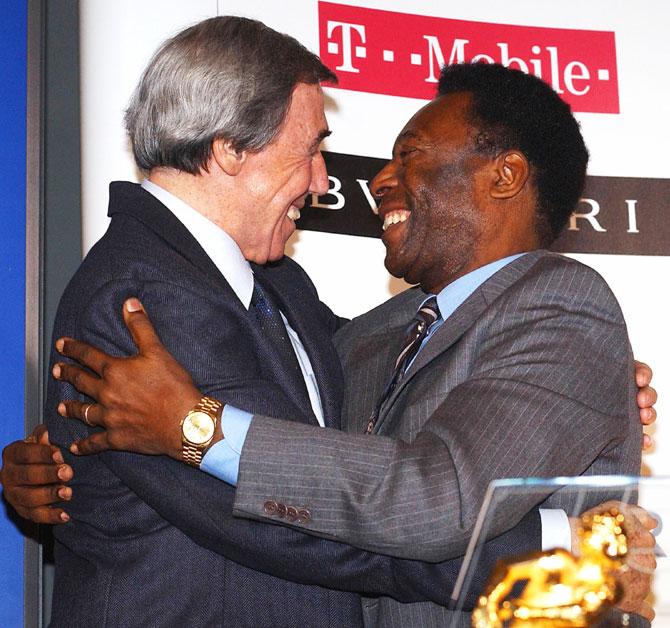 The death of the 81-year-old former England keeper was announced by his former club Stoke City on Tuesday.
F1: Ricciardo inspired by Hamilton to do great things at Renault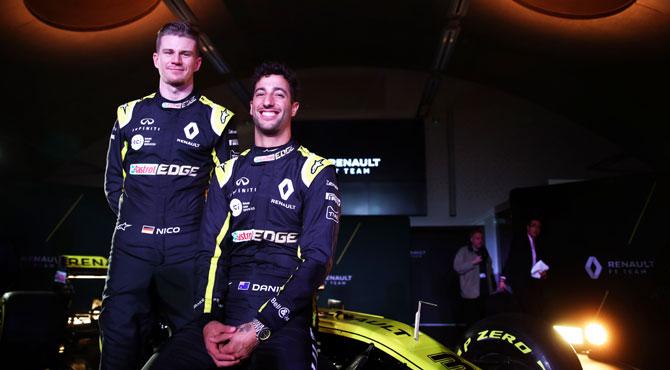 'Renault Sport Racing managing director Cyril Abiteboul told reporters that Ricciardo could be the spark needed to ignite the team on track'
Champions League: Ramos leads rejuvenated Real in 600th appearance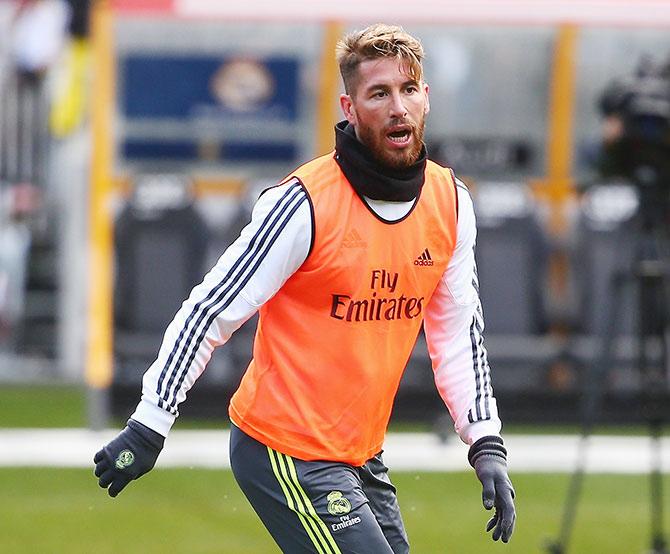 It compounded a woeful few months for the club as coach Julen Lopetegui came and went before former player Santiago Solari replaced him in November. They sat sixth in La Liga and appeared a team in decline, sorely missing forward Cristiano Ronaldo, who left for Juventus last summer.
Minute's silence at Champions League, Europa League games for Sala
In memory of Emiliano Sala, a minute's silence will be observed at all Champions League and Europa League games this week, UEFA said on Tuesday.
Shubhankar Sharma determined to find success in PGA Tour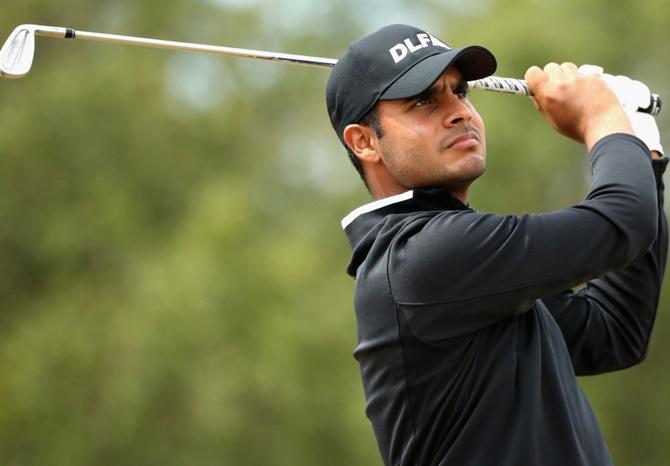 Shubhankar Sharma believes he has the game to be a multiple winner on the PGA Tour
Sports Shorts: Tokyo Olympics medal hopeful Ikee diagnosed with leukemia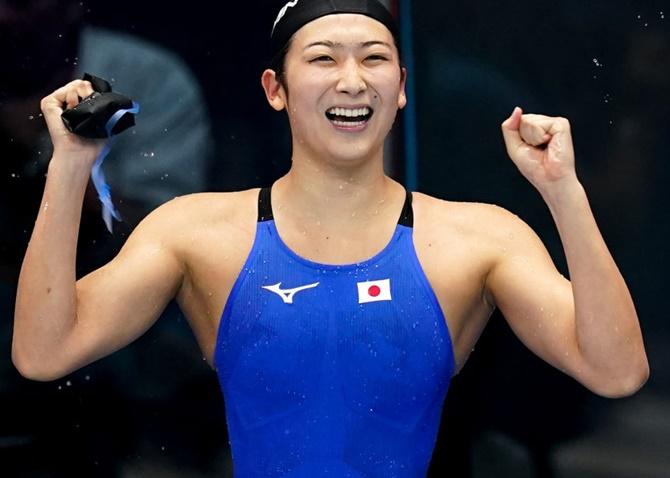 Summary of sports events and persons who made news on Tuesday
Football Extras: Ramsey leaves Arsenal after 11 years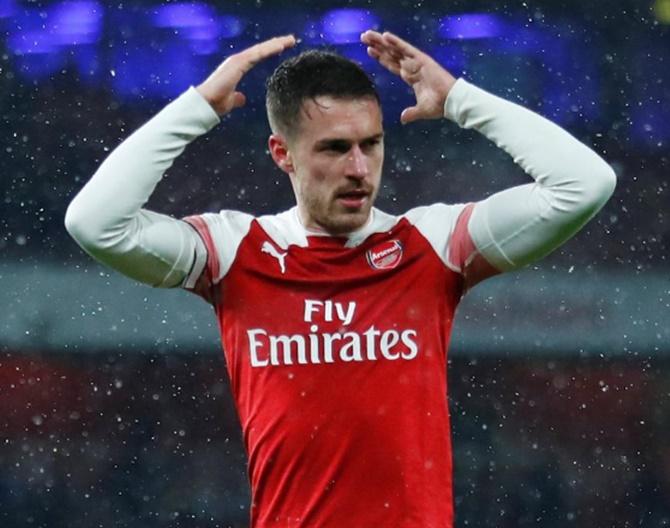 News of all that's transpired on and off the football field
Rafael Nadal here to stay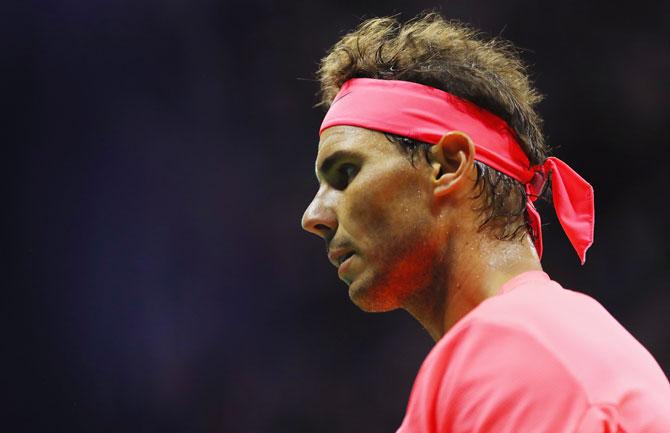 Nadal eyes participation in Davis Cup Finals, 2020 Olympics
Tennis Roundup: Osaka splits with coach Bajin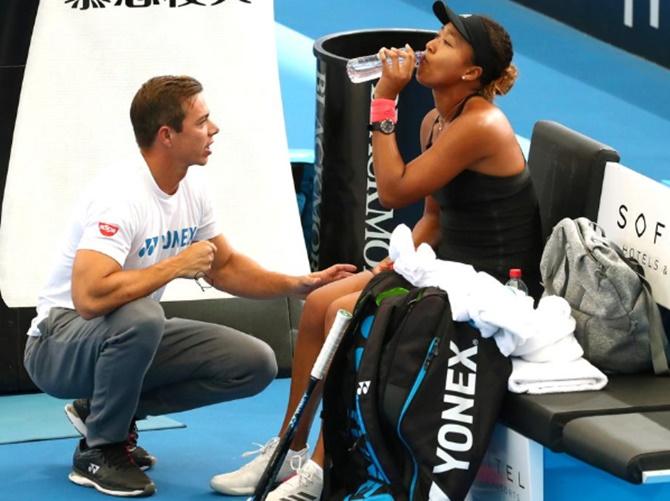 Naomi Osaka, winner of the past two Grand Slam tournaments, has parted ways with her coach Sascha Bajin.
Rejuvenated Martial backs Solskjaer to extend United stay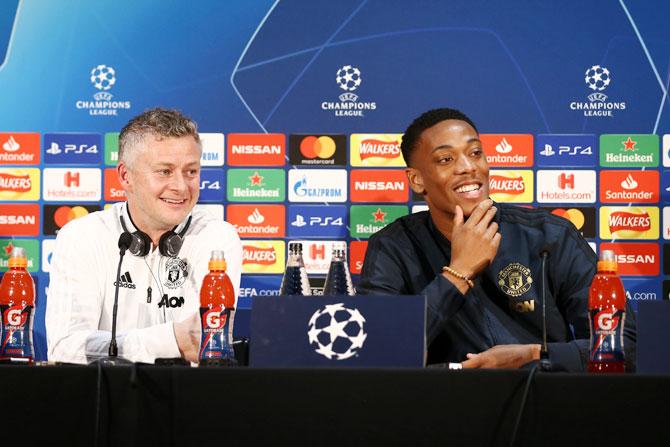 Solskjaer took over as caretaker manager following the sacking of Jose Mourinho in December and United have secured 10 wins in 11 games under his charge.
Football Extras: Mourinho to get his own TV show in Russia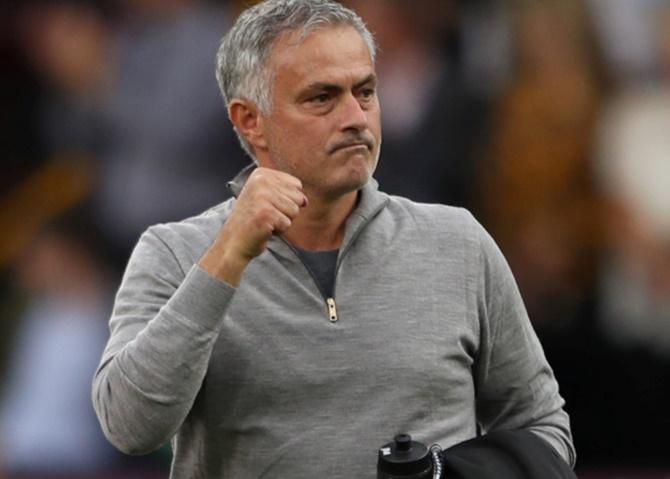 News of all that's transpired on and off the football field
Five talking points from the weekend in La Liga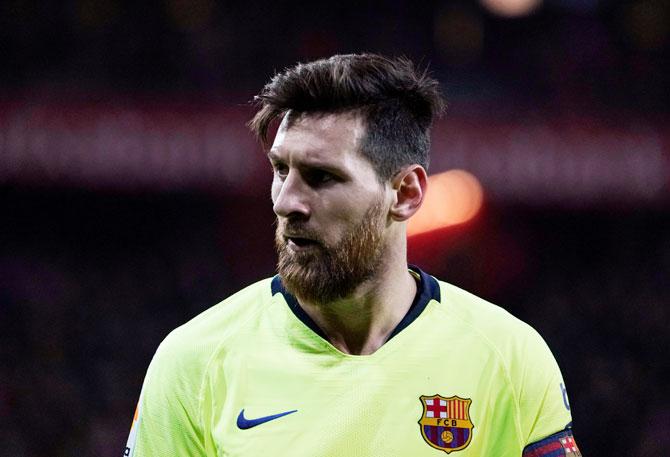 Here are five talking points from the weekend in La Liga:
Talking points from the English Premier League weekend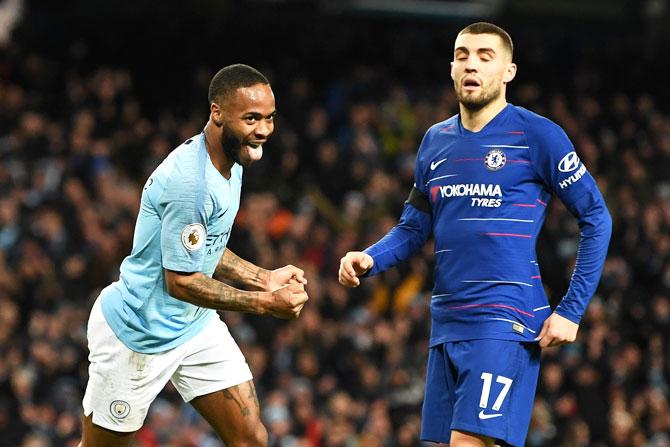 Here are five talking points from the weekend's action:
Sports Shorts: Tobacco giant BAT returns to F1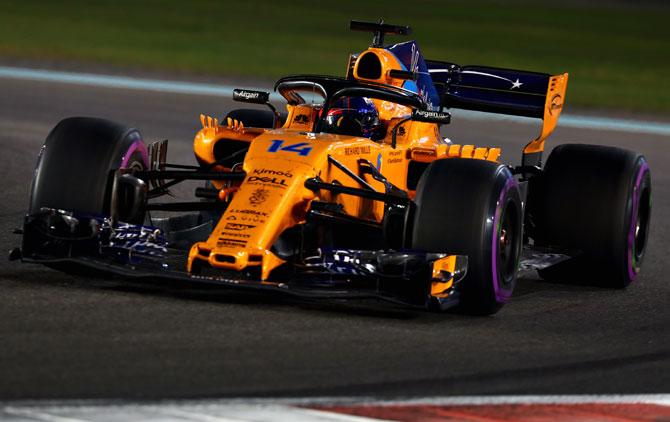 Summary of sports events and persons who made news on Monday
Best Sports Photos of the Week!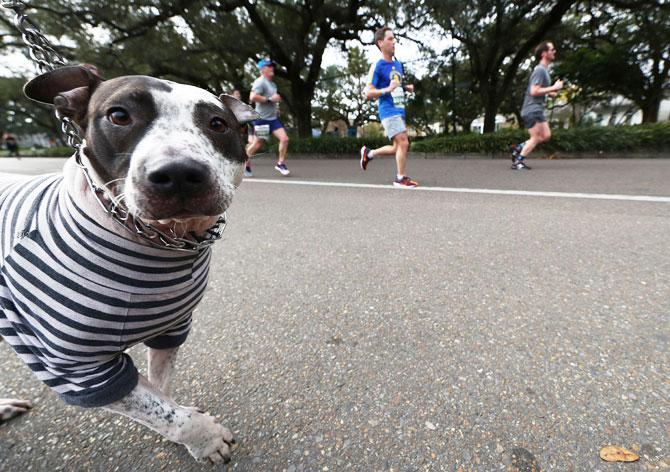 Best sports images from the week gone by
Champions League: United look to extend winning run against PSG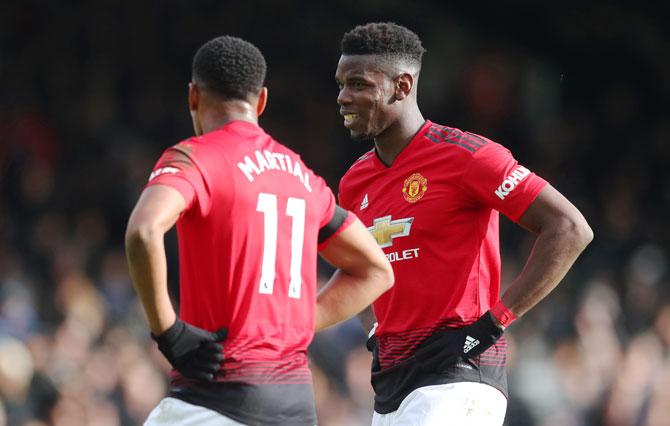 United are unbeaten in all competitions since Solskjaer replaced Jose Mourinho in December and their improvement is down to the Norwegian's insistence on an attacking style of play, as opposed to the defensive fare served up by his predecessor.
Tennis Rankings: Do you know India's best ranked player in singles?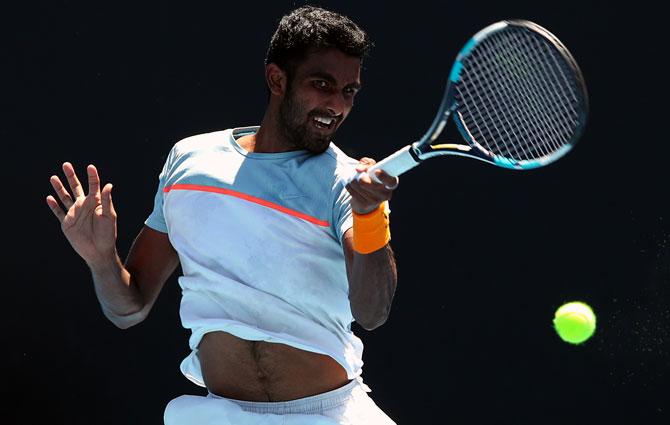 Reaping rewards of his consistent performance, Prajnesh Gunneswaran, on Monday, broke into men's singles top-100 for the first time in his career with a jump of six places that took him to 97.
Football PIX: Barca made to sweat; Juventus extend lead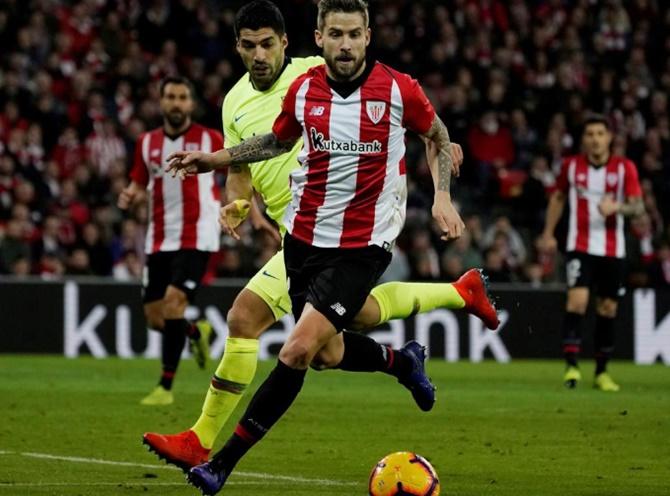 La Liga leaders Barcelona handed Real Madrid more hope in the title race as they drew 0-0 at Athletic Bilbao on Sunday, only avoiding defeat thanks to some outstanding saves by Marc-Andre ter Stegen.
Chelsea boss reacts to their 6-0 drubbing by City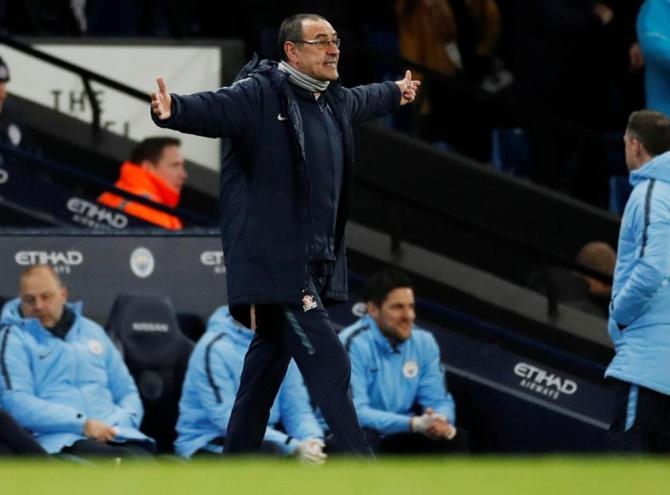 Sarri unmoved as Chelsea capitulation harms top-four hopes
Saina or Sindhu: Vote for the hottest showstopper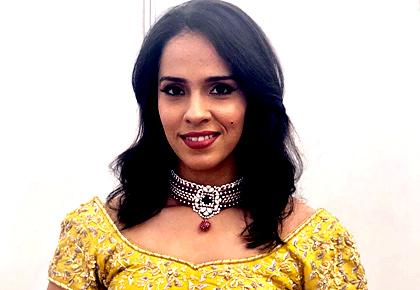 Take the poll below and let us know who is the hottest Lakme Fashion Week.
EPL PHOTOS: Aguero equals Shearer record as City thrash Chelsea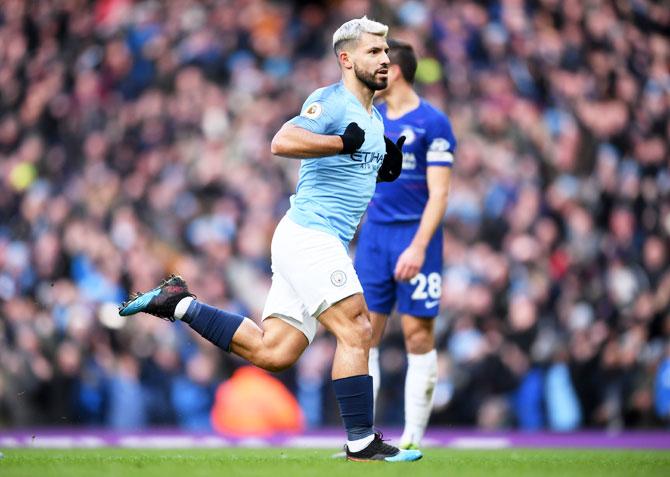 IMAGES from EPL match played between Manchester City and Chelsea on Sunday
Sports Shorts: Efficient Medvedev beats Fucsovics to win Sofia title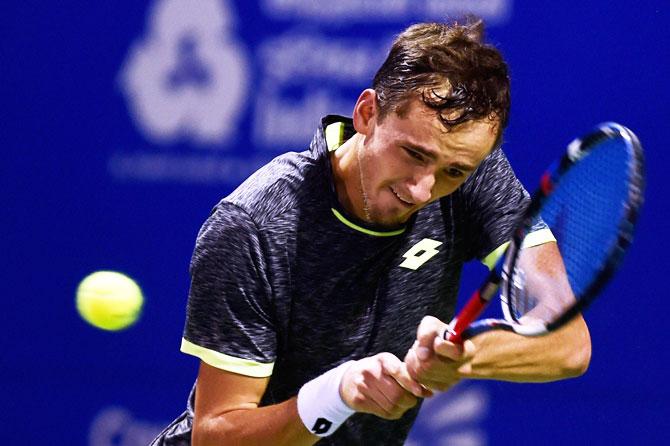 Summary of sports events and persons who made news on Sunday
French club Nantes pay final tribute to deceased Sala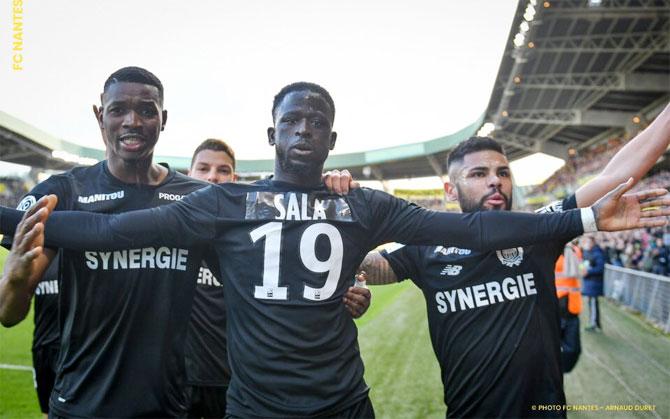 Sala, 28, had been flying from Nantes in western France to Wales on Jan. 21 to make his debut for Premier League team Cardiff City when the single-engined Piper Malibu aircraft disappeared over the sea.
EPL PIX: Tottenham stay in title hunt with win over Leicester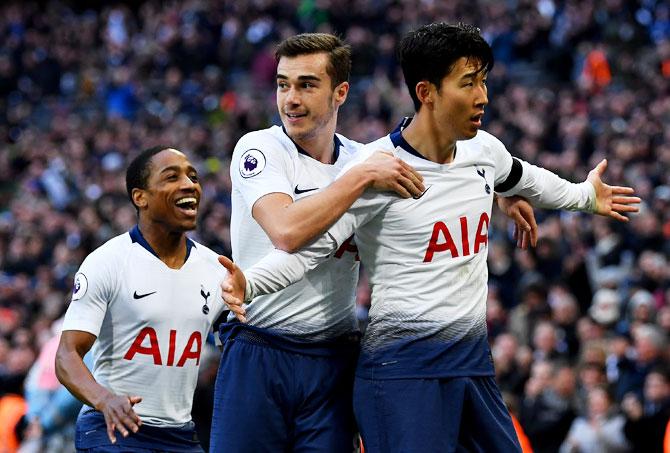 Tottenham went ahead through Sanchez who scored his first goal for the London club by meeting Eriksen's whipped cross with a diving header in the 33rd minute, although Leicester's players complained he was in an offside position.
Football Extras: Bayern beat Schalke 3-1 to cut Dortmund lead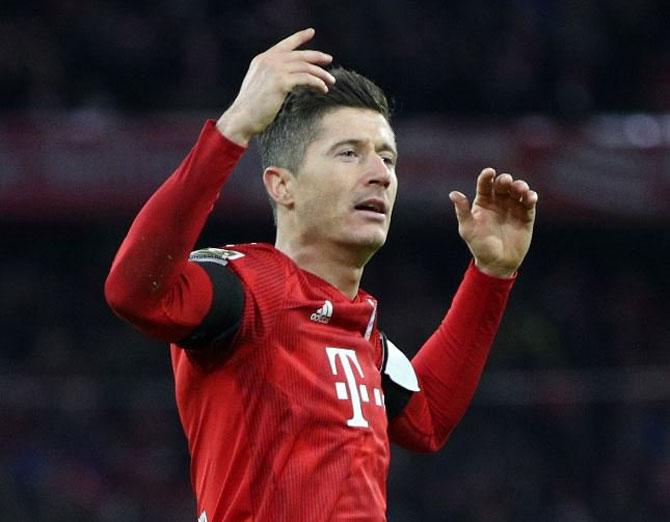 News of all that's transpired on and off the football field
EPL PIX: Liverpool back on top, United win at Fulham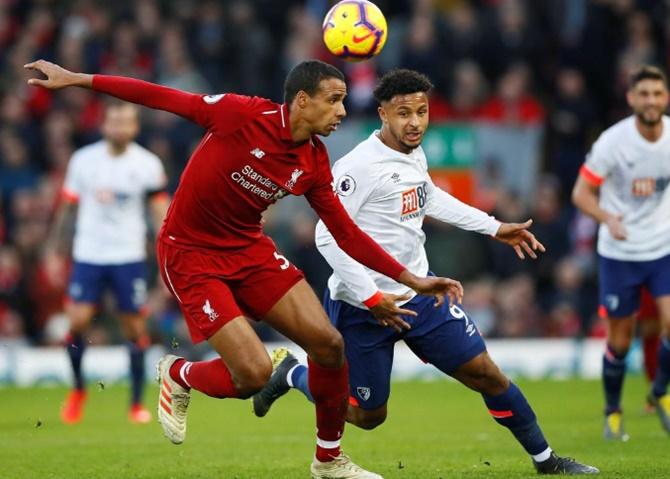 IMAGES from the English Premier League match played on Saturday
La Liga: Real back in title fight after Madrid derby victory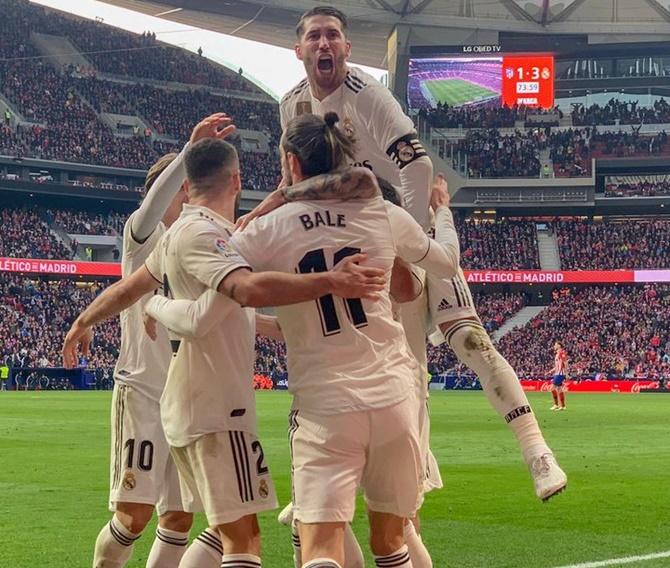 Real Madrid barged their way back into the Spanish La Liga title race with a 3-1 victory over Atletico Madrid in a feisty derby at the Wanda Metropolitano on Saturday.
Indian Football Roundup: India begin Gold Cup campaign on winning note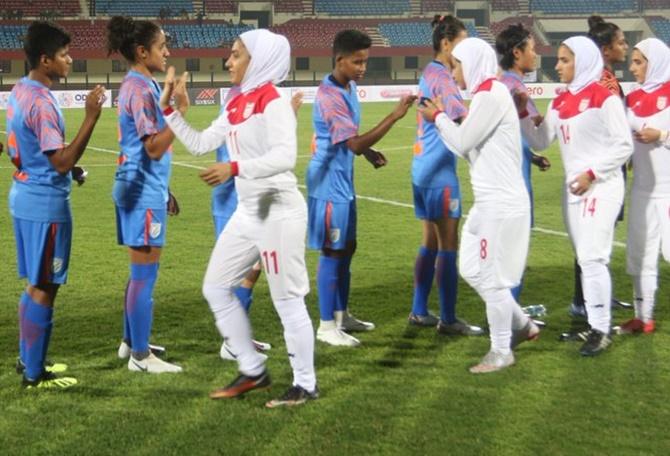 Indian women's football team defeated Iran by a solitary goal to begin their campaign at the Hero Gold Cup on a winning note at the Kalinga Stadium, in Bhubaneswar, on Saturday.
Tennis round-up: India finishes 4th in Fed Cup after losing to Korea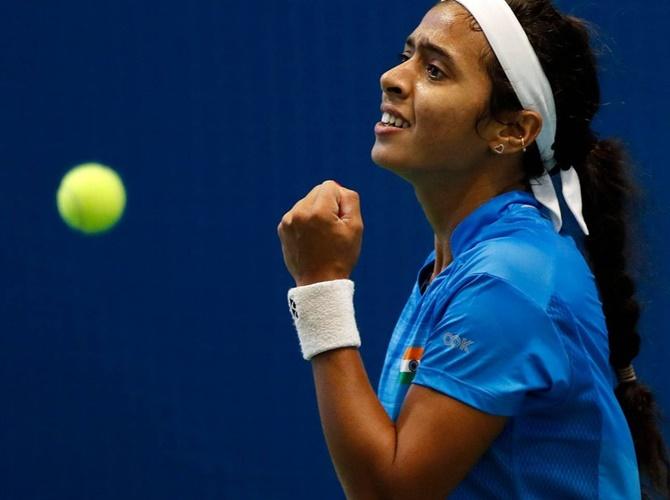 India ended its campaign at the Fed Cup with a fourth place finish after losing the classification tie 1-2 to Korea as the team badly missed injured Karman Kaur Thandi, who did not play on Saturday, in Astana, Kazakhstan.
Tennis is my life. I still have it in me: Sania Mirza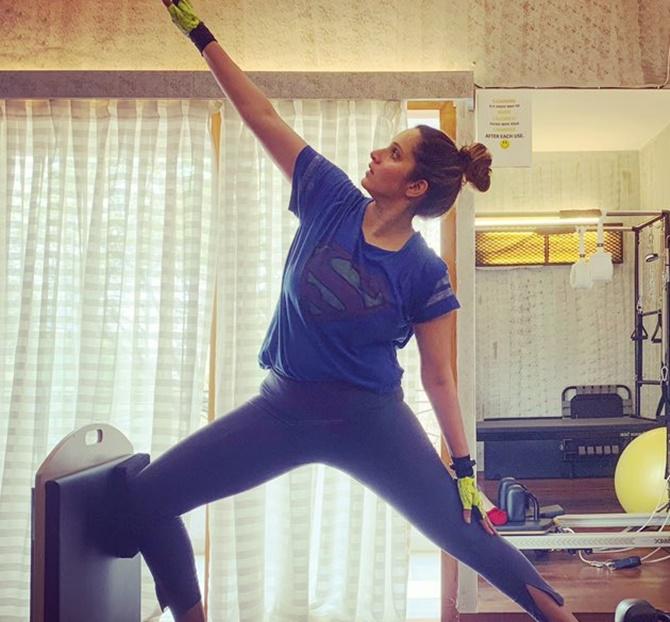 India's tennis star Sania Mirza is planning to make a return to the game by year end following the birth of her baby.
EPL: De Bruyne may not start against Chelsea, says Guardiola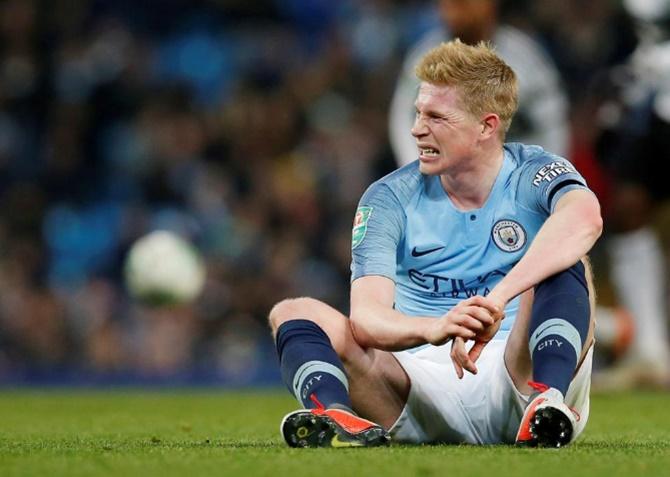 Knee injuries have sidelined him for large parts of this season, however, and the Belgium international has started only four Premier League games.
Football Extras: Beckham to be honoured with statue in LA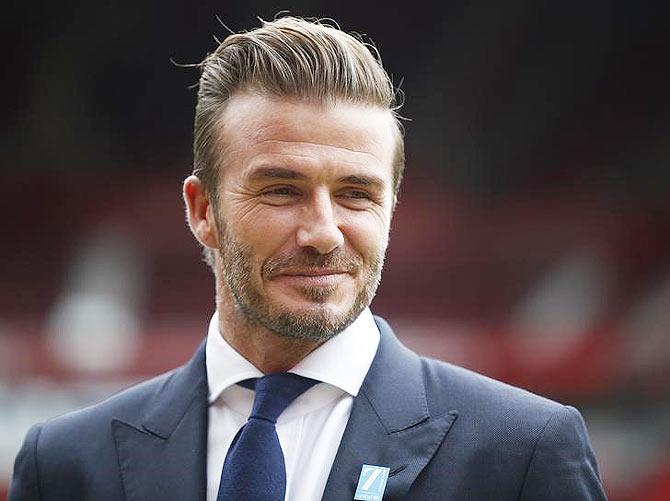 News of all that's transpired on and off the football field.
Football Extras: 'Manchester City is the best team in Europe'
News of all that's transpired on and off the football field.
Federer chasing titles, not top ranking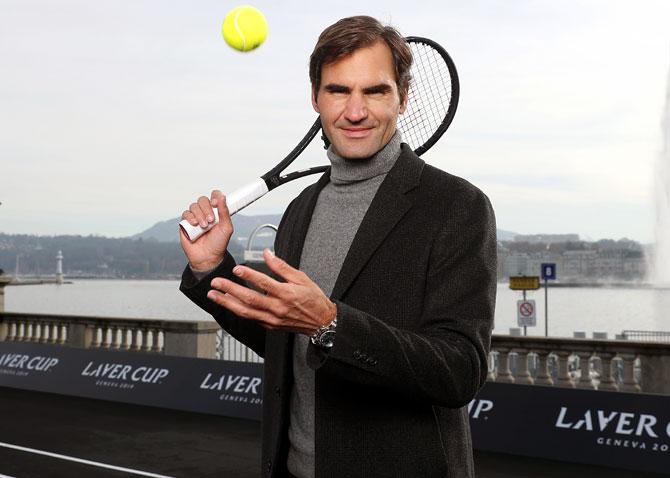 Roger Federer is no longer chasing the top ranking and would rather be a contender at Grand Slams than battling Novak Djokovic and Rafa Nadal to be world number one, the Swiss tennis great said.
Who should play Sania Mirza in biopic?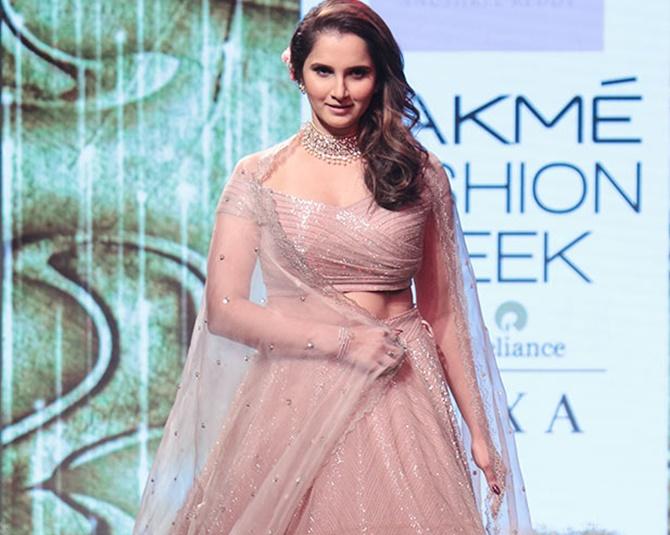 Tennis star Sania Mirza on Friday announced that a biopic on her will be made by Bollywood film-maker Ronnie Screwvala.
Why ace shooter Rahi is worried for her future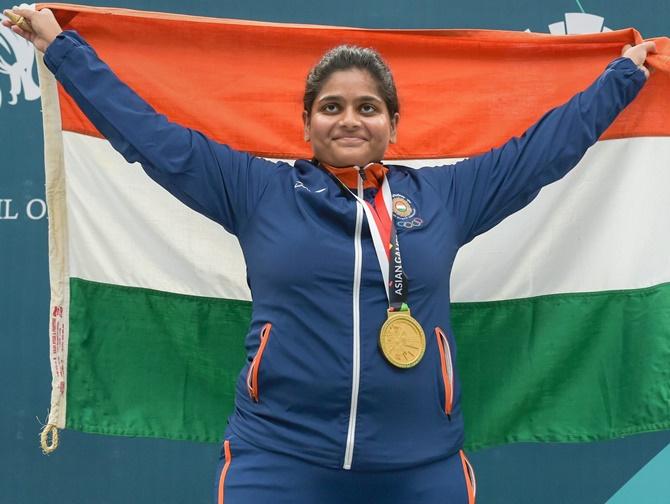 Rahi Sarnobat, India's first female shooter to win an Asian Games gold, still has 'nightmares' about her financial security despite competing at the highest level for more than a decade.
Olympic spirit back in Sarajevo, bridging ethnic divides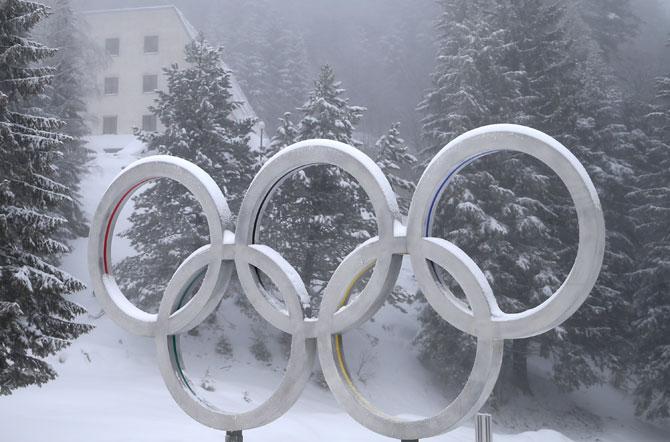 The Olympic spirit is back in Sarajevo after rival Bosnian ethnic elites set aside their differences to host the largest sport event in the country since the 1984 Winter Olympics and war of the 1990s.
10 killed as fire sweeps through Flamengo soccer training centre in Rio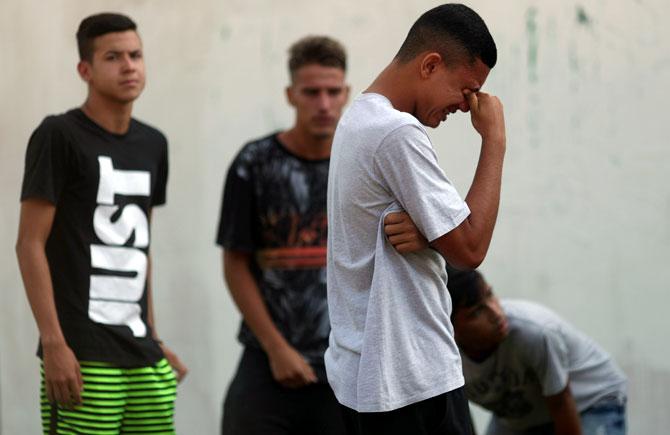 The fire broke out at Ninho do Urubu, a state-of-the-art training centre that was expanded and opened only two months ago.
Ronnie Screwvala bets big on non-cricket sports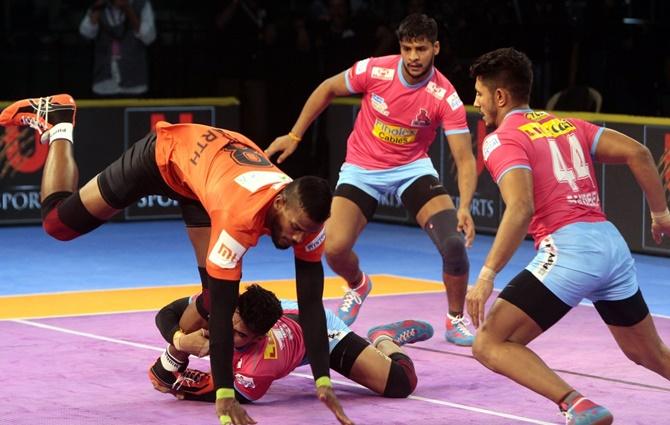 The growing interest in alternative sports is encouraging Ronnie Screwvala to extend the U Mumba brand from kabaddi to football and volleyball.
Body from plane wreckage identified as footballer Sala: UK police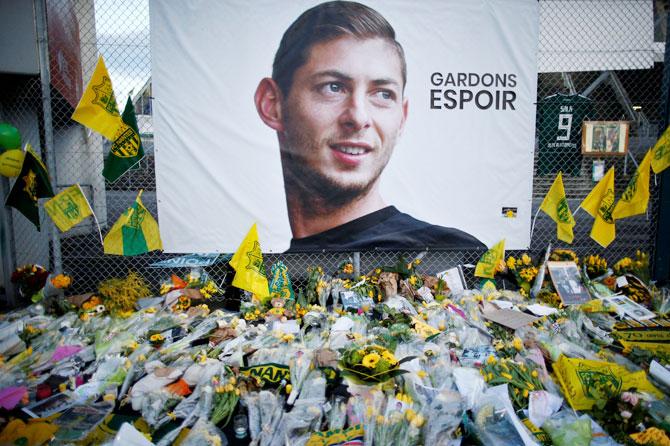 Wreckage was found on Sunday following a privately-funded underwater search and a body recovered on Wednesday and taken to southern England.
King's Cup: Valencia fight back against Betis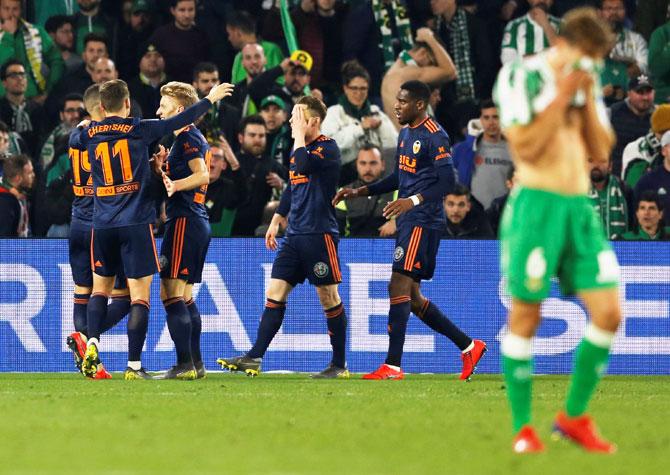 Kevin Gameiro grabbed a stoppage-time equaliser for Valencia after Denis Cheryshev had reduced the deficit with 20 minutes remaining, leaving the tie in the balance heading into the second leg at the Mestalla stadium on February 28.
Fed Cup: Ankita wins twice, India beat Thailand 2-1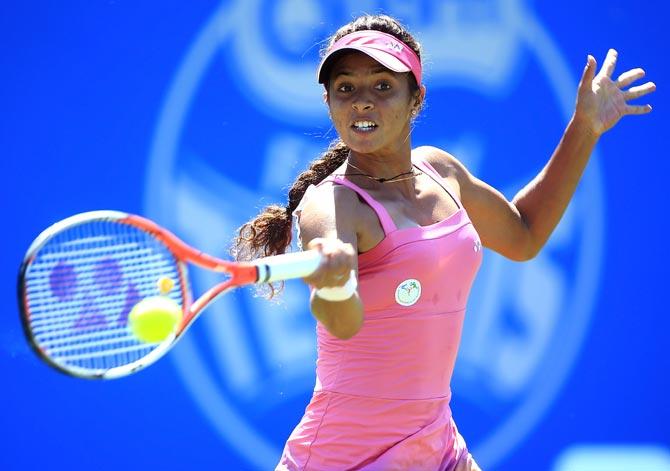 Uppal said India didn't play to its potential but showed great fightback to clinch the tie.
'Confident that Indian Davis Cup team will travel to Pakistan'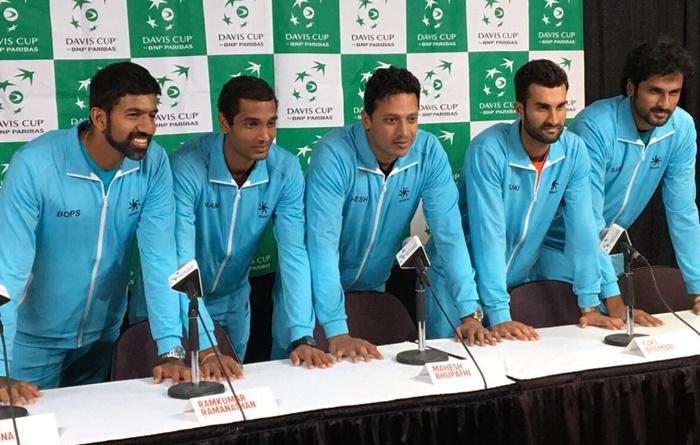 India were drawn against their Pakistan for an away Asia-Oceania Zone Group 1 fixture.
Indian Football Roundup: Delhi Dynamos hold NorthEast; East Bengal's title hopes alive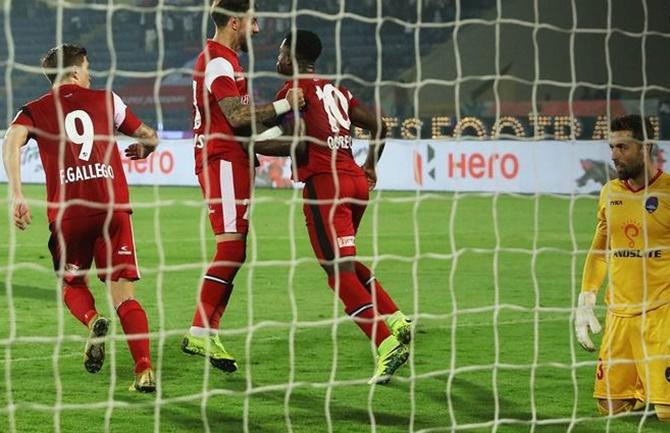 NorthEast United FC were left to rue missed chances, particularly at the end, as they settled for a 1-1 draw against Delhi Dynamos FC in an Indian Super League (ISL) clash, in Guwahati, on Thursday.
This woman conquered 7 marathons, in 7 days, over 7 continents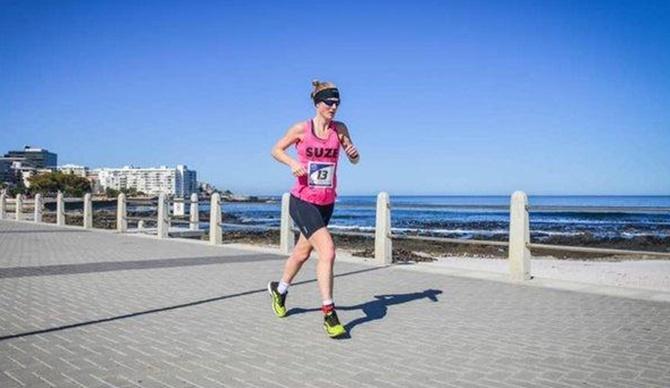 Susannah Gill battles brutal conditions to claim World Marathon title
What you must not miss in the EPL this week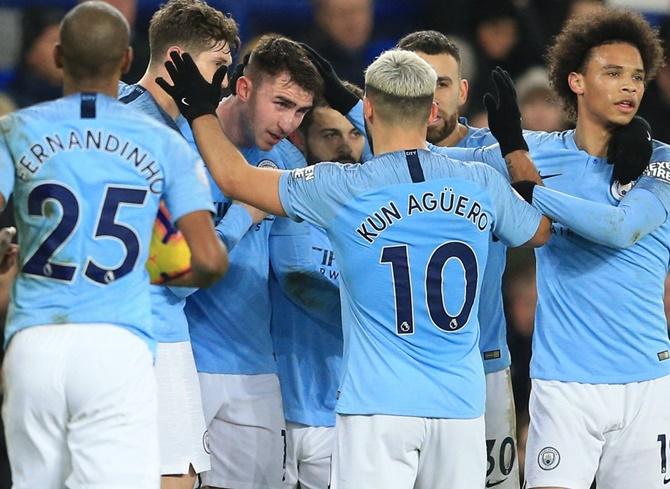 As Manchester City fans left Goodison Park after a 2-0 victory over Everton on Wednesday that sent their team back to the top of the Premier League, they aimed their chants across adjacent Stanley Park to title rivals Liverpool.
Football Extras: India slips out of top 100 in latest charts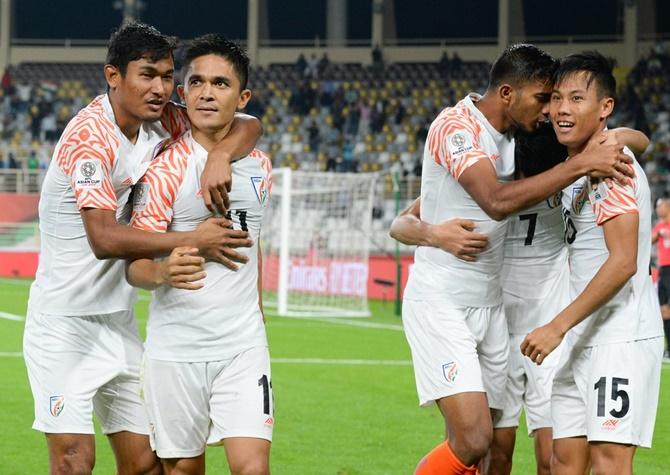 News of all that's transpired on and off the football field
Now you can watch football as if you are on the pitch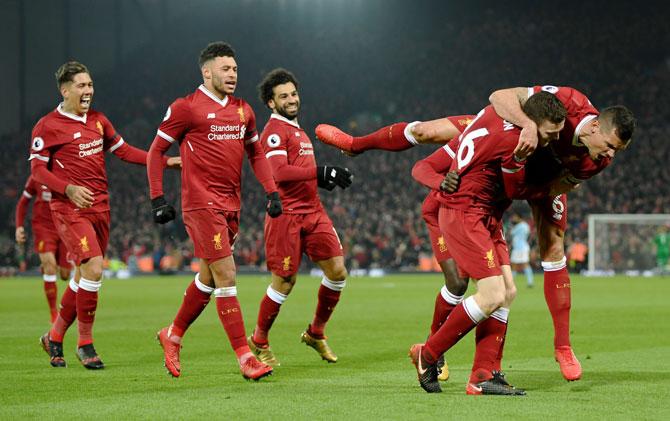 New TV technology to take fans 'inside the game'
Mirabai Chanu wins gold on comeback from injury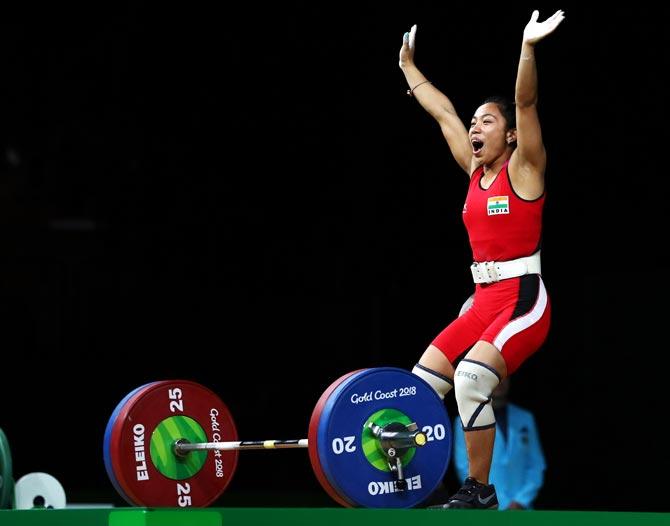 The 24-year-old Manipuri lifted 82kg in snatch and 110kg in clean and jerk to finish on top of the podium after recovering from the injury, which required extensive physiotherapy.
EPL PIX: Man City go top with win at Everton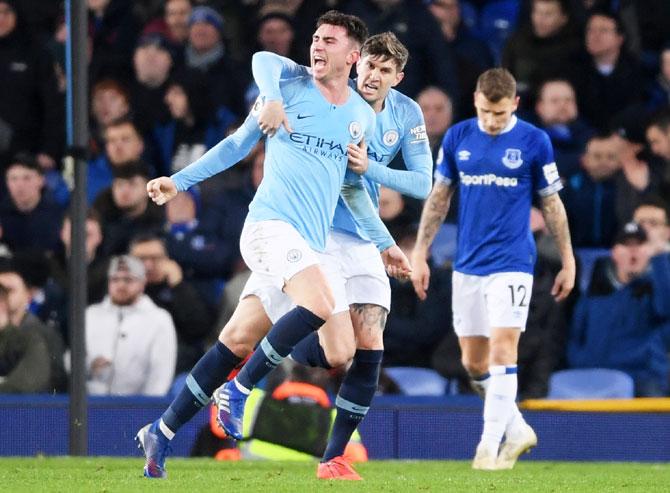 IMAGES from the English Premier League match played between Everton and Manchester City on Wednesday
King's Cup: Malcom rescues draw for Barcelona in Clasico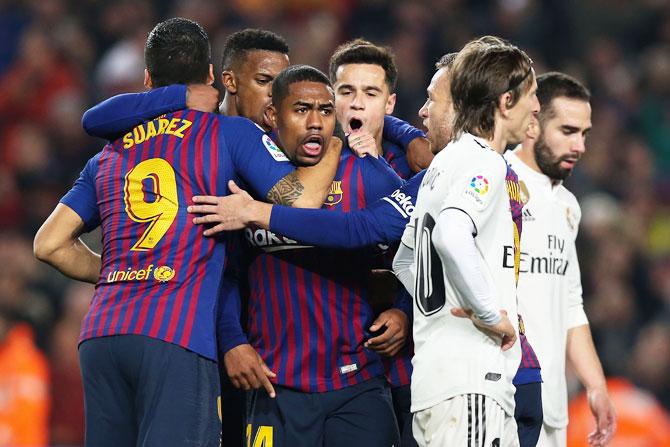 Brazilian Malcom, who started in place of Lionel Messi, curled home in the 58th minute to pull Barcelona level after Lucas Vazquez had fired Real Madrid ahead early on.
How EPL World Cup stars are suffering with injuries...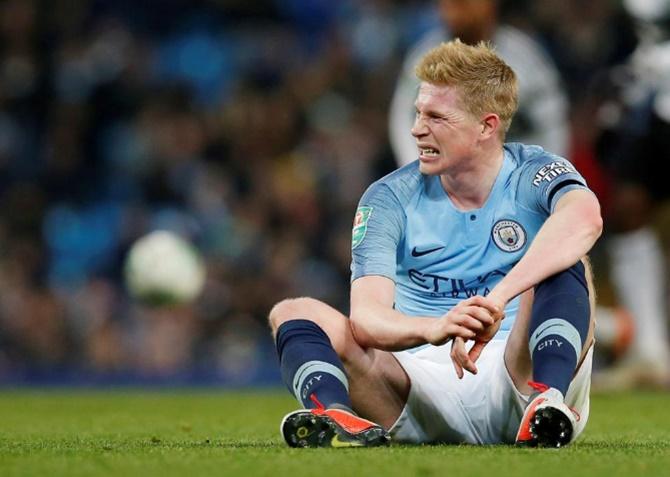 Premier League leaders Liverpool suffered 12 separate injuries this season to players that took part in last year's World Cup in Russia, compared to 27 for title rivals Manchester City, according to a report published on Wednesday.
PIX: Real Kashmir sizzle in the snow to go top of I-League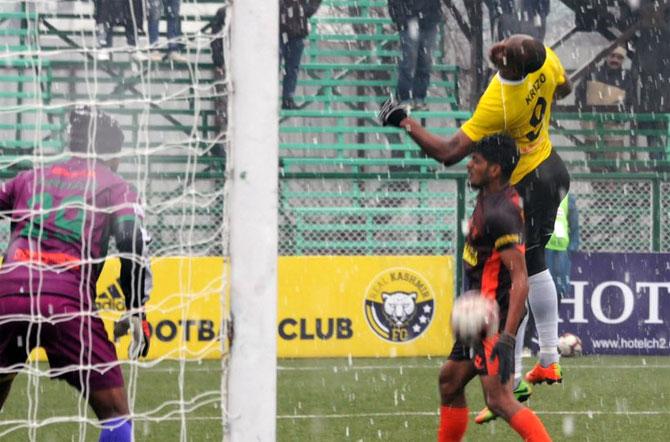 The fairy tale run of Real Kashmir Football Club in the I-League continued as the club from the Valley defeated Gokulam Kerala FC by a solitary goal to jump to top of the I-League.
Davis Cup: India face Pakistan, may be played at neutral venue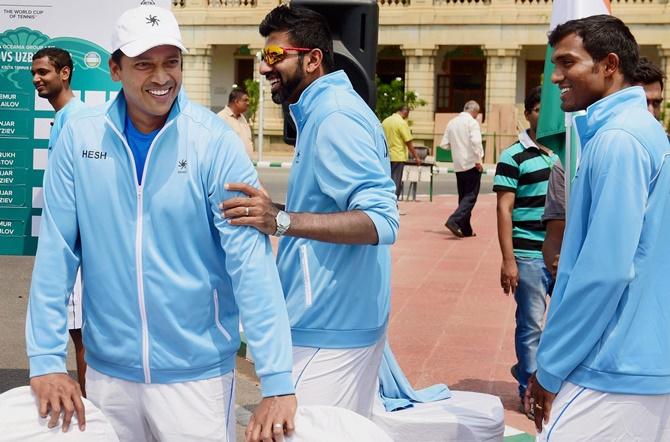 No Indian Davis Cup squad has travelled to Pakistan since March 1964 and in that tie, held in Lahore, India had won 4-0.
Football Extras: Infantino is sole candidate for president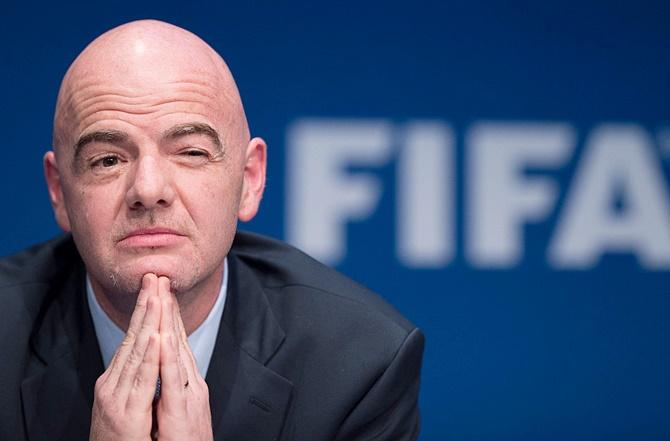 News of all that's transpired on and off the football field
Why Thailand blames Australia for arrest of refugee Bahraini footballer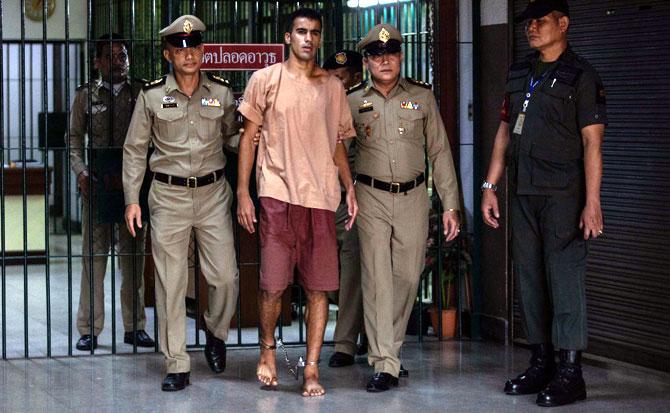 Hakeem Al Araibi's case has drawn international criticism as a Thai court considers an extradition request from Bahrain for him to serve a 10-year sentence related to the Arab Spring uprisings of 2011. He denies the charges.
Sports Shorts: Lakers' James passes 32k points in worst career loss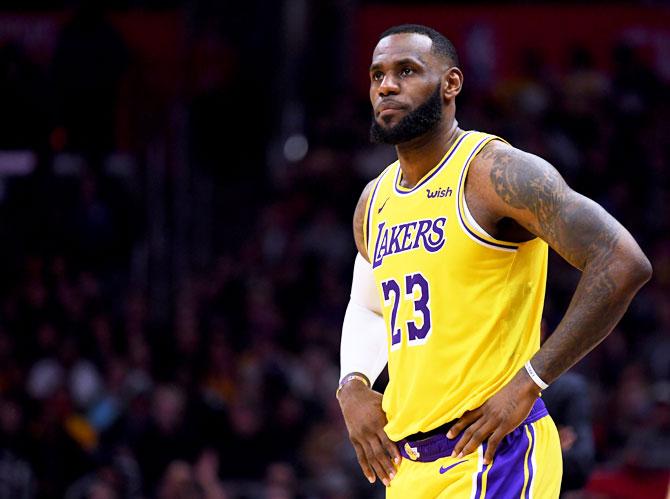 Summary of sports events and persons who made news on Wednesday
Sports Shorts: Mourinho slips and falls at Russian ice hockey game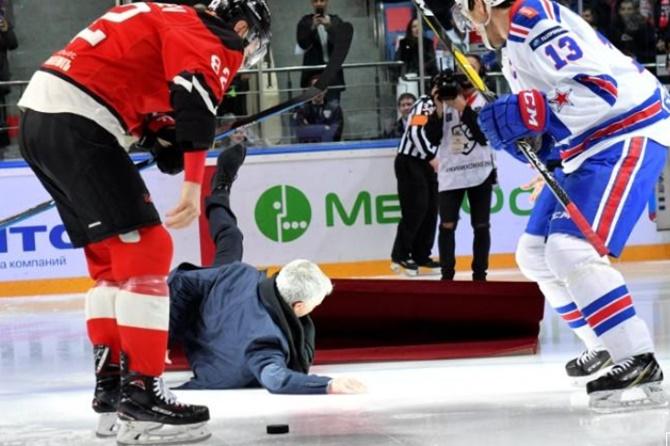 Summary of sports events and persons who made news on Tuesday
Indian Football Roundup: Arrows stun Minerva in I-League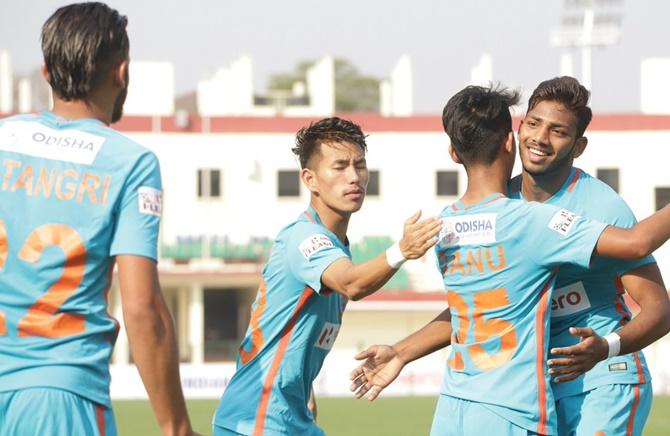 Indian Arrows stunned defending champions Minerva Punjab FC 2-1 to notch-up their fifth win of the 12th I-League season and leapfrog to the seventh position on the points table, in Bhubaneswar, on Wednesday.
Fed Cup: In Sania's absence, Ankita holds key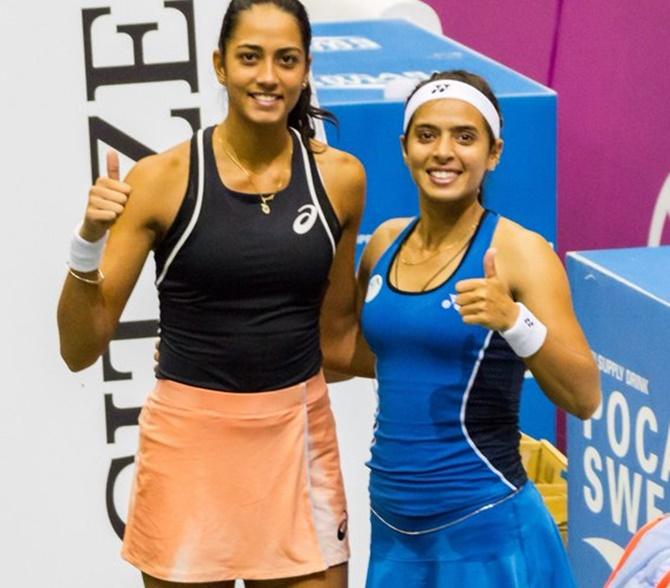 Ankita Raina and Karman Kaur Thandi will have to punch above their weight when the battle to qualify for Fed Cup tennis tournament's World Group II,
Football Extras: FFA ramps up campaign to free Bahraini refugee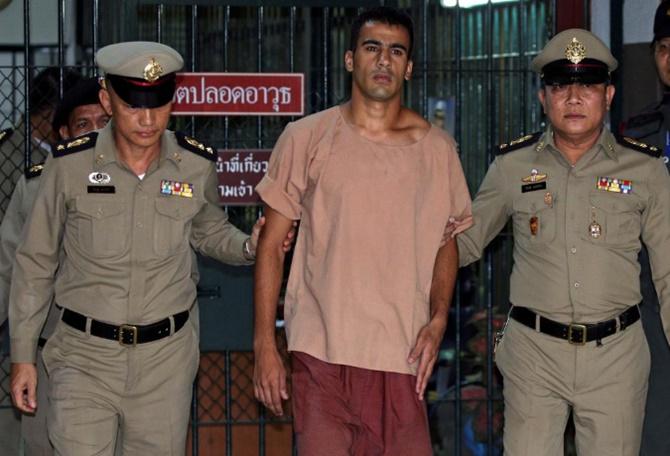 News of all that's transpired on and off the football field
The amazing Real Kashmir FC story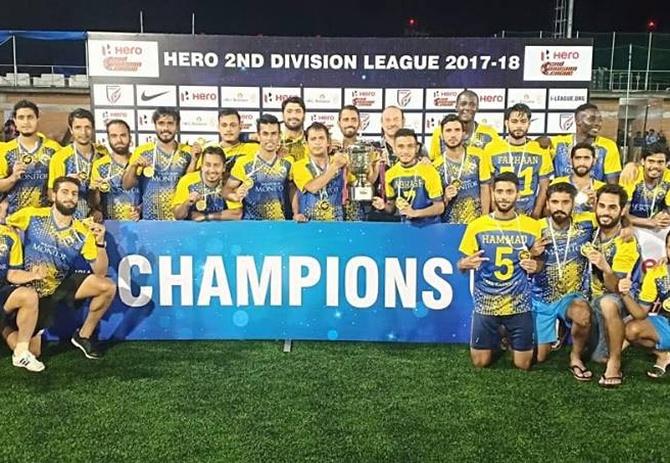 Real Kashmir FC proudly represents a region whose scars are getting a chance to be healed by the beautiful game.
WATCH: Red Bull athletes mesmerise Mumbai with death-defying stunts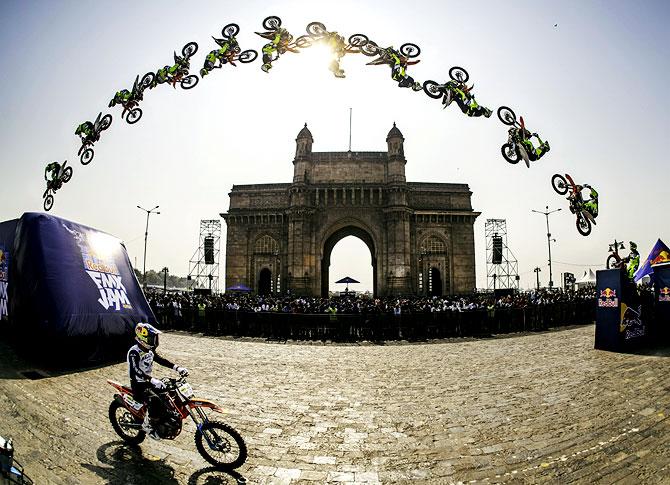 Red Bull FMX athletes Robbie Maddison, Alexey Kolesnikov and Tom Pages turned into Superman in front of the Gateway of India in Mumbai.
Why next week is critical for Manchester City...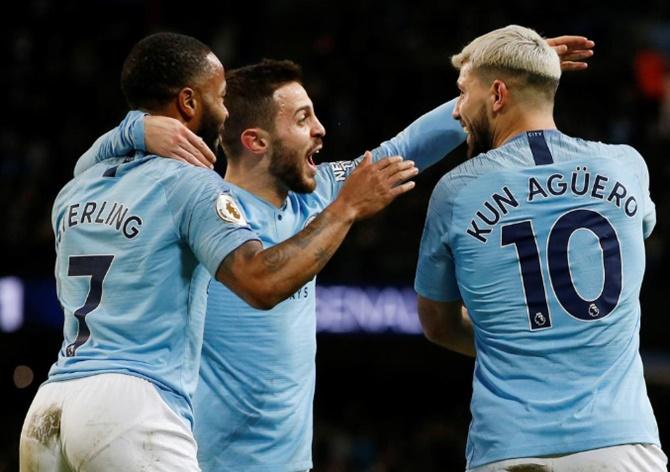 Manchester City's hopes of remaining in the Premier League title race will hinge on how the defending champions negotiate the next five days with matches against Everton and Chelsea, midfielder Bernardo Silva has said.
EPL PIX: Leaders Liverpool falter again!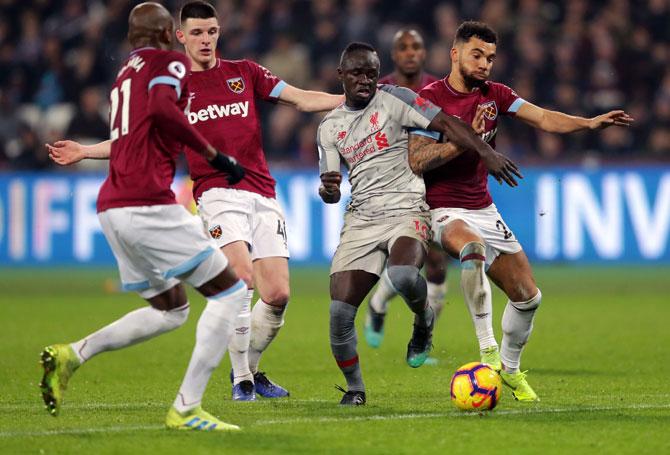 Leaders Liverpool faltered in the English Premier League title race for the second time in six days as they were held to a 1-1 draw at West Ham United.
Body found in wreckage of plane carrying football player Sala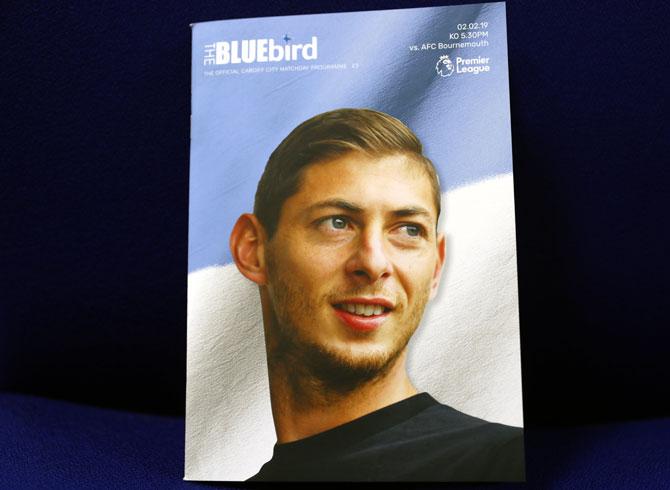 The wreckage of the aircraft that disappeared over the English Channel last month carrying Premier League soccer player Emiliano Sala and his pilot has been located, the marine scientist directing the search said on Sunday.
Can India break All-England title jinx this year?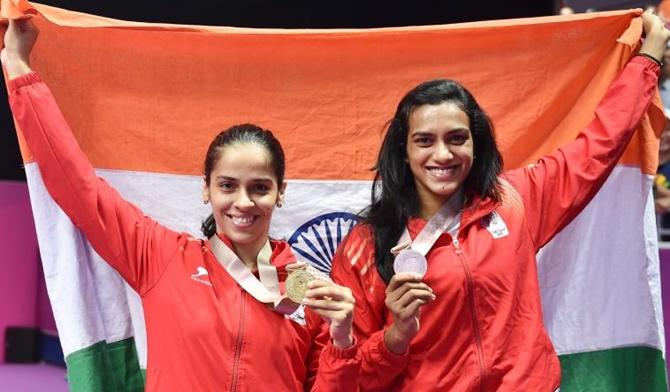 Pullela Gopichand hoped that one of the three prodigal talents he has shaped will end the 18-year-old title drought at the event this year.
Sports Shorts: Red Bull and Mercedes to launch 2019 F1 cars on same day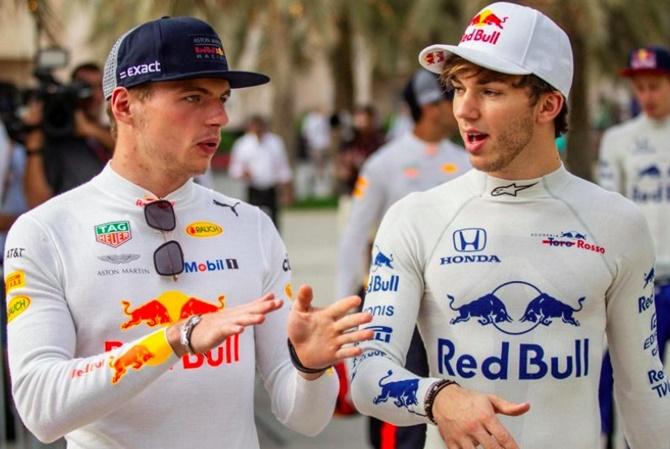 Summary of sports events and persons who made news on Monday
PIX: Drama-free Super Bowl halftime show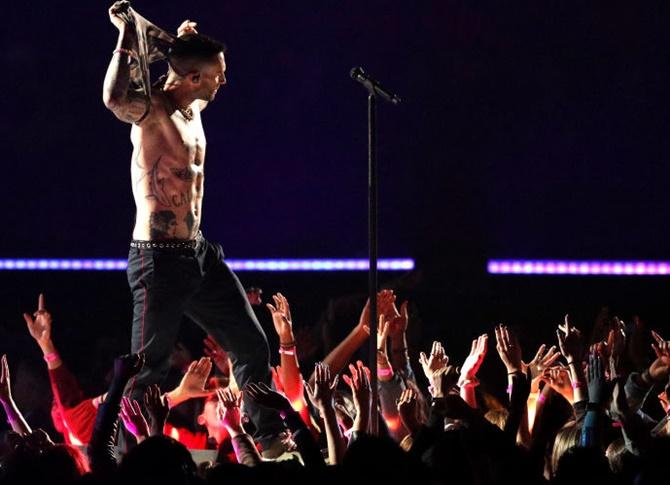 Maroon 5 threw just about everything at the Super Bowl halftime show: a gospel choir, a drumline, pyrotechnics, a giant letter "M" and even SpongeBob.
Five talking-points from the weekend in La Liga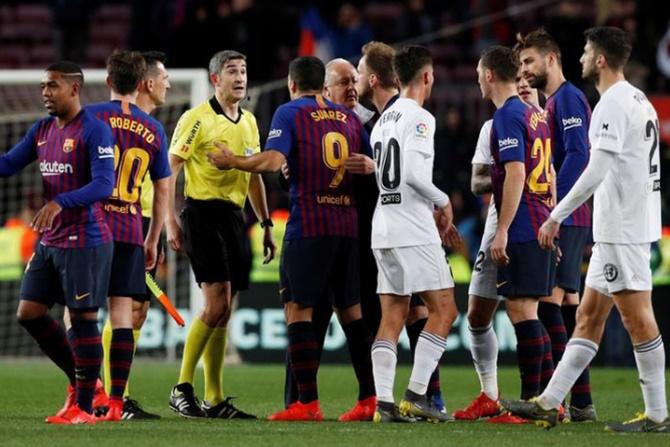 Barcelona's eight-game winning run was halted following a 2-2 draw with Valencia, Atletico Madrid lost 1-0 at Real Betis and a resurgent Real Madrid secured their fourth win in a row by beating Alaves 3-0.
AMAZING Super Bowl PIX: Families take centre-stage as Patriots win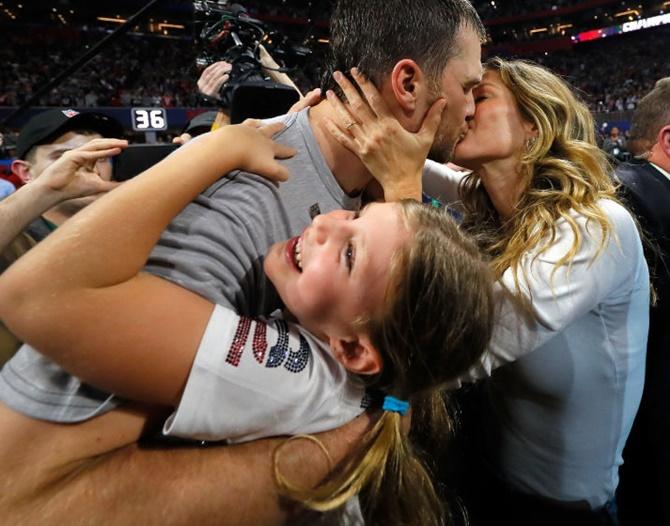 The New England Patriots beat the Los Angeles Rams 13-3 on Sunday in the lowest scoring Super Bowl played to capture the National Football League championship for a record-tying sixth time.
Five talking points from the weekend's EPL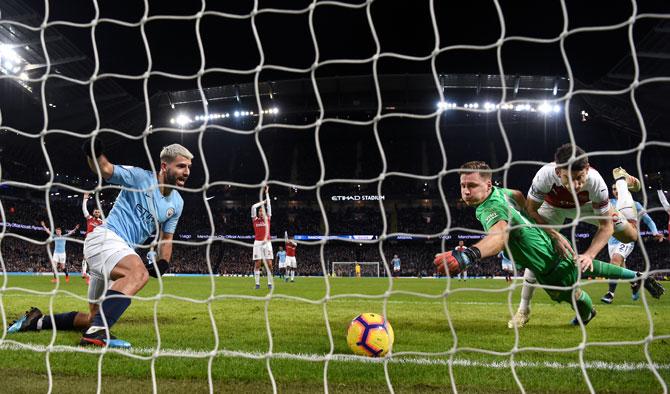 Here are five talking points from the weekend's action:
PIX: Dutch boxer who fought Ali still riding punches in Bulgaria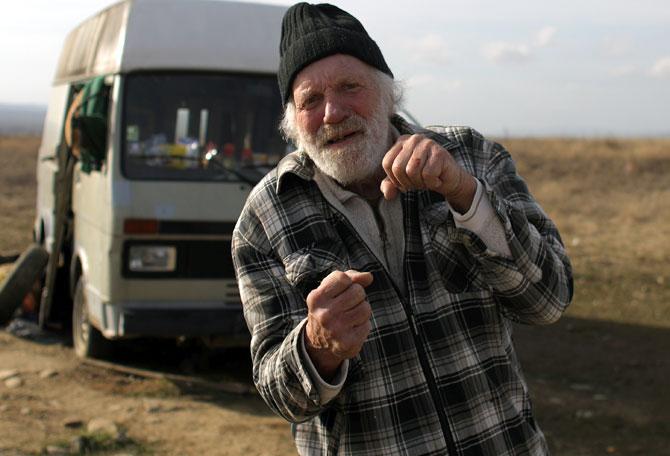 Former Dutch boxing champion Rudi Lubbers, who lost to Muhammad Ali on points in a 12-round heavyweight fight in Jakarta four and a half decades ago, is back on his feet again.
Football Extras: Real make it four in a row; PSG lose to Lyon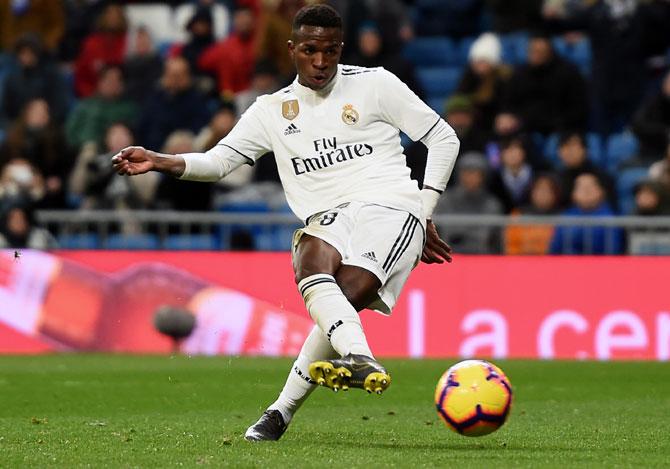 Karim Benzema scored his sixth goal in four games as Real Madrid beat Alaves 3-0 on Sunday for a fourth successive La Liga victory which took the European champions to within eight points of leaders Barcelona.
PHOTOS: Aguero 'tricks' City to victory over Arsenal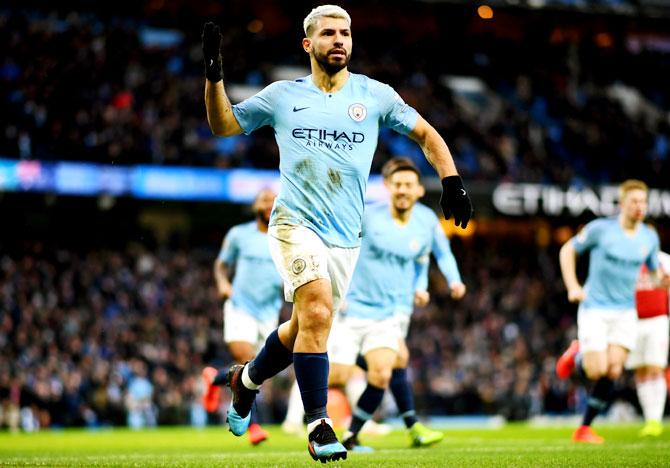 Sergio Aguero's hat-trick led Manchester City to a 3-1 win over Arsenal on Sunday and back into second place in the English Premier League, two points behind leaders Liverpool.
EPL: Manchester United beat Leicester on Rashford's day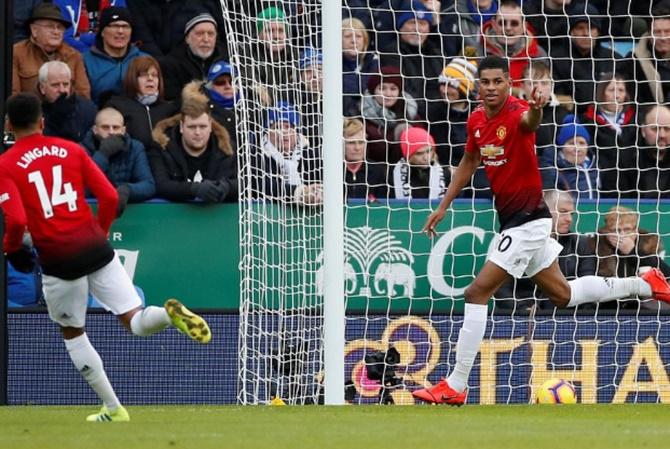 Marcus Rashford scored on his 100th Premier League appearance on Sunday to secure a 1-0 win over Leicester City that kept interim manager Ole Gunnar Solskjaer's dream start going at his old club.
The latest news on Saina Nehwal biopic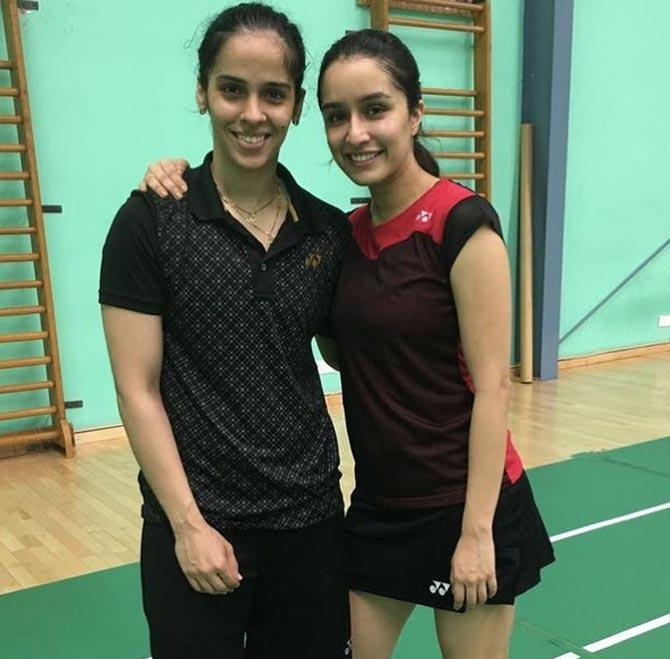 Saina Nehwal is looking forward to her biopic and the ace shuttler says actor Shraddha Kapoor, who will be playing her role in the movie, has worked hard on the project.
US President Trump tees off with Woods, Nicklaus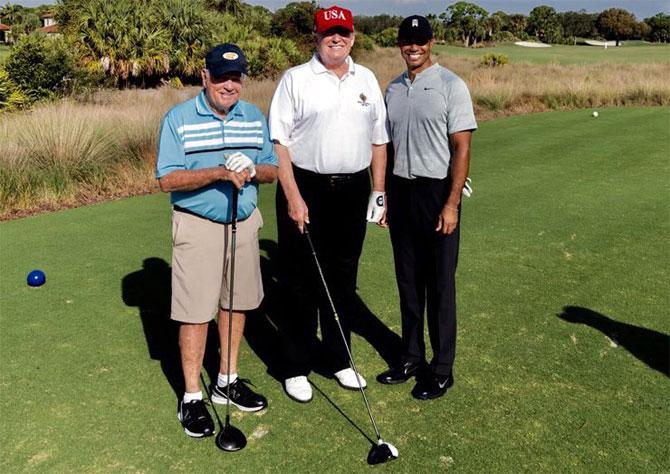 US President Donald Trump hit the golf course in Florida with two of the game's greats -- Jack Nicklaus and Tiger Woods.
PHOTOS: Inspirational Messi rescues Barca; Bayern lose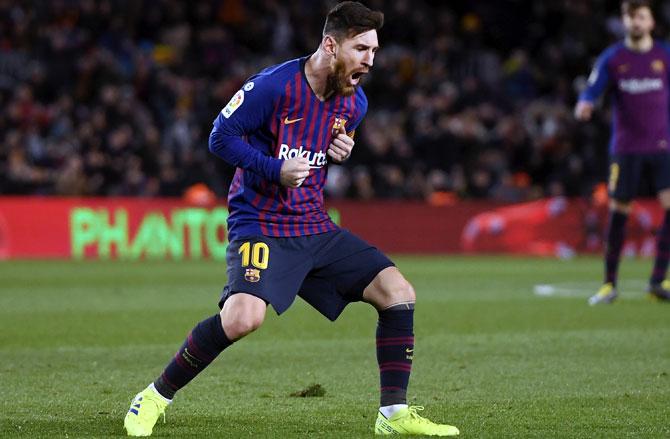 Lionel Messi dragged Barcelona back from two goals down by scoring twice to snatch a 2-2 draw at home to Valencia in a thrilling encounter.
EPL PIX: Higuain scores first Chelsea goals, Spurs go second
Chelsea's new signing Gonzalo Higuain netted his first two Premier League goals in Chelsea's 5-0 thrashing of Huddersfield Town while Tottenham Hotspur's Son Heung-min struck late for a 1-0 win over Newcastle United as they moved into second place.
Sports Shorts: Kvitova beaten by Vekic in St Petersburg quarters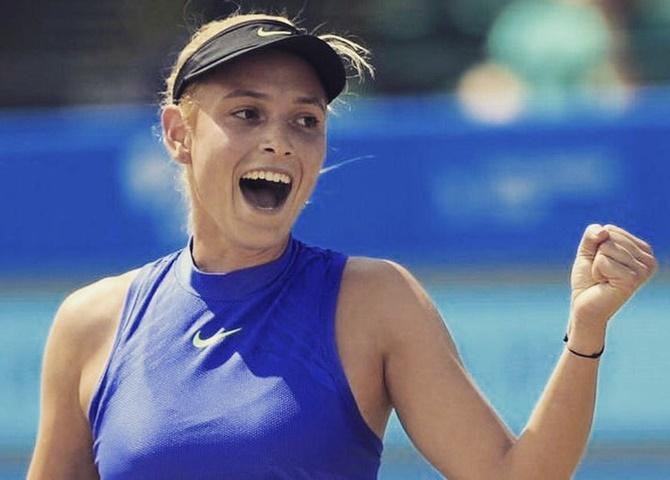 Summary of sports events and persons who made news on Saturday
Bhupathi backs India's singles players after walloping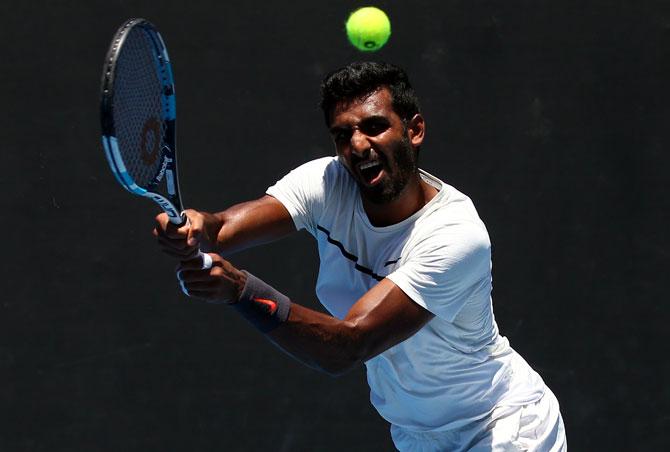 Keeping the 2020 Tokyo Olympics in mind, the sports ministry has included the doubles duo of Rohan Bopanna and Divij Sharan, who won the Asian Games gold last year, have been kept in TOPS scheme.
Tennis Australia backs Hewitt in fued with misbehaving Tomic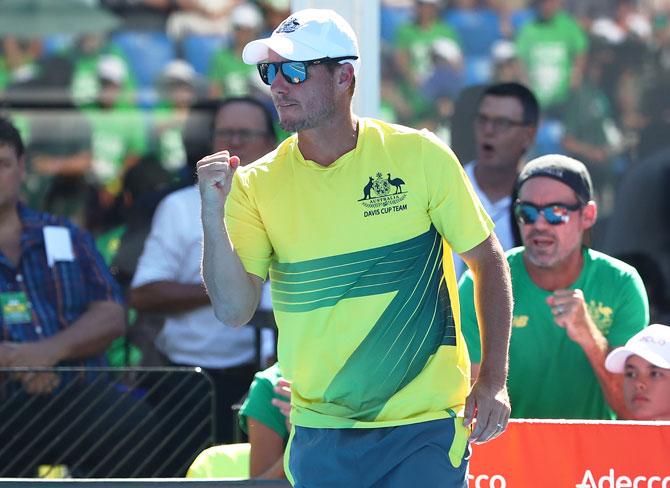 Twice Grand Slam champion Hewitt said last month that he had banned Tomic from playing in the Davis Cup and cut all ties with the player after receiving physical threats against himself and his family from his compatriot, including blackmail.
Davis Cup: Italy thrash India to enter World Finals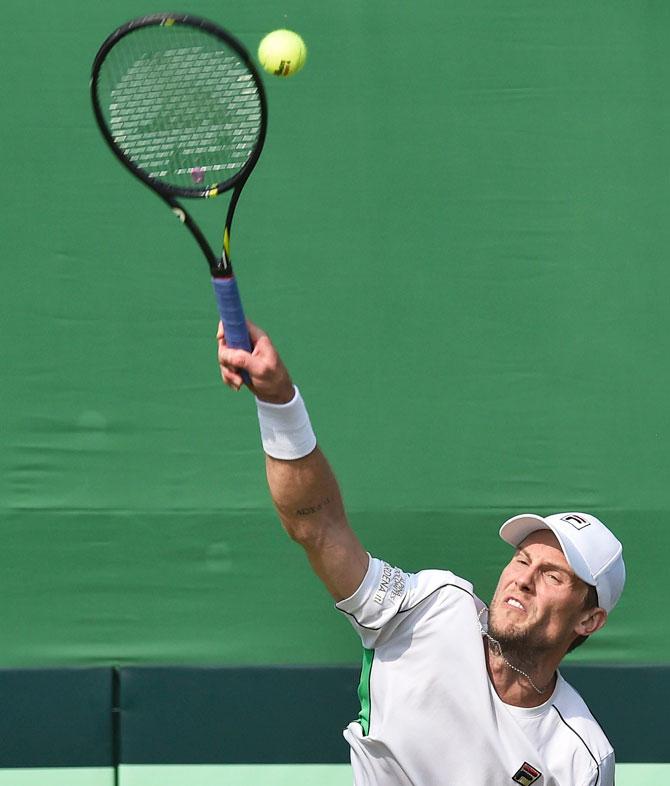 World No 15 India will now compete in the Zone Group action later this year.
Germany, Australia off to strong starts in Davis Cup qualifying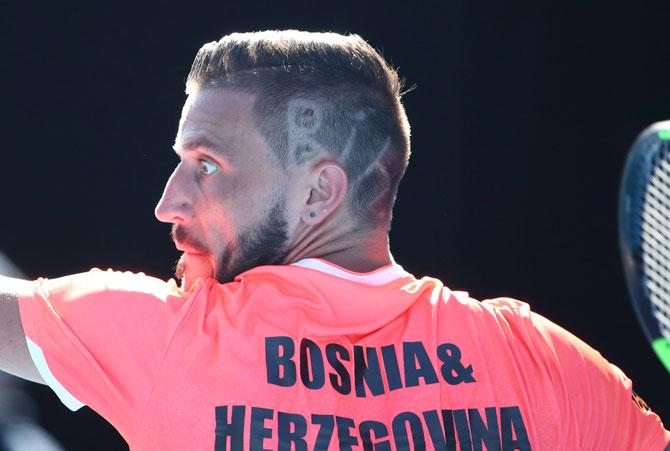 Australia eased ahead of Bosnia 2-0 as John Millman thumped Damir Dzumhur 6-3, 6-2 while Alex de Minaur overcame Mirza Basic 6-3, 7-6(0), before Millman revealed the team's larger goal under captain Lleyton Hewitt.
Qatar stun Japan to lift Asian Cup for first time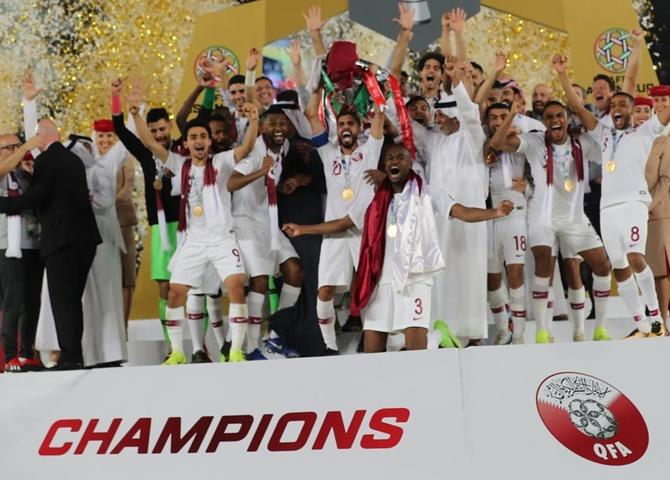 Almoez Ali scored a spectacular overhead kick for a record ninth goal of the tournament to set Qatar on their way to a first Asian Cup triumph with a stunning 3-1 win over four-times champions Japan on Friday.
Indian football round-up: FC Goa beat Mumbai City FC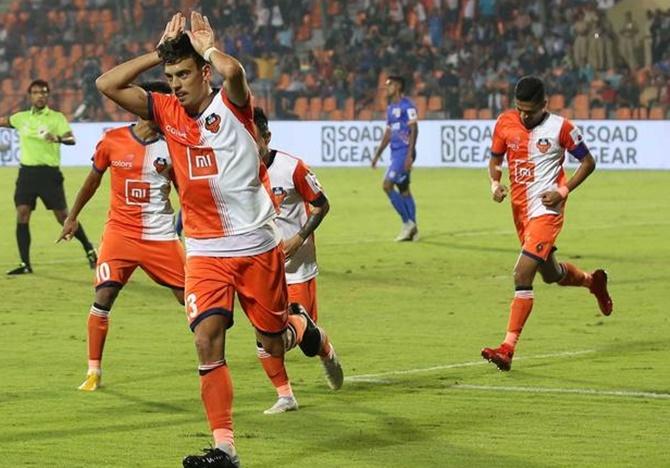 All the results from the I-League and ISL matches played on Friday
Kyle Walker tweet: Klopp unimpressed; Guardiola shrugs off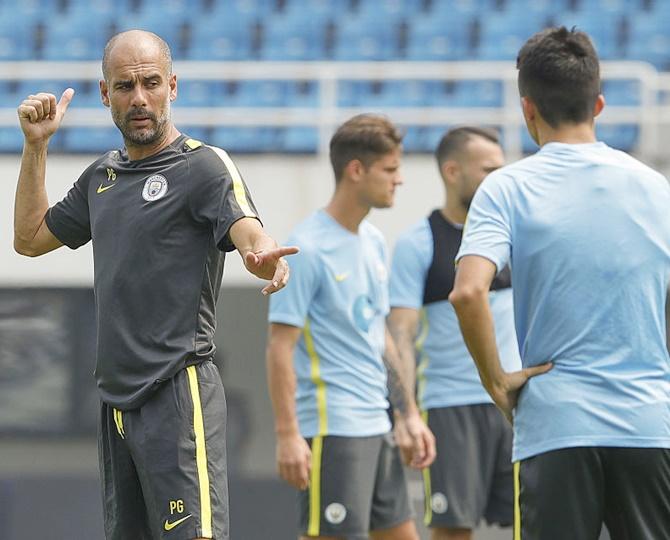 Manchester City manager Pep Guardiola has shrugged off suggestions that a mocking tweet by defender Kyle Walker could provide extra motivation for leaders Liverpool in their Premier League title battle.
Sports Shorts: Sauber F1 renamed Alfa Romeo Racing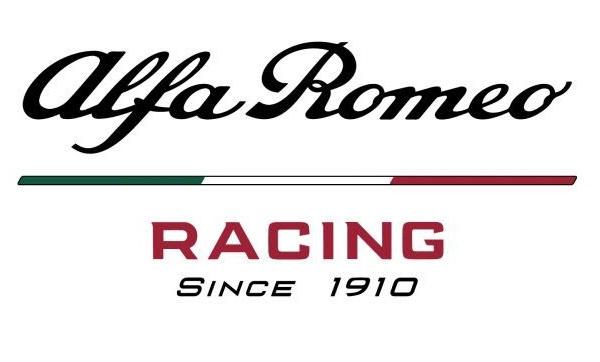 Summary of sports events and persons who made news on Friday
Davis Cup: What went wrong for India?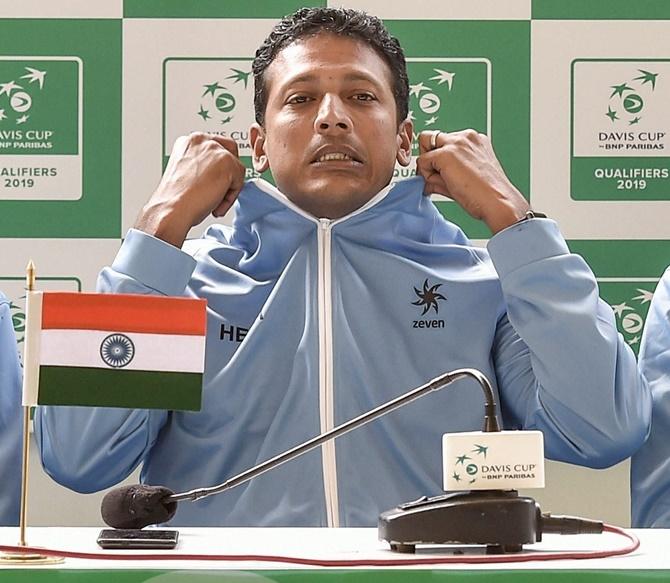 Mahesh Bhupathi rued that his men failed to seize the opportunities against a much higher-ranked Italy
Football Extras: Barcelona to meet Real Madrid in Copa del Rey semis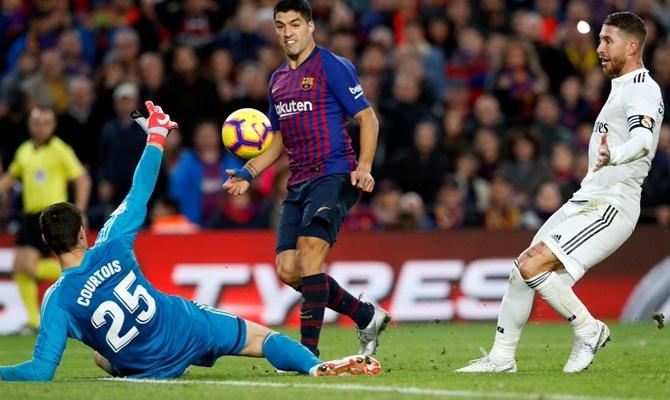 News of all that's transpired on and off the football field
PHOTOS: Breathtaking images from Snowboard World Championships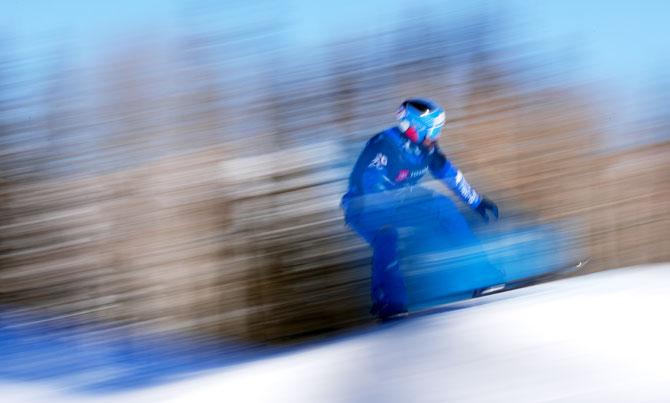 The main event starts on Feb 1
Good news for athletes! Sports Budget hiked by 200 cr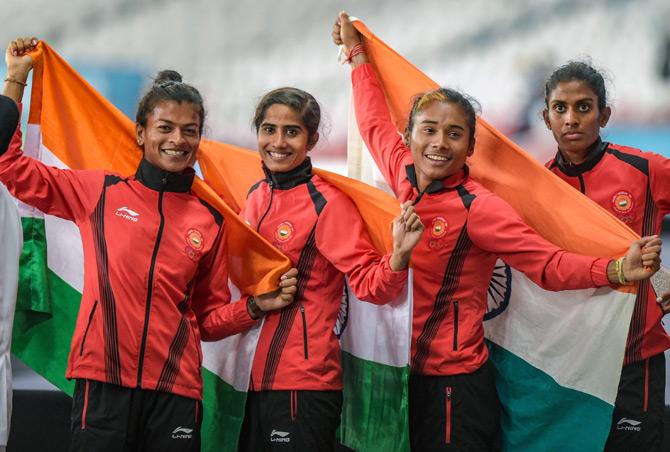 The significant gainers in the interim sports budget are SAI, the National Sports Development Fund (NSDF) and the corpus meant for giving incentives to sportspersons
Davis Cup: India staring at elimination after Italy take 2-0 lead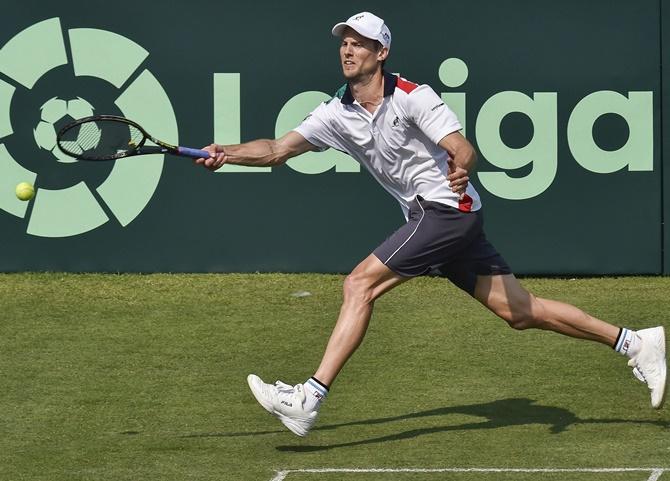 Andreas Seppi experienced some early hiccups before getting past Ramkumar Ramanathan 6-4, 6-2 in the opening rubber, while 22-year-old Matteo Berrettini made a winning Davis Cup debut, cruising past India number one Prajnesh Gunneswaran 6-4, 6-3.
Huge drop in EPL January transfer spending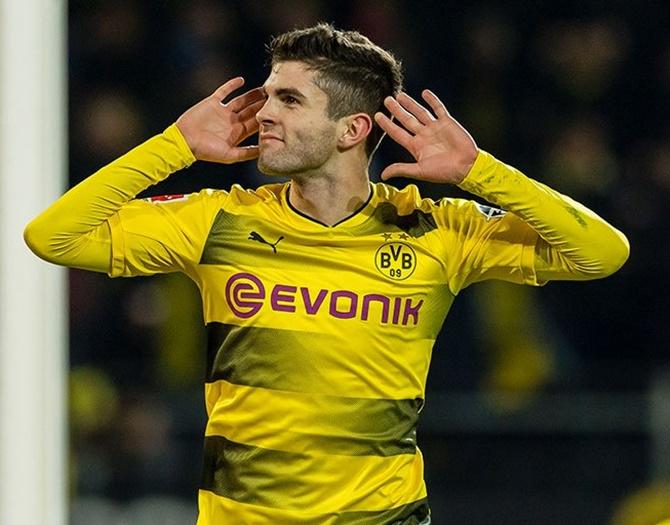 Spending falls for first time since 2012
The girl Rafa will marry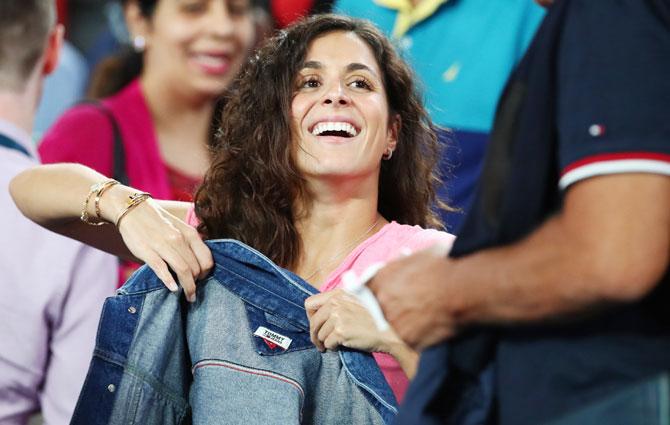 Xisca is a supremely private person, so much so that she is not on social media. She does not discuss her relationship with her family either.
Benzema double puts Real Madrid in King's Cup semis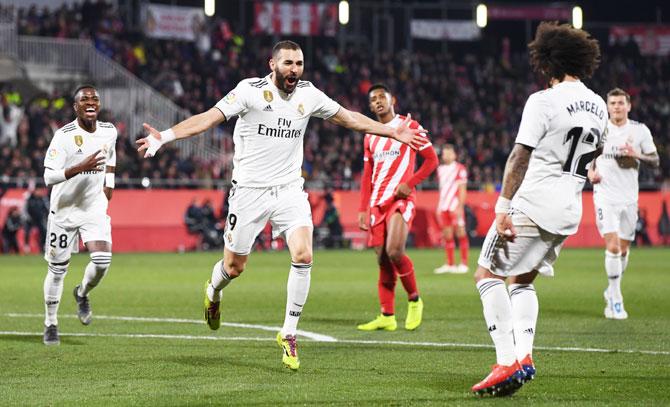 The French forward, who joined the club in 2009, netted twice in the first-half to take his Real tally to 209 goals in 446 games, moving ahead of Mexican Hugo Sanchez into sixth place on the club's all-time top scorers list.
La Liga to sponsor Davis Cup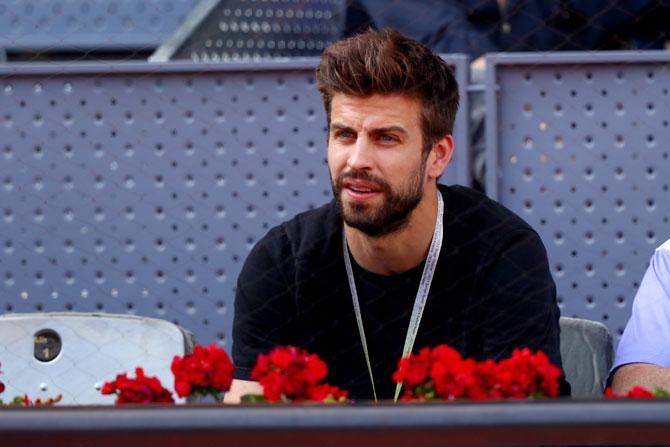 Founded in 1900, the Davis Cup is the largest annual international team competition in sport, but has suffered as a spectacle since many top players began opting out.